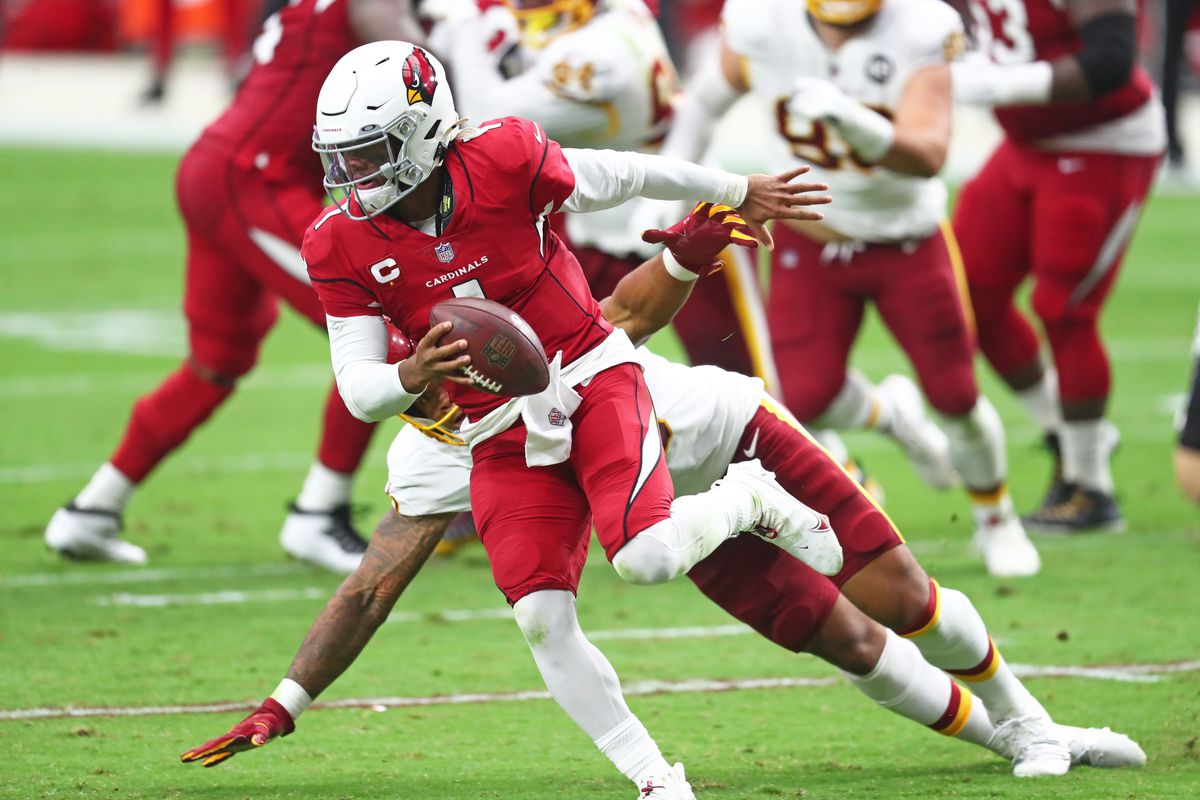 Kyler Murray threw for 286 yards and a touchdown and ran for two more scores on 67-yards to lead the Arizona Cardinals over the Washington Football Team 30-15.
Arizona (2-0) dominated the entire game, jumping to a 14-0 lead by the end of the first quarter. They lead 20-0 by halftime and 20-3 by the end of the third quarter.
Washington (1-1) finally scored a touchdown with 12:20 left in the fourth quarter when Dwayne Haskins hit Terry McLaurin for a 24-yard score. It scored again with 6:38 left when Antonio Gibson ran for an 11-yard touchdown to pull within 27-15 after the 2-point conversion failed.
All Cardinals, All Day
DeAndre Hopkins had another solid game for the Cardinals, catching the first touchdown pass of the game. The teams would then go on to trade on a couple of turnovers in an eventful first quarter. Murray's pass into coverage was picked off by Landon Collins, giving Washington great field position deep into Cardinal territory. Three plays later, Haskins fumbled after getting hit on the arm by Jordan Phillips and Chandler Jones snagged the ball out of the air.
Zane Gonzalez would hit field goals from 33 and 49-yards out to push the Cardinal lead to 20. It was a good game by Gonzalez, hitting all three of his field goal attempts for the day. Last week against the San Francisco 49ers, Gonzalez would connect on just one of his three field goal attempts.
Arizona went three-and-out on the ensuing possession and had to punt but got the ball right back when Steven Sims fumbled on the return. The Cardinals followed with a six-play touchdown drive capped by Murray's 14-yard touchdown run.
Murray second rushing touchdown came on a 21-yard run 43 seconds into the fourth quarter.
Kenyan Drake had a big day in the running game, rushing for 86-yards on 20 attempts. Andy Isabella got involved this week, catching two passes for 67-yards. Larry Fitzgerald contributed 50-yards on seven passes.
Haskins finished the game 19/33 for 223 yards and one touchdowns. He would also be sacked four times.
Antonio Gibson continued his rookie campaign rushing for 55 yards. Terry McLaurin caught seven passes for 125 yards and a score. Steve Sims Jr. tried to contribute, catching three passes for 53 yards but left the game for a couple of plays after being shaken up.
Up Next
Washington will play their second straight road game against the Cleveland Browns next Sunday. The Cardinals will stay home and take on the Detroit Lions.