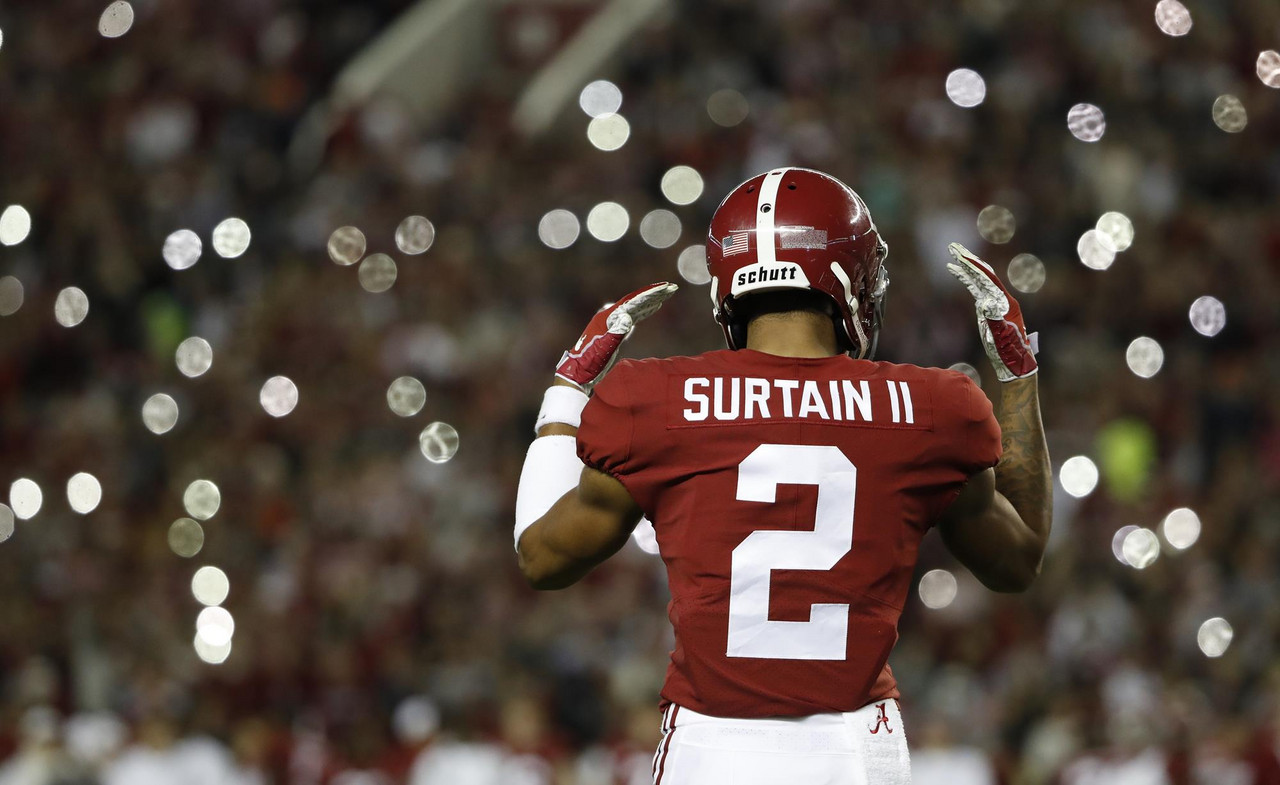 2016 feels like it was a long time ago when it comes to the Atlanta Falcons Super Bowl appearance. Hard times have fallen on the Falcons as they have gone 7-9 in back-to-back seasons and currently, they sit at 0-4.
Even with Matt Ryan and Julio Jones are the elite members of the club learning to play with the young talent on the offensive side of the ball, the defense could use a lot of work. There could be a coaching change possibly at the end of the season, depending on how Dan Quinn manages the rest of the season.
Even though it is way too early to be looking at a draft taking place April 29th to May 1st, 2021, it always fun to think of the possibilities and best-case scenario outcomes. Here are the prospects that could help the Falcons get back to their winning ways.
Round One: Patrick Surtain II, CB, Alabama
With Isaiah Oliver, Kendall Sheffield, and A.J. Terrell already in the mix at corner, the Falcons could use an elite corner that takes away the opponent's number one receiver. His father Patrick Surtain Sr. was drafted by Miami Dolphins in 1998 and made the Pro Bowl from 2002, 2003, and 2004, meaning he has the knowledge of what it takes to succeed in the NFL.
Throughout his career, Surtain has 80 tackles, 15 passes defended, has forced four fumbles and has three interceptions. He has the size that most coaches would want for a player at his position and has the winning edge. He may not be overly active with receivers as he allows receivers to reveal their release/route plans prior to latching on in order to reroute them, using his speed to turn and run to remain hip-to-hip with his matchup. When the ball is in the air, Surtain will minimize throwing windows, leaving little room for error for quarterbacks.
The combination of Surtain II, Oliver and Terrell in a wide receiver heavy NFC South should excite Falcon fans.
Round Two: Hamsah Nasirildeen, S, Florida State
Keanu Neal has been the heart and soul of the defense since being drafted by Atlanta in the first round of 2016. To say that he has meant so much to the Falcons defense might be an understatement. Unfortunately, he has suffered season-ending injuries each of the last two seasons and his contract expires after this season.
If the Falcons decide to move on from Neal, Florida State's Hamsah Nasirildeen would be a good replacement. Nasirildeen is like Neal in so many ways. Like Neal, Nasirildeen is always around the football, with playmaking ability in the run and passing game. Nasirildeen tallied 101 total tackles in 2019 and 91 total tackles in 2018. He has three interceptions for his career, returning one for a touchdown. He is a plug and play kind a guy from the get-go and will help the Falcons defense grow.
Round Three: Chuba Hubbard, RB, Oklahoma State
Through four games, the Falcons are middle of the pack in running the football. Todd Gurley II hasn't produced the way Atlanta would have hoped while Brian Hill has been okay. The Oklahoma State product Chuba Hubbard would be a great addition to the Falcons running back group.
As a sophomore, Hubbard rushed for 2,094 yards for 21 touchdowns on his way to being names Big 12 Offensive Player of the Year and placing eighth in Heisman voting. He has a terrific understanding of the run block scheme and waits for the whole to be created by the offensive line versus running into a defender. Uses his speed well, exploding through the first level of defense. He can mix it up in pass protection and has good hands in the running game. He would be a good building block for the next contending team.
Round Four: Marquez Stevenson, WR, Houston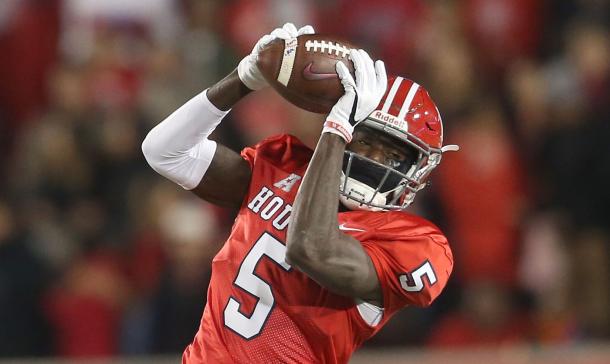 Looking at the Falcons receiving group, they have two elite wide receivers in Julio Jones and Calvin Ridley while Russell Gage has shown flashes of being a capable receiver in the NFL. It has been evident that the Falcons could use another playmaker in the offense and Marquez Stevenson could be the guy at this point in the draft.
Stevenson has caught 127 passes for 1,926 yards and 18 touchdowns over the past two seasons. He has also been useful on kick return, posting 744 return yards and two touchdowns and is averaging 24.8 yards per return.
His quickness and acceleration make his dangerous after the catch, often beating defenders in pursuit. He will make shovel passes and jet sweeps look easy if the Falcons plan to utilize them in the offense. Stevenson is an explosive athlete that is a threat at all levels of the field. His presence would immediately change the dynamic of the Falcons' receiving corps.
Round Five: Palaie Gaoteote IV, LB, USC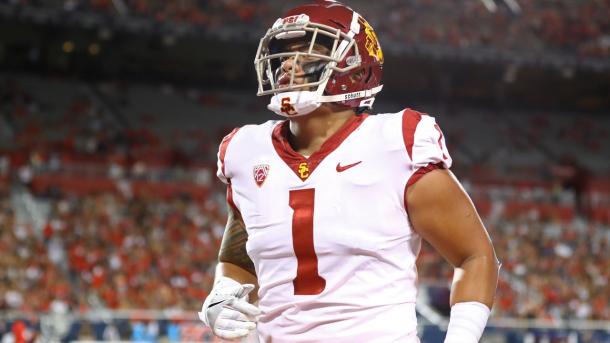 The Falcons have lost a lot of talent at the linebacker position over the past year. Vic Beasley and De'Vondre Campbellhave both moved on and while Deion Jones is still playing at a high level, the Falcons need to add some depth at the linebacker position. Enter Palaie Gaoteote IV.
He does a great job of reading the quarterback and reacting quickly, using his explosiveness and range to stick with the running backs as while as tight ends. Is very aggressive and physical, exploding out of his stance to rush the passer. On running plays, Gaoteote gets into the backfield quickly and makes plays in the backfield. Handles well in zone coverage and can hold his own in man-to-man coverage.
In a four-three scheme, its uncertain where he would find his fit. Atlanta currently throws three safeties out onto the field on defense, Gaoteote would be the other linebacker opposite of Deion Jones. Imagine these two going sideline to sideline, taking away the running game from their opponent.
Round Six: Deangelo Malone, Edge, Western Kentucky
Back in March, the Falcons declined the fifth-year option of defensive end Takkarist McKinley. With Dante Fowler Jr.signed long term, Atlanta needs to find a running mate for Fowler on the other side. Deangelo Malone would fit the bill for the Falcons.
Malone compiled 85 tackles, with 7.5 sacks and one interception in his first two years at Western Kentucky. As a junior, Malone finished 2019 with 99 tackles with 20.5 for a loss, with 11 sacks en route to Conference USA Defensive Player of the Year.
Malone sets the tone on the edge as well as playing in space. Pair him next to Fowler Jr. and the Falcons pass rush is already improved.
Round Seven: Cade Otton, TE, Washington
Even though the Falcons traded for Hayden Hurst in the offseason, there is a need for more depth at the position. Huskie tight end Cade Otton would fit in perfectly.
If it wasn't for the pandemic, Otton could have emerged like fellow Huskies Hunter Bryant, Drew Sample, and Will Dissly to make the jump to the NFL. Even playing behind Bryant last year, Otton still managed to catch 45 passes for 518 yards and five touchdowns. There is so much talent here, Otton was named to the preseason watch list for the John Mackey Award.
Otton can contribute by catching the ball and is not afraid to knuckle up in run protection. He has also stated that there is room to get better as a run blocker and pass blocker, which indicates he is teachable and willing to learn. If he is still hanging out there this late in the draft, it would be a steal for the Falcons and should jump out for this selection immediately. Pairing Otton with Hurst would open up the field for Julio Jones and Calvin Ridley.