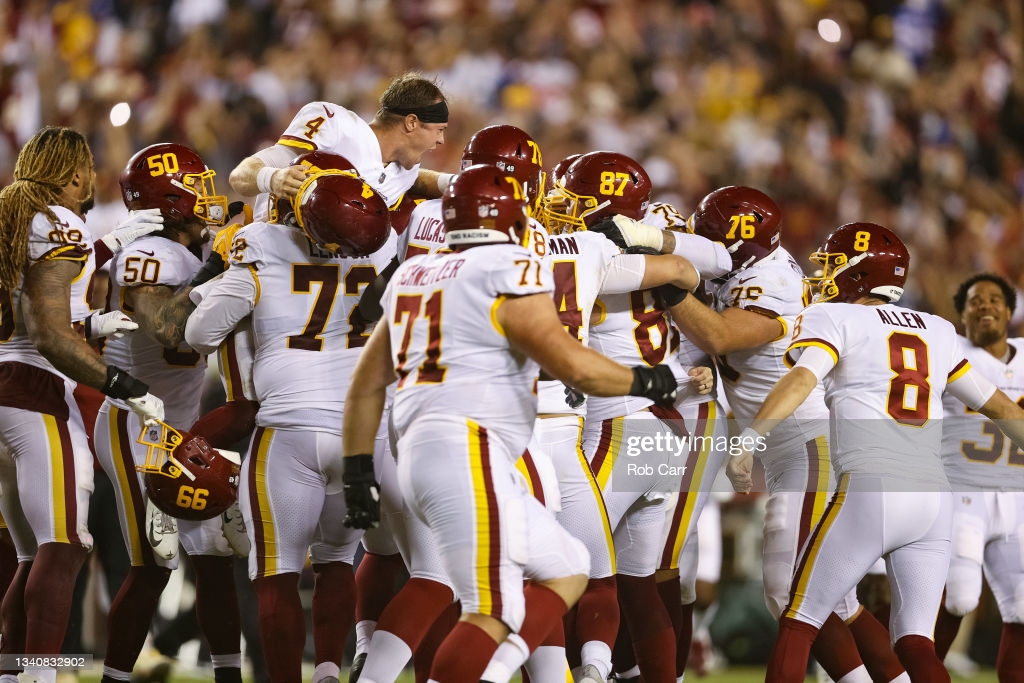 The Washington Football Team defeated the New York Giants 30-29 in a crucial NFC East game. Dustin Hopkins kicked a 43-yard field goal as time expired after missing from 48 yard, but an offsides call on Dexter Lawrence allowed Washington another opportunity.
Taylor Heinicke, making just his third career start, completed 34 of 46 passes for 336 yards for two touchdowns and one interception. Terry McLaurin caught 11 passes for 107 yards and a score as Washington improved to 1-1.
Daniel Jones was 22 of 32 for 249 yards, throwing a touchdown and rushing one in. He had 95 yards on the ground on nine carries. Sterling Shepard caught nine balls for 94 yards as the Giants fall to 0-2.
Story of the game
New York started on their own 21-yard line, and they drove 79 yards for the game's opening score. A strong block by Kaden Smith allowed Jones to run for 15 yards down the sideline to move up to the Washington 29-yard line.
He then finished what he started by running it up the middle for a six-yard touchdown that put the Giants up 7-0 less than eight minutes into the game. Jones was 4-4 on the drive with 45 passing yards and 23 rushing yards.
After two straight three-and-outs, the Football Team tied the game in the second quarter. Heinicke, starting under center in place of the injured Ryan Fitzpatrick, completed an 11-yard touchdown pass to McLaurin at 11:22 to tie the score at seven. McLaurin had four catches for 43 yards on the drive.
Jones appeared to give New York a 13-7 lead when he ran for a 58-yard score at 6:19 in the second quarter. But holding penalty on CJ Board nullified the play and they had to settle for a 23-yard field goal by Graham Gano at 4:12 to take a 10-7 advantage.
Washington took the lead into halftime when J.D. McKissic rushed for a two-yard touchdown run with 23 seconds left in the half to complete a 12-play, 84-yard scoring drive. Heinicke's 24-yard pass to Logan Thomas was the key play of the drive.
On the Giants' opening drive of the second half, Jones led the team down the field to set up a 47-yard field goal by Gano at 9:12 to cut the Washington lead to 14-13.
After forcing a quick three-and-out, A 19-yard pass from Jones to Shepard set New York up on the Washington 33-yard line and on the next play, Jones completed a 33-yard touchdown to Darius Slayton, who just managed to haul in the ball down the sideline and tip-toe into the end zone for the score.
Both teams traded field goals back and forth throughout the third and fourth quarters with the Giants maintaining a 26-20 advantage with just under five minutes to play in the game.
A big drop by Slayton and back-to-back false starts forced the Giants to kick their second-straight field goal.
Washington re-took the lead when Heinicke completed a 19-yard touchdown pass to Ricky Seals-Jones with 4:33 left in the game, making the score 27-26 after an extra point by Hopkins.
With 2:22 remaining, Heinicke's pass intended for McLaurin was intercepted by James Bradberry and Gano converted his fifth field goal from 35 yards to give the Giants a two-point advantage with two minutes left to play.
Heinicke set Washington up to win the game, but Hopkins missed a 48-yarder as time expired. The Football Team caught a break when Lawrence was offsides and given a second chance, Hopkins nailed it from 43 yards to win the game.