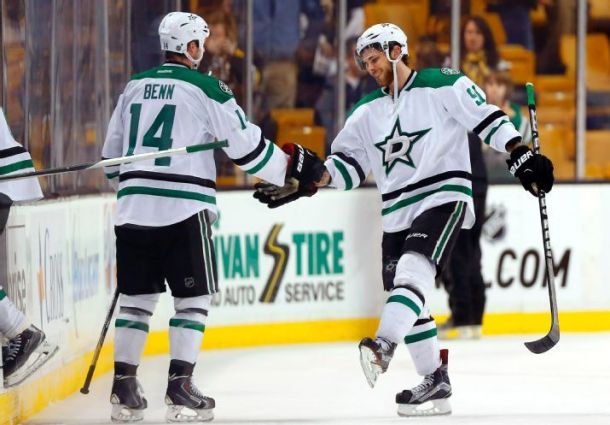 The Stars finished up a three game road trip in Boston, against a tough and now fairly healthy Bruins team that is fighting for position in the tough Atlantic division. After surprisingly dropping the opening game in Buffalo then winning against the Rangers in Madison Square Garden, they finished the road trip 2-1 with a 5-3 win over the Bruins on Tuesday night.
The Stars took advantage of Tuukka Rask starting on the bench this evening and put three goals past Niklas Svedberg on just ten shots. Boston had not allowed a shorthanded goal all season but that streak ended in the first period when Vernon Fiddler drilled a goal on a breakaway just 7:28 into the game off a Boston turnover in center ice while trying to kill a penalty. Fiddler finished with four shots on goal.
David Krejci tied the game up just over three minutes later when he put one past Kari Lehtonen, assisted by Milan Lucic and David Pastrnak. Stars captain Jamie Benn then showed why he wears the C by breaking the tie with two goals just over three minutes apart to close out the period. His first goal was assisted by John Klingberg and Alex Goligoski, the second by Patrick Eaves and his brother Jordie.
With Tuukka Rask in to start the second period, the Bruins wasted little time tying it up. Patrice Bergeron put the second of the three shorthanded goals in the game into the back of the net just 26 seconds into the period, assisted by Brad Marchand for his 15th goal of the season. After 6:42 Dougie Hamilton netted his ninth goal of the year, assisted by Chris Kelly and Torey Krug. Exactly seven minutes later, with the Bruins on the power play, Trevor Daley gave the Stars the lead with an unassisted goal.
Despite seven goals scored through the first two periods, neither team scored in the third until there were just 33 seconds left in the game when Erik Cole threw the puck out of the Dallas zone, but the puck stayed along the boards then ricocheted one of the boards and caromed to the left and at the correct trajectory to slide into Boston's empty net and provide the insurance goal for Dallas.
Tyler Seguin returned to Boston for the second time after being traded to Dallas, but he fought the flu in this game and had a minimal impact with just two shots on goal.
Dallas is now off until Friday when they host the Florida Panthers. Boston heads west for a road trip that starts in Vancouver on Friday night as well.