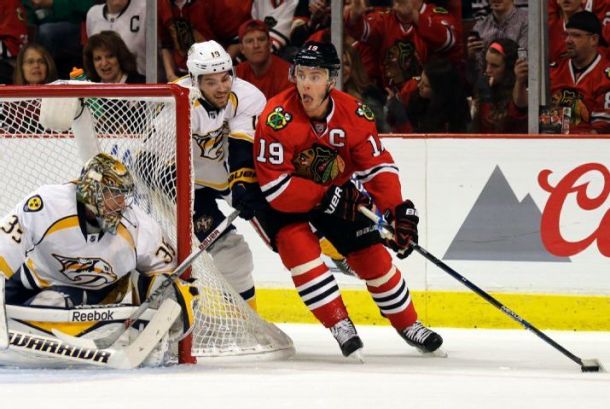 In what has been a crazy series so far, featuring a double overtime game and a six goal outburst in the first two games, the first round series between the Chicago Blackhawks and Nashville Predators shifted back to Chicago, and the Blackhawks defended their home ice with a 4-2 win, with goals from four different players. 
 Nashville had dominated the first period in the first two games but it was not so in this game. The period was up and down, back and forth and ultimately a 1-1 tie after one. Andrew Desjardins scored first, assisted by Marian Hossa and Johnny Oduya. Hossa had two assists in the game. Nashville answered with a goal from Mike Ribiero, with Craig Smith picking up the helper.
 Chicago came out fast in the second. Jonathan Toews scored the first goal just 36 seconds into the period, with Marian Hossa and Duncan Keith picking up the assists. It didn't take Nashville long to answer as Mattias Ekholm scored 22 seconds later to even the game at 2-2 with Ryan Ellis and Craig Smith assisting. Then Chicago got two in a row as Brandon Saad scored 3:38 into the period, unassisted, to make it 3-2 and then later Brent Seabrook scored off a pass from Toews, who came around the back of the net and passed it to Seabrook in the slot to nail it home. Andrew Shaw also picked up an assist. This period picked up the physicality and scrapping in front of the net. 
 In the third both teams were unrelenting on the defensive end. After a scoreless third period, Nashville pulled Pekka Rinne with 2:35 to go. Andrew Desjardins got the puck for Chicago and shot from the red line but it went just wide. Later Patrick Sharp got the puck in the Nashville zone and shot but Ellis blocked it to keep it at 4-2. In the final minute Mike Ribiero was called for holding on Toews and that gave Chicago a power play, and returned Rinne to the net. From that point the Blackhawks ran out the clock and sealed the two goal win. 
 Scott Darling started in this game after Corey Crawford's disastrous game two. Darling allowed just two goals on 37 shots; outplaying his counterpart, Rinne, who allowed four goals on 30 shots. The Predators will be without Shea Weber again in game four, and also missed Mike Fisher in this game. The health of those two could be a major factor in this series.
 The series will resume on Tuesday night in Chicago.