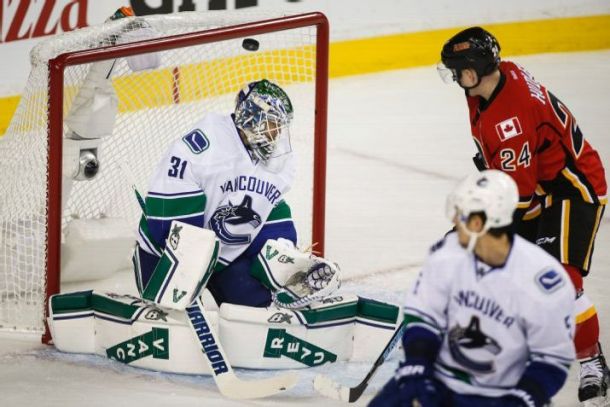 The young and upstart Calgary Flames are now just one step away from winning their first playoff series since 2003-04 as they lead the Canucks 3-1 in the series with a 3-1 win over Vancouver in Calgary on Tuesday night. That season was the year that the Flames won the Western Conference before falling just short in the Stanley Cup Finals against Tampa Bay. After the lockout year, they lost in the first round four straight years before missing the playoffs each of the last five years.
All the scoring was done in the first period of the game. Johnny Gaudreau started the scoring just 3:23 into the game with a power play goal following a boarding penalty by Ronalds Kenins. Dennis Wideman and Jiri Hudler assisted. Just less than five minutes later, the Canucks tied it up with a goal by Henrik Sedin, also on a power play. Alexander Edler and Daniel Sedin assisted. It didn't take the Flames long to answer as Jiri Hudler scored just 72 seconds later with, you guessed it, a power play goal to put Calgary up 2-1. Wideman got his second assist and Kris Russell got the second helper. Sam Bennett scored with just 42 seconds left in the period, his second goal of the series, to put Calgary up 3-1. It was the only even strength goal of the game. T.J. Brodie and Joe Colborne assisted.
Once again, there were plenty of penalty minutes to go around. In total, there were 22, but 10 came on a game misconduct by Brandon Bollig in the second period with six minor penalties. Despite generating more shots, Vancouver lost in hits, giveaways, takeaways and face-offs.
Once again Jonas Hiller was brilliant for the Flames, making 28 saves on 29 shots faced. Eddie Lack, on the other hand, made four saves while allowing three goals. Ryan Miller came in after the first and didn't allow a goal, but it was too little too late.
The Flames will have a chance to clinch as the series moves back to Vancouver for Game 5, Thursday at 10 P.M. Eastern.