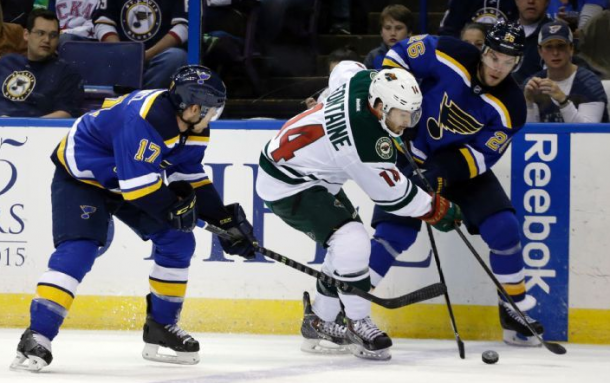 The Minnesota Wild would love to have the chance to finish off the Blues at home and pull off the upset, and they would get the chance to do that Sunday as they stole home ice from the St. Louis Blues in Game 5.
St. Louis scored early in the game with a goal by Vladimir Tarasenko, the Blues leading scorer, on the power play. After that, the Wild dominated and scored four straight unanswered goals, with a solid performance from Devan Dubnyk, a Vezina trophy finalist for best goaltender in the league. He had a great bounce back night and stopped 36 of 37 shots tonight, one game after giving up six goals in his last start.
One of the most underrated goaltenders in this year's playoffs; he was acquired from the Edmonton Oilers a few months into the season, and quickly became Minnesota's starting goaltender. It seems as though Minnesota always gets decent goaltending in the playoffs, but Dubnyk may be better than other recent goaltenders the Wild have started in the playoffs, including Darcy Kuemper last season.
St. Louis may switch from Jake Allen to Brian Elliott after tonight's game according to NBC Sports' announcers. Allen did not have his best game tonight, giving up four goals over the course of the game to Marco Scandella, Chris Coyle, Mikko Koivu, and Nino Nedereiter. Allen has done decent so far this series, but has not been as good as Dubnyk, or other goaltenders outside the series in the playoffs. Brian Elliott would provide a veteran presence for the Blues and could give them the boost they need to pull off a road win against the Wild according to NBC.
The next and possibly final game of the series is in Minnesota Sunday, and will determine whether St. Louis can take it back home for a Game 7, or Minnesota will be traveling somewhere for their second-round matchup if they win at home.
While this hasn't been quite the most exciting series so far, especially considering the Montreal-Ottawa series, the fans of both teams have definitely had their moments. It has been a tight series, and both teams have put up a great fight so far. It should be interesting to see what happens with the rest of this series, as Game 6 should be the best game between these two teams yet.