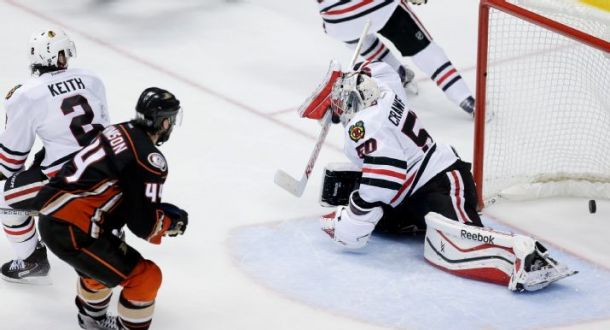 Both teams were well rested heading into the Western Conference Finals, with the Chicago Blackhawks having nine days off after sweeping the Minnesota Wild and the Anaheim Ducks got six days off after finishing off the Calgary Flames. Rust was apparent in the first period and throughout the game, but Anaheim was able to shake off the rust and take advantage of their scoring chances as they defeated Chicago 4-1 to open the series.
In the first period, Anaheim struck first as Hampus Lindholm scored his second goal of the playoffs, assisted by Jakob Silfverberg and Matt Beleskey. Despite the goal, it was not indicative of the feel of the period as Chicago dominated puck possession and outshot the Ducks 16-7. But Frederik Andersen didn't give an inch.
In the second, Anaheim added to their lead just 4:17 into the period as Kyle Palmieri scored his first goal of the playoffs, assisted by Nate Thompson. There was a scrum in front of the net and Palmieri put the puck on net and it found a hole and gave the Ducks a 2-0 lead. Chicago didn't score until the final minute of the period, when Anaheim turned it over in their own zone and the puck went right to Brad Richards who put the puck past Andersen from his right of the net glove side.
In the third, Anaheim took two early penalties which gave the Blackhawks a chance to even it up. On the second of those power plays, there was an open net for Brandon Saad but he couldn't control the puck as it bounced away. Later Anaheim scored as Nate Thompson got a rebound off a rebound and drilled it past Corey Crawford to give the Ducks a 3-1 lead. Andrew Cogliano and Lindholm got assists. Silfverberg put the game on ice with an empty net goal with 1:18 remaining as Simon Desperes and Ryan Getzlaf assisted. It was the only point for either Getzlaf or Corey Perry. Neither Jonathan Toews, Patrick Kane, or Marian Hossa picked up a point for the Blackhawks.
Corey Crawford had been so solid for the Blackhawks against the Wild, but he allowed three goals on 26 shots faced, a .885 save percentage. Andersen on the other hand allowed just one goal on 33 shots faced.
Game two of the series will be Tuesday at 9 PM ET at the Honda Center.