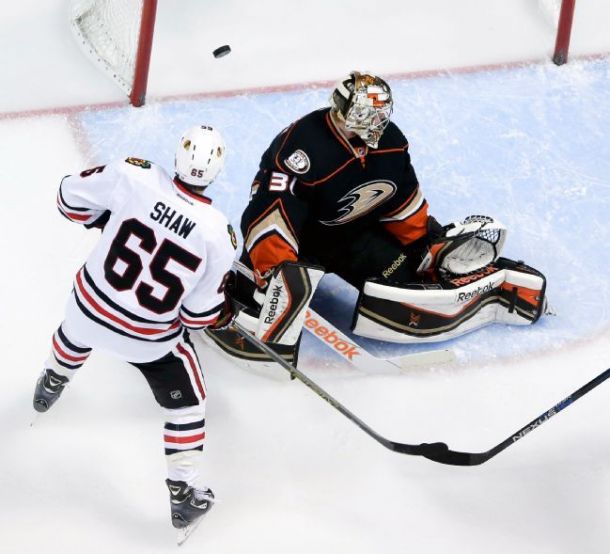 Chicago started with the first two goals, with the first coming off the stick of Andrew Shaw on a power play. Patrick Maroon was sent to the sin bin just 1:46 into the game at 2:14. Duncan Keith and Jonathan Toews picked up the assist, first point of the series for the Chicago captain. It was Shaw's second goal of the playoffs. Less than five minutes later at 6:19, Marian Hossa picked up his second goal of the playoffs, also on a power play. Bryan Bickell and Brad Richards assisted as the Blackhawks took advantage of another power play; taking advantage of a penalty by Clayton Stoner.
Before the first period was over Anaheim got back into it as Andrew Cogliano scored his third goal of the postseason at 9:14, assisted by Nate Thompson and Cam Fowler. After three goals in the first 10 minutes, neither team scored the rest of the period as Chicago took a 2-1 lead into the second.
In the second period Anaheim tied it up as Corey Perry drilled his eighth goal of the playoffs 17:30 into the period, assisted by Ryan Getzlaf and Sami Vatanen.
After a scoreless third period and first overtime, Chicago began to gain the upper hand. In double overtime they outshot the Ducks 11-5 before Shaw appeared to have came through once again with another power play goal, but it was disallowed as they ruled that he head butted the puck into the net.
Play continued, and went to triple overtime. It is the third multi-overtime game for Chicago this postseason, and like the first two, they came out victorious. Marcus Kruger scored on a redirect with just a few minutes left in the third overtime to give Chicago the win. Kruger scored his second goal of the postseason, assisted by Brent Seabrook and Johnny Oduya.
In total, Chicago took 56 shots on goal, 28 of them in overtime. Anaheim took 62 shots, with 28 in overtime. Anaheim won face-offs 59-53 and laid 71 hits to Chicago's 44. But the Blackhawks found a way to win and will head back to Chicago with the series tied at one each. Game 3 will be on Thursday night.