The fans have been waiting for it. Waiting to see which players from their team will get a shot at the NHL's All-Star game and celebration that will take place from Jan 30th-31st. Listed below are the rosters and coaches for each of the four teams.
Atlantic Division:
Head Coach:
Gerard Gallant will be the bench boss for the Atlantic Division. His Florida Panthers are leading the Division with 52 points thanks to 10 straight wins. They sit fourth overall in league standings.
Forwards: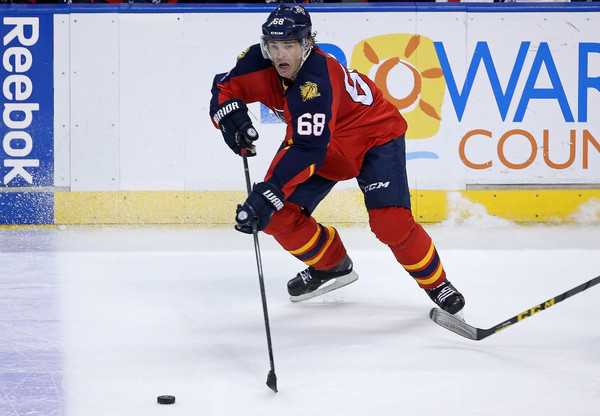 Jaromir Jagr (Florida Panthers) - The Division's captain is the ageless wonder who leads his team in goals and points. Despite not telling fans not to vote him in, he'll be there.
Patrice Bergeron (Boston Bruins) - The three-time winner of the Frank J. Selke Trophy has 37 points in 38 games and looks like he may be the team's top center.
Leo Komarov (Toronto Maple Leafs) - Komarov has come alive recently and is playing very well for the Leafs with a modest 27 points in 37 games played.
Dylan Larkin (Detroit Red Wings) - Is the Calder Trophy in his future? Detroit's shining youngster is leading all rookies with 14 goals and a plus/minus ranking of plus 22.
Ryan O'Reilly (Buffalo Sabres) - In his first year with the Sabres, O'Reilly is having a fantastic year with 34 points in 40 games and is leading the way for Buffalo.
Steven Stamkos (Tampa Bay Lightning) - Nobody from the division selected to the game has more goals than the Lightning captain who has found the twine 17 times.
Defenseman:
Aaron Ekblad (Florida Panthers) - Sophomore slump? Ekblad doesn't know what that is. The star blue-liner is impressing many in Florida.
Erik Karlsson (Ottawa Senators) - Karlsson looks to be the front runner for the Norris Trophy and no defenseman has more points than he does this year and he sits fourth in the league in scoring.
P.K. Subban (Montreal Canadiens) - Subban will thrive with his personality and style on the big stage in Nashville. Montreal's star defender has 28 points on the year.
Goaltenders:
Ben Bishop (Tampa Bay Lightning) - He may be in talks for the Vezina if his record was better, but that's something his team controls. He's ranked fifth in goals against average (GAA) and 12th in save percentage (SP).
Roberto Luongo (Florida Panthers) - With 18 wins on the year, the Panthers netminder is still going strong as the veteran presence in goal, helping the Cats stabilize and era that has been weak for several seasons.
Metropolitan Division:
Head Coach:
Barry Trotz takes the coaching job for the Metropolitan division and, just like his counterpart Gallant, will get to coach three of his own players.
Forwards: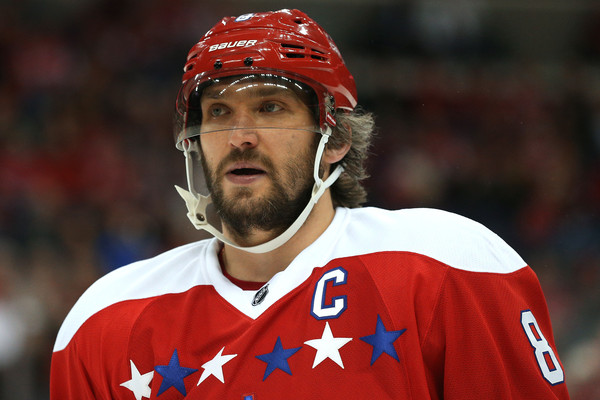 Alex Ovechkin (Washington Capitals) - He's honored to have the position of captain at the event and will no doubt provide us with some laughs as he tends to shine at All-Star games, as evident by past tournaments.
Nicklas Backstrom (Washington Capitals) - The assist making machine finally gets his chance at the All-Star game after being a notable snub for years. He and Ovechkin should have plenty of fun at the game.
Claude Giroux (Philadelphia Flyers) - The Flyers captain will be Philadelphia's lone representative at the All-Star game. He has 29 points this year.
Evgeni Malkin (Pittsburgh Penguins) - Malkin is one of the few bright spots for a struggling Pens team this year. He's scoring at almost a point per game pace this season with 37 tallies in 39 games.
Brandon Saad (Columbus Blue Jackets) - Saad is the only player from the two Eastern teams with more than one Cup win. He'll look to bring some experience to the team.
John Tavares (New York Islanders) - Despite having a down year, the Isles captain still has plenty of time to turn things around and scored four goals at last year's game, tying an All-Star game record.
Defenseman:
Justin Faulk (Carolina Hurricanes) - This guy scores goals at an unbelievable pace with 12 on the powerplay this season and will be a staple in the NHL for a long time.
Kris Letang (Pittsburgh Penguins) - It's a shame Letang gets injured often because he hasn't been able to show a full season worth of talent. He'll get a chance to showcase those talents in Nashville though.
Ryan McDonagh (New York Rangers) - A bit of a surprise that his teammate Mats Zuccarelo didn't get selected, but McDonagh is by no means a bad choice. The Ranger captain has 17 points in 40 games.
Goaltenders:
Braden Holtby (Washington Capitals) - He looks to be the Vezina winner this year and will look to help the Capitals capture the Presidents Trophy. But for now, he'll take an All-Star appearance.
Cory Schneider (New Jersey Devils) - The MVP of his team, Schneider is a great goaltender who is very deserving of this nomination.
Central Division:
Head Coach:
Lindy Ruff has coached the Dallas Stars into one of the top spots in the NHL this season and now gets the opportunity to coach the Central Division All-Stars to a win at the tournament.
Forwards: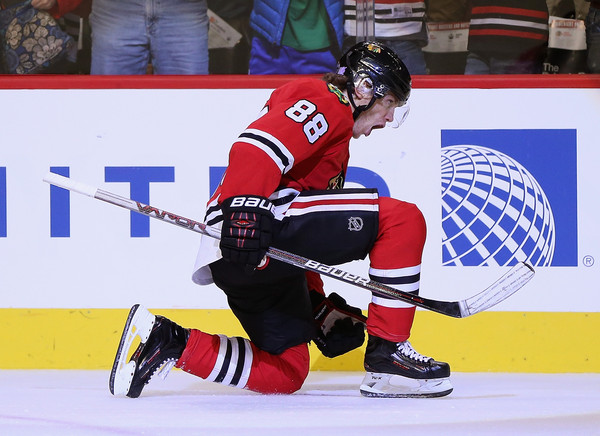 Patrick Kane (Chicago Blackhawks) - Kane is not only leading the NHL in points with 59, but is leading his Blackhawks through the standings. Kane will serve as the captain for the Central.
Jonathan Toews (Chicago Blackhawks) - Toews will have the roles reversed when Kane becomes his captain at the All-Star game, rather than the other way around. Toews has 26 points in 41 games.
Jamie Benn (Dallas Stars) - Benn lead the league in points last year and sits just seven points back of the lead this year with a half a season to go. He also leads the league in goals.
Tyler Seguin (Dallas Stars) - Seguin is right behind Benn with 23 goals and 50 points. The two have formed perhaps the league's deadliest duo on the ice this season and look to continue their dominance in the tournament.
Matt Duchene (Colorado Avalanche) - Duchene has gone from trade bait to hero for the Avs. He has 33 points in 40 games this season.
Vladimir Tarasenko (St. Louis Blues) - Tarasenko is fifth in the league in points and fourth in goal scoring. Tarasenko had plenty of fun at last year's game with Ovechkin and teammate Brian Elliott. Without any fellow Blues this year, Tarasenko will just have to find a new buddy this time around.
Defenseman:
Dustin Byfuglien (Winnipeg Jets) - Big Buff gets to go two years in a row now and will no doubt take advantage of this opportunity. This year Byfuglien has 23 points in 40 games.
Shea Weber (Nashville Predators) - Nashville's biggest star on ice gets to attend another All-Star Tournament, and will look to win the hardest shot competition two years in a row after winning it with a shot registering 108.5MPH last season.
Roman Josi (Nashville Predators) - Josi is another Preds blue-liner who has emerged as a dominating force in the past few years. Josi has nine goals and 30 points.
Goaltenders:
Pekka Rinne (Nashville Predators) - a Vezina finalist last year, Rinne will hope to impress the hometown crowd with some nice saves. Rinne is 16-12-6 this season.
Devan Dubnyk (Minnesota Wild) - One of the NHL's feel good stories last year, Dubnyk has gone from after thought in Montreal to star netminder with the Wild, and now he gets to play in an All-Star game. It doesn't get much better than that.
Pacific Division:
Head Coach:
Darryl Sutter has now been an All-Star coach two years in a row and he certainly is worthy of it as his Kings are running away with their Division and look to be a serious Cup contender.
Forwards:
John Scott (Arizona Coyotes) - He'll be the much talked about captain for the Pacific Division and despite much controversy over whether or not he should be there. He has five career goals to go along with 517 penalty minutes over 274 NHL games.
Corey Perry (Anaheim Ducks) - The sad thing for Perry is that this may be the only bright spot in his season, in which his Ducks just only got above the .500 mark a few days ago. Perry surprisingly only has 25 points this year.
Johnny Gaudreau (Calgary Flames) - 39 points in 39 games for Johnny Hockey and Gaudreau is helping the Flames work their way back into a playoff spot.
Taylor Hall (Edmonton Oilers) - Many didn't give the Oilers any hope after Connor McDavid was injured, but they haven't fallen out of the race just yet and Hall is a huge part of it. He's sixth in the points race.
Joe Pavelski (San Jose Sharks) - The Sharks captain already has 20 goals this season and will be the only member of this team to have that many.
Daniel Sedin (Vancouver Canucks) - Sedin will have to go without Henrik in this year's event but may not find that to be difficult with such talented teammates.
Defenseman:
Brent Burns (San Jose Sharks) - Burns, in the midst of a Norris caliber season, will be one of the most offensive defenseman at the tournament.
Drew Doughty (Los Angeles Kings) - Just like Burns, Doughty is also in the race for the Norris and has seven goals and 24 points this season.
Mark Giordano (Calgary Flames) - That's two straight All-Star games for the Calgary captain and he's got 23 points this season.
Goaltenders: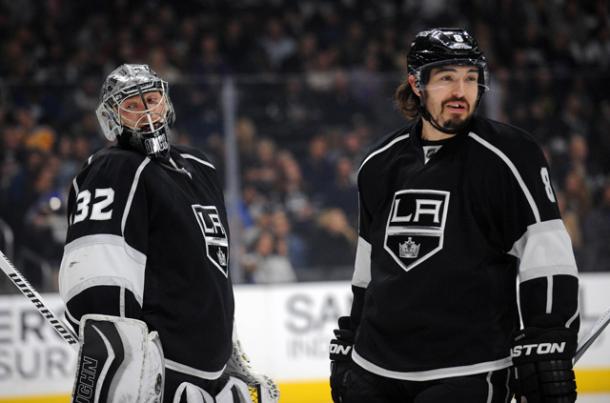 Jonathan Quick (Los Angeles Kings) - A Vezina nomination and a Conn Smythe win, plus his reputation as one of the most flexible goalies in the NHL, just might make Quick, who has gone 22-9-1 this season, the best goaltender to be in this tournament.
John Gibson (Anaheim Ducks) - He's settled the Ducks down and has been their rock in recent games. He has the best GAA in the NHL and is 8-4-2.