 The Washington Capitals and Philadelphia Flyers meet in Game 1 of the Stanley Cup Playoffs. These two clubs will do battle at the Verizon Center on Wednesday night where the puck is set to be dropped at 7:00 PM Est.
Both teams head into Game 1 in opposite directions
For Washington, the playoffs starting is probably a good thing. The Washington Capitals locked up the Presidents Trophy a few weeks ago which may have caused for some of their poor play as of late. The Caps' are just 4-3-3 in their last 10 games and have not played like the offensive powerhouse that they had appeared to be for much of the season. Now that the playoffs are about to begin, the Capitals will likely begin to regain their dominating play that they had possessed for much of the season.
As for the Philadelphia Flyers, they squeaked into the playoffs in the final week of the regular season due to superb goalie play from both Steve Mason and Michal Neuvirth. The Flyers were 6-3-1 in their final 10 games of the regular season and appear to be getting hot at the right time. If the Flyers continue to play like the confident team that went on a magical run just to earn a playoff spot, they should feel as if they can win game 1 as well as this series.
Things to Look Out For
Capitals: Will Braden Holtby be able to continue his historic success and carry it into the playoffs? Will the Capitals offense be able to regain the dominant form they showed a few weeks ago?
Flyers: Which goalie will get the starting nod? Both have been steady options all season long. Will the Flyers 20th ranked penalty kill be able to shut down the rapid Capitals power play unit?
Players to Watch
Washington Capitals: Braden Holtby, Goaltender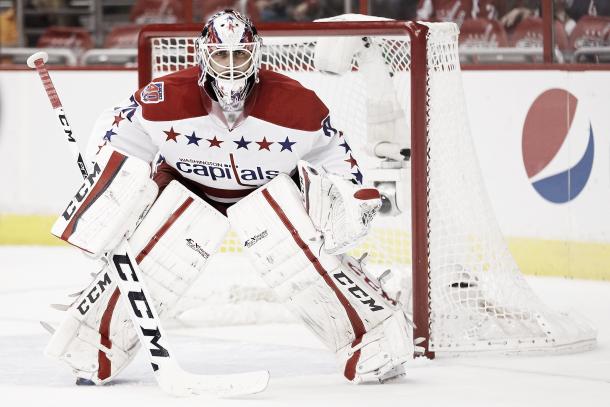 This season was a career year for Braden Holtby as he tied Martin Brodeur for most wins in a single season by a goalie in NHL history. The likely Vezina trophy winner finished 48-9-7, had a 2.20 GAA and a .922 save percentage. Throughout this series and the playoffs, Holtby will be one of the key pieces in the Capitals run at a Stanley Cup. Holtby's strong play should puzzle and frustrate the Flyers top scorers in this game and in the series.
Wayne Simmonds, Winger, Philadelphia Flyers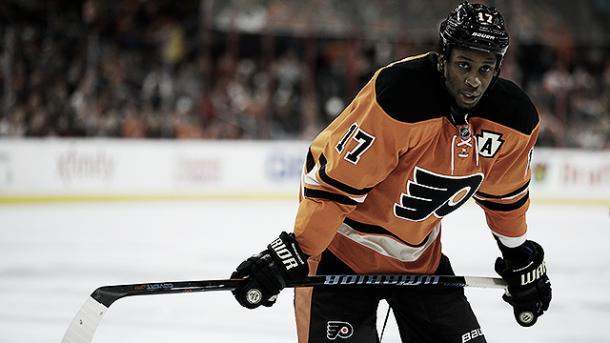 One of Philadelphia's toughest forwards, Wayne Simmonds has been a challenge for the Caps' this season and throughout his entire season. In four games played this year, he put up three assists. In his career (regular season), he has 13 points in 24 games played versus Washington. Look for Simmonds to establish himself as an offensive play maker as well as an aggressor in game one in order to set the tone for the rest of the series.
Game One prediction
This series will likely start out with a bang in game one. The Flyers and Capitals have a history of nasty play against one another and now that is playoff time that should be no different. The Flyers, led by Claude Giroux will be looking to play the role of spoiler but the Capitals will be motivated to come out strong and prove their critics wrong, even as a top seed. The game will start slow as both teams will look to find their comfort zone but throughout the game Holtby will get into a grove, Alex Ovechkin will take his shots and the Capitals will prevail in a tight battle that this writer sees going into overtime.
Prediction: Capitals 3, Flyers 2 OT