 On Wednesday night, the NHL announced that Washington Capitals goaltender Braden Holtby has been awarded the Vezina Trophy, which is given out annually to the NHL's best goalie. For much of the season Holtby was, by far, the best goalie in the NHL.
A Solid Ending to a Historic Season for Holtby
Winning the Vezina Trophy was a good prize for Holtby considering all the work he has done this season. Holtby tied an NHL record with 48 wins and helped the Capitals earn the most points (120) during the regular season.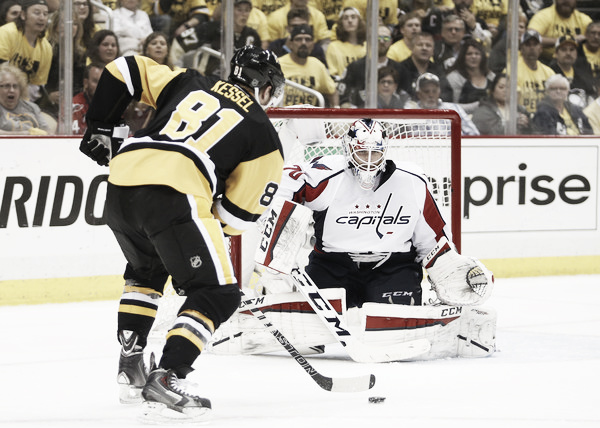 Holtby, 26, was 48-9-7 with a 2.20 goals-against average, .922 save percentage and three shutouts in 66 games this season including a stretch of 22 straight decisions without a regulation loss (22-0-2).
Although Holtby was not able to lead the Capitals to a Stanley Cup victory, he did as much as he could making save after save after save throughout the regular season and into the playoffs.
Other Candidates
While Braden Holtby ran away with the voting, here is a list of the results of the other players who were in the running for the Vezina Trophy:
2015-2016 Vezina Trophy Voting // Pts. (1st-2nd-3rd)
1. Braden Holtby, WSH 140 (26-3-1)
2. Ben Bishop, TBL 51 (2-12-5)
3. Jonathan Quick, LAK 36 (1-8-7)
4. Roberto Luongo, FLA 14 (0-3-5)
5. Corey Crawford, CHI 10 (1-1-2)
6. Cory Schneider, NJD 10 (0-1-7)
7. John Gibson, ANA 3 (0-1-0)
8. Martin Jones, SJS 3 (0-1-0)
9. Brian Elliott, STL 3 (0-0-3)
Outlook for next season
Next season Holtby will likely again be a finalist for the award. Holtby's breakout season in 2015 showed the rest of the league he can be a franchise goalie and he will be a premier player in the NHL for many years to come.