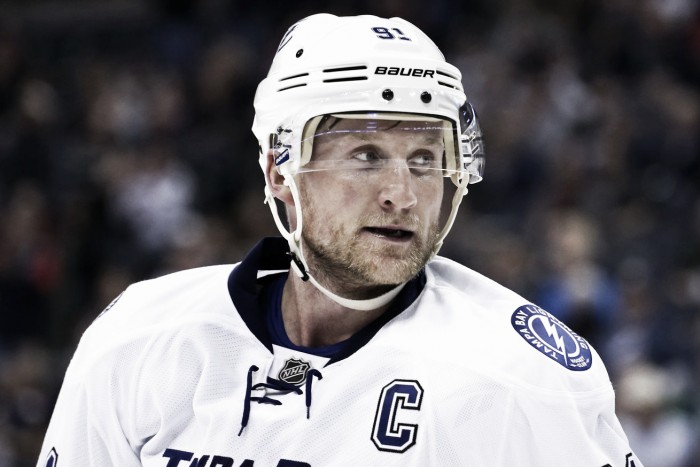 Steve Yzerman, the Tampa Bay Lightning's general manager, has recently said that he would consider a sign and trade deal for Steven Stamkos, a current unrestricted free agent with the team. He also said at the draft that both teams remain firm in their positions regarding the salary that he would be paid. It appears as though Steven Stamkos re-signing in Tampa Bay is quite unlikely now that he has been allowed to talk to other teams.
Stamkos was drafted by the Lightning first overall in the 2008 NHL Draft from the Sarnia Sting. Despite disagreements with management and coaching resulting in limited playing time, Stamkos still scored 23 goals in his rookie season with the Lightning.
Since his rookie year
The next year, he would score 51 goals, and the Steven Stamkos scoring legend had begun in Tampa Bay. In the following season, he would score 45 and lead the Lightning to the playoffs, where he added six goals over 18 games, giving himself another 51 goal year (season and playoffs combined).
In 2011-12, Stamkos scored 60 goals. The only player to do that before him since Mario Lemieux in 1996 was Alexander Ovechkin, who scored 65 in 2007-08.
The next two seasons he combined to play in 85 games, and scored a combined 65 goals, giving him the equivalent to another 60+ goal season (the two combined is only three games more than the 82 in a single season).
What he's done recently
The next season, Stamkos would score 43 over the course of a full season, dropping off his ridiculous 62 goal per season pace set the last three seasons. Stamkos continued to rack up career numbers, earning his 250th and 275th career goals that season.
Last season, playing in 77 games due to a blood clot injury late in the season and into the playoffs, he earned his 300th goal on his way to 36 over the course of the season. This would be the second lowest total he's scored in his career except for his rookie season on a goals-per-game basis. This would still put him tied for seventh with Sidney Crosby, behind only Brad Marchand, Joe Pavelski, Vladimir Tarasenko, Jamie Benn, Patrick Kane and Alexander Ovechkin.
Why Stamkos fits in Tampa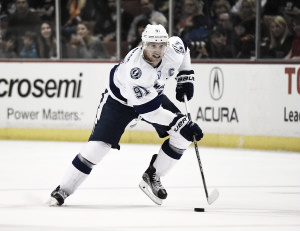 Stamkos would have little pressure to produce relative to other big cities like Detroit and Toronto. Tampa isn't a big hockey market, but much like Kevin Durant and the Oklahoma City Thunder in the NBA, some superstars thrive in a smaller market with less pressure on them. Stamkos may be that type of player.
As far as money is concerned, while the 8.5 million dollar offer that Tampa Bay offered him may not be double digits, the actual take home value is very similar. Florida doesn't have a state income tax, meaning he will actually take home much more money in Tampa from an 8.5 million dollar deal than he would Toronto for 10 million dollars for example.
Stamkos also has a young core in Tampa with Victor Hedman, Tyler Johnson, Nikita Kucherov and Jonathan Drouin amongst others that will continue to keep Tampa a contender for the Stanley Cup long term.
Why Stamkos doesn't fit in Tampa
Stamkos still signing for 8.5 million takes a huge chunk of cap space away from the Lightning. This could hinder Lightning GM Steve Yzerman from signing his other core pieces long term.
The biggest factor on Stamkos's side is location. Almost every team rumored to be a serious contender to sign him other than Tampa is much closer to Canada and his home town of Toronto. Tampa is about the farthest you can get while staying on the east coast.
We have seen location work against teams in big time deals like this in the past, particularly with Ryan Suter and Zach Parise. Both could have re-signed with their teams, also got a large offer from Detroit (much like Stamkos) but instead decided to sign with their hometown team in the Minnesota Wild.
One more additional reason, is that Stamkos may not have had the best experiences with coaching in Tampa. He didn't get along with the Barry Melrose staff early on in his career, and has said that he wants to play center, while Jon Cooper continued putting him on the wing. While it may not be a significant factor, anything working against Tampa could give him a reason to sign elsewhere.