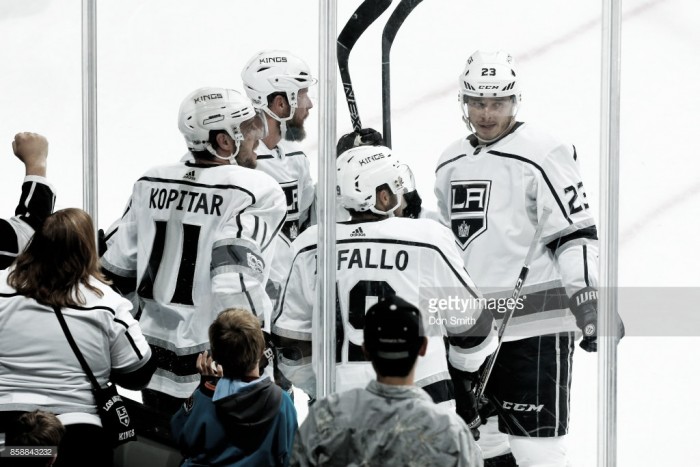 The Los Angeles Kings' Anze Kopitar knows he needs a bounce back season. In the 2016-17 campaign, Kopitar scored just 12 times while mounting 40 assists. Against the San Jose Sharks on Saturday night, however, the Kopitar of old showed up again. He assisted and scored two goals in the Kings' 4-1 win against their Northern California rival.
Anze Kopitar's big night
The 30-year-old's first point came early in the opening period. After Oscar Fantenberg started the play by pinching the Sharks along the boards in his own zone, Anze Kopitar picked up the puck and drove down the ice. Kopitar found Dustin Brown before he entered the zone. Then, from a tight angle, Brown sent one over Martin Jones to open up a lead on the road.
That lead for the Kings did not last very long, as San Jose found the back of the net one minute and six seconds later. San Jose were shifting the puck around before it found Brenden Dillon. Dillon sent the puck towards the crease where Mikkel Boedker expertly tipped it past Jonathan Quick to tie things up at a one.
Anze Kopitar's hot night continued late in the opening 20 minutes. With mere seconds left in the frame, Kopitar, with no pressure around, beat his old teammate with a wrist shot in the slot.
It certainly was Kopitar's night against the Sharks. The Kings were all over San Jose, chipping away, looking for a third goal. And with 12:07 remaining in the middle period, Los Angeles got what they were looking for. Anze Kopitar, near the left boards, meant to just center a pass, but the puck took a bad deflection off of Dillon's stick to make it 3-1 LA.
This was exactly the kind of night that the John Stevens and his staff were hoping to get out of Anze Kopitar. Kopitar has to get his game back this season if the Kings want to make the playoffs. If this game was only a taste of what is to come, Kopitar may be back.
Los Angeles' fourth goal of the night was a bit of a gift. Trevor Lewis sent one in on goal from distance and Jones could not control it. Jones' rebound caused a mad scramble to the crease. Nick Shore got the final touch of the bouncing puck before Melker Karlsson's poor clearance went into the empty net.
Coming Up
San Jose will hope that their fortunes change Thursday night when the Buffalo Sabres come to the SAP Center.
Meanwhile, the Los Angeles Kings will not play again until Wednesday, when the Calgary Flames fly south for their first meeting of the season.