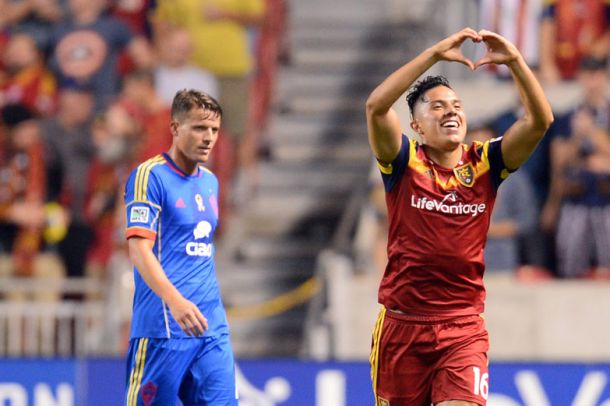 The Colorado Rapids came into Friday night's game with the slimmest of hopes for the playoffs. Having gone winless in their last eight games and facing their biggest rival, Real Salt Lake, Colorado would need a dominating performance from start to finish just to give their fans some hope. With the Rocky Mountain Cup already decided, this game was about pride for Colorado. They would have to play without their new captain Dillon Powers who was sick.
Right out of the gate the Rapids looked flustered, allowing RSL to control the pace, and trying to take advantage of counter attacks. Colorado would get a few chances early on but none of them were of any quality.
RSL tried to get their new Designated Player, Sebastian Jaime involved early on. In the 16th minute, Jaime found himself one on one with Shane O'Neill and was able to pull in a long ball and get a shot off that Rapids keeper Joe Nasco had to push wide.
In the 21st minute, the Rapids would get on the board first. Jose Mari found himself open and took in a deflection, settled it off his chest and curved the ball into the bottom corner, past a diving Nick Rimando. Colorado started to play with some confidence after the goal, but RSL would do their best to tear them down, pressuring the Rapids box with their talented attack.
In the 32nd minute, RSL would tie the game on a Joao Plata strike that no one could get to. Just 90 seconds later, Colorado would give up a second goal on a Javier Morales corner kick. Morales tucked the ball right past the entire Rapids defense.
RSL would add another one to the score sheet in the 37th minute. Salt Lake earned a costless kick after O'Neill was shown a yellow card for a hard challenge on Sebastian Jaime. Joe Nasco would get his hands on the ball, but could not bring it in and Chris Schuler followed the ball into the back of the net.
In 45th minute, Joe Nasco would give up an own goal and give RSL a three-goal lead. The confidence that scoring first seemed to give Colorado was completely gone, and that was clearly evident on the fourth goal. The defense broke down and Nasco found himself out of position, playing catch up which led to the own goal.
Colorado would make a change at half, bringing on rookie Marlon Hairston and taking Kamani Hill off. Hairston has shown flashes this season, but has not gotten a lot of playing time. Colorado did not show much urgency to start the half. Even with the speed of Hairston and Brown, they were unable to find space.
RSL would tack on another goal in the 63rd minute when Joe Nasco could not hold on to the ball on a corner kick and Carlos Salcedo took the rebound and knocked it into the net for his first goal of the season.
Colorado could do nothing against the suffocating play of the entire Salt Lake squad. The Rapids looked like they had never played together and could not handle anything that RSL did. Once Plata tied the game in the 32nd minute, Colorado looked defeated and almost like they had resigned themselves to the fact that they would lose this game. With just five games left after this game Colorado, while mathematically still in the hunt (until Vancouver and Portland play this weekend), should start looking at 2015 and find the players that they want to keep into next season.