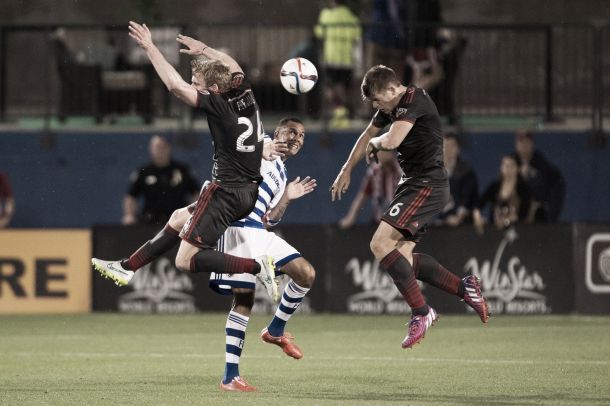 It took just over five hours for the Toronto FC and FC Dallas game on Saturday evening/Sunday morning to conclude.
Officials stopped the game Saturday night at 8:20 p.m. local time due to lightning, and play resumed at 11:43 p.m. with minutes left in the first half. With the score at 3-0 in the 42nd minute, a severe thunderstorm halted this game at Toyota Stadium in Frisco, Texas, for a three-hour, 23-minute delay.
Toronto strolled into Texas having never won an away game over Dallas, and individual defensive mistakes continued to haunt them.
Head coach Greg Vanney had to play a make-shift defensive four with the number of injuries to Toronto defenders. Centre back by trade, Nick Hagglund started at right fullback with Justin Morrow, Damien Perquis, and Ashtone Morgan making up the rest of the back line.
Fabian Castillo scored twice, including the fastest goal in FC Dallas history (29 seconds) to lead the way for his team. Castillo ripped down the left-hand side of the field, giving Hagglund no time to adjust to his new position.
Sebastian Giovinco led a late rally for Toronto and put his team back in contention with two goals in six minutes. That would ultimately be as close as Toronto would get as they dropped their fourth consecutive game after winning the season opener.
Castillo snuck behind Hagglund just seconds into the game and was sprung clear, leaving the defender in his path and finishing it off. Hagglund looked lost on the play and way out of position.
It was 2-0 just nine minutes after that as Blas Perez sent Castillo in one-on-one again with the defender, who took a touch and curled into into the bottom corner. Just like that, Vanney had seen enough and swapped Hagglund into the back two and moved Morrow out to right fullback.
Dallas stretched its early lead to 3-0 after another defence relapse from Toronto failing to clear the ball, giving it instead straight to Perez on the edge of the box. Perez slid the ball past goalkeeper Joe Bendik.
As the storm began to settle, both teams finally got to complete the remaining few minutes of the half, and the home side took a comfortable 3-0 lead into the break.
Both teams came out of the gate rusty for the second half, which is understandable after a halftime break following the storm delay.
It was a back-and-forth affair, and neither team could generate much offence with dead legs.
However, Toronto made a game out of nothing as big summer designated player acqusiation Giovinco found the back of the net in the 83rd minute and added a perfectly-placed free kick in the 89th.
Dallas fought off any potential Toronto comeback to snap its two-game losing streak and stretch the visiting side's downfall to four games.