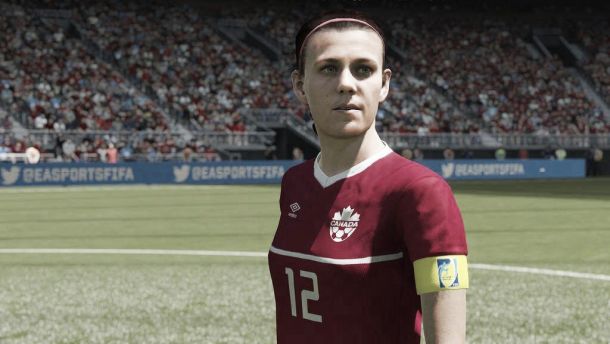 Video gaming company EA Sports have announced the latest addition to their popular brand game FIFA. The FIFA video game will include women's soccer teams for the very first time ever once the latest instalment of the game is released, later in the year.
Twelve nations will be included in the game, and the announcement comes on the heels of the Women's World Cup to be held in Canada this summer. Canada, of course, will be one of the teams in the game.
Other countries to be included are Australia, Brazil, China, France, Germany, Italy, Mexico, Spain, Sweden, and the USA.
This comes as a timely announcement for many as hope for equality in the professional game remains, despite the ongoing corruption charges ravaging the international FIFA body.
"I think that for me what this shows is not only is the game making progress, but in the bigger picture, women are covering ground and they are making strides in terms of equality," said USA forward Abby Wambach. "That's so massive."
Soccer Canada players including four United States women's national team players, Sydney Leroux, Wambach, Alex Morgan, and Megan Rapinoe visited EA Canada earlier in the year for sessions to capture new motions and 360 degree body scanning for the newest extension to the game.
"Bringing some of the best women's players and teams in the world to our franchise is a massive event for EA SPORTS, and we are equally excited about bringing millions of fans a new way to play," said David Rutter, VP and GM, EA SPORTS FIFA.
"We're making sure fans get an authentic experience when playing with Women's National Teams thanks to our innovative player capture and reference tools, as well as the sophisticated gameplay platform which we will continue to innovate on in FIFA 16."
The game is due to be released September 22nd, 2015 with players able to use their desired team in modes including Kick Off, offline tournaments, as well as Friendly Matches.