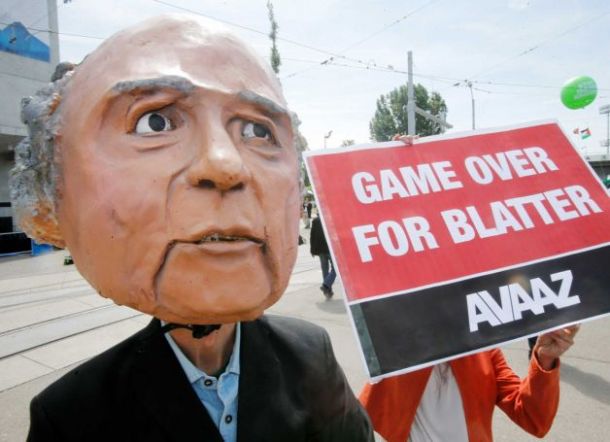 Wow. Just...wow.
In a move that shocked the world of sport, Sepp Blatter resigned his post Tuesday afternoon just days after winning a 5th term as president of FIFA.
This comes days after Sepp said in his acceptance speech, "I am president of everyone."
Granted Blatter's English has never been perfect and we shouldn't ding him too hard for that, beyond the comedy that ensues. Normally. Blatter has done so much to damage the sport that billions of people the world over feel that to poke him is justified.
No one is sure what caused Blatter to hastily resign so fast. It might have something to do with the New York Times article released late last night about FIFA Secretary General Jerome Valcke being wrapped up in an FBI investigation that has already taken down over a dozen FIFA and sports marketing officials around the world. Perhaps it was pressure from top sponsors. Visa came out rather harshly after Blatter was re-elected while the rest of the sponsors were decidedly quiet. Maybe it was pressure from the Swiss authorities related to their investigations of the 2018 and 2022 World Cup voting processes.
Whatever the reason is, it's a blessed day for soccer fans around the world. The biggest parasite in world soccer will be gone as soon as an Emergency Congress can be held (between December 2015 and March 2016).
But it's just that: the biggest parasite.
While Jack Warner and Nicholas Leoz are just two of the most egregious characters that have ruined the sport for decades, there are dozens more the world over who have prevented the sport from growing due to their own greed. A lack of oversight as to how FIFA grant money and how it is used has allowed parasitic leaders in federations everywhere to steal the majority of funds, if not all of it. Until there is reform at FIFA to track the money and ensure it goes to where it is actually needed, there will still be corruption.
Money needs to go to the women's game so the incident involving Trinidad and Tobago won't happen again. So fans the world over don't have to pick up the slack. So youth teams, both men and women, can continue to get the training and support they need to produce the best players possible for their countries. To build facilities to help their teams of all ages and genders to compete.
Until that reform happens at FIFA, this may just be the head of the dragon gone only to be replaced by another. And that dragon? Not a dragon but instead a hydra.
Let's worry about all that tomorrow though. Today crack open a bottle of champagne (or even Coke if they did indeed lean on Sepp) and celebrate. Don't forget to tip your server, the FBI.
Incalculable thanks to the US Attorney General's Office, FBI, IRS and DoJ for starting the ball rolling. Assists to police and judiciary agencies the world over.
Everyone knows the song so let's sing it together: "Ding dong the witch is dead! The witch is dead! The witch is dead. Ding dong, the wicked witch is dead!"