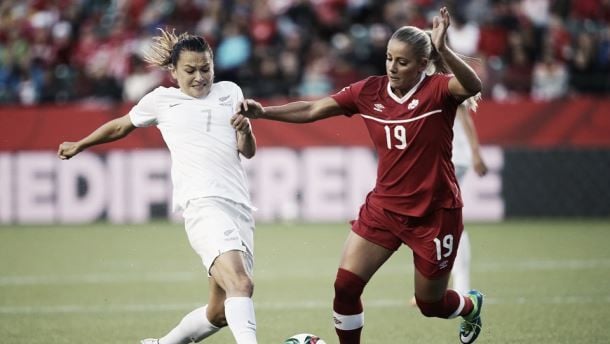 Canada and New Zealand settled for one point apiece as the two sides played to a 0-0 draw Thursday afternoon in Edmonton in Group A action at the 2015 FIFA Women's World Cup.
Several dramatic checkpoints in this one started off with a half hour rain delay just four minutes into the game. That was followed up with a controversial penalty call, a disallowed goal, and a few dings off the crossbars.
The home side had much of the better chances, but the inability to finish from their attacking players cost them dearly. It was much of the same story from Canada's tournament opener against China where there was missed chance after missed chance, but this time they did not have the late penalty in stoppage time to save them.
Canada remains on top of their group with the point, however, but the top two seeding spots in the group are still up in the air. With China's 1-0 win over the Netherlands earlier on Thursday, the two countries are tied for second in the group on three points and an exact goal differential of zero.
Both sides struggled to establish a presence in the game after play was resumed, and it was until the 33rd minute penalty kick that the action began to pick up pace.
Canadian defender Allysha Chapman was penalized for a coming together with New Zealand forward Hannah Wilkinson. Without hesitation, German referee Bibiana Steinhaus pointed to the spot. Steinhaus then proceeded to mistakenly show a yellow card to Chapman's teammate, Lauren Sesselmann. The card was later rectified and attributed to Chapman, however.
Veteran midfielder Melissa Tancredi looked to have put Canada in front on the stroke of halftime when the ball found the back of the net, but it was called back for offside.
The host nation came close again just minutes after the half time break when Kiwis goalie Erin Nayler was forced into a last ditch save to redirect a Christine Sinclair shot over the crossbar.
Sinclair - Canada's captain and all-time leading scorer - had several opportunities to add to her record goal tally. It's no surprise supporters gasped when an uncharacteristic breakaway in the first half was not converted by the Burnaby, British Columbia native.
Midfielder Sophie Schmidt would continue the Canadian onslaught in the 71st minute when her long distance free kick bounced back off the crossbar.
New Zealand looked to have been through on goal in the dying minutes, but goalkeeper Erin McLeod was quick off her line to grab the ball and end any threat of opposition danger.
Although Canada remain on top of their group, head coach John Herdman and his players will be disappointed to have not taken their chances and guaranteed themselves a spot in the knockout stages. Instead, now it's all left to fight for in the final round of matches on Monday.
The hosts will now travel to Montreal to square off against Netherlands, and New Zealand will entertain China in Winnipeg.