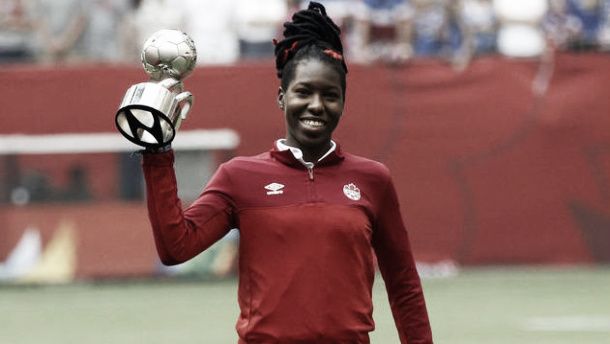 As it became more and more evident and clear as the tournament progressed, it was no surprise when Canada's Kadeisha Buchanan was named the winner of the Hyundai Young Player Award Sunday for the 2015 FIFA Women's World Cup.
Buchanan was up against Ada Hegerberg of Norway and Tiali Tang of China for the award and some believe it was a no brainer for the defender to win it after being the anchor of a Canadian defence that allowed just three goals in five games.
According to FIFA.com, 54 players were eligible for the award, only players born after January 1st, 1995. The criteria to take into account when the judging panel came together to name the finalists for the award included 'aspects such as exceptional skills, a youthful and refreshing style of play, creativity and spontaneity, tactical maturity and effectiveness, recognition from the fans via enthusiastic displays, role model status, a positive attitude and fair play.'
"I think some people wondered if, as a young player, she could perform consistently at the highest level, and she definitely showed that she could," said Canadian national head coach, John Herdman. "She's been a rock at the back for our team."
Coming into the tournament, the 19-year-old was a relatively unknown name, but leaves as one of the brightest prospects in the women's game. She played every minute of Canada's five games and proved to be as reliable as anyone else.
People first began to take notice of the teenager when Canada played the United States in a friendly match in May of 2014. Buchanan scored from a corner and managed to keep American star Abby Wambach at bay.
Buchanan currently plays for West Virginia University in the NCAA, is could already be a pre-season lock as an All-American candidate.
Up next for the rising star are the upcoming Pan Am Games in her hometown of Toronto. It comes as a perfect time for her to continue building her reputation in the Canadian system ahead of the 2016 Summer Olympic Games in Rio de Janeiro, Brazil.