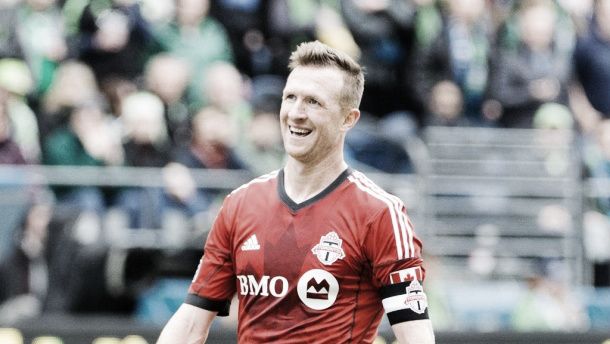 After nearly two full seasons with Toronto FC in MLS and an illustrious 17-year career, Steven Caldwell is hanging his boots up.
The former TFC captain formally announced his retirement "from the game I love" Tuesday morning through a statement on Toronto's official team website. Caldwell will now take up a position as Director of Corporate Development with Maple Leaf Sports & Entertainment, the company that owns multiple Toronto sports franchises.
Caldwell, 34, first joined Toronto FC on May 7th, 2013 on a loan deal from English side Birmingham City F.C. He signed a permanent contract on July 2nd, 2013 following the end of his loan. The centre-half made a total of 49 appearances for the Reds in all competitions, scoring one goal. He was named club captain on July 13, 2013 and played in 40 games with the armband. Caldwell had his captaincy stripped from him following the 2014 season and given to current captain Michael Bradley.
The former Sunderland man has been struggling with injuries all season, having made his last appearance March 14th of this year. He was substituted out of the game against the Columbus Crew at half time after picking up his injury.
"It's with a heavy heart that I announce my retirement from the game I love. Football has been my life since a very young age and I appreciate the opportunity I've had to live out my dreams. I would like to thank all my teammates and coaches I've learnt from along the way, creating friendships and bonds that will last forever," Caldwell stated.
"To all the magnificent clubs, it was an honour to represent you both home and away. I hope the fans appreciated the pride I felt putting on their jersey. Finally to TFC, I appreciate and love this club more than all the others. The opportunity to stay here and be a part of the success that will come is a privilege. I feel responsible and committed to doing everything I can to help this club prosper and win."
Caldwell began his professional career in England with Newcastle United F.C. During his six years with the North East outfit, he went out on loan to Blackpool FC, Bradford City A.F.C and Leeds United. Caldwell would then move on to rivals Sunderland and despite spending just two seasons with the Black Cats, he is widely regarded as a club legend. He scored the winning goal that secured Sunderland's promotion to the top flight of English football in 2005.
He then captained Burnley F.C. to promotion into the Premier League in 2009. Stints at Birmingham and Wigan Athletic F.C. followed before he joined TFC.
"Steven Caldwell is a true professional in every sense of the word and has played an important role at Toronto FC since his arrival. We appreciate his endless contributions to the Club," Toronto FC General Manager Tim Bezbatchenko explained following the announcement.
"He will be missed on the pitch, but we are all very excited that Steven will be remaining with MLSE on the business side and continuing to be a part of the future of Toronto FC. I know personally Steve loves this Club, and he can now express the passion and commitment we are used to seeing on the field in another capacity within the organization."