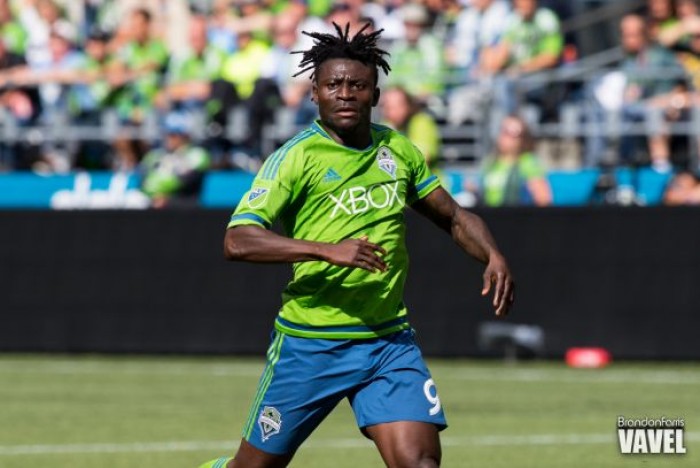 With the apparent upcoming departure of Obafemi Martins from the Seattle Sounders to Shanghai Shenhua of the Chinese Super League, it leaves many in Seattle upset and disappointed in the front office. As of Tuesday, nothing has been confirmed by the club other than there have been talks.
Fans Voice Displeasure of Apparent Transfer
After reports first surfaced that Martins would be leaving, many Sounders fan voiced their displeasure in the front office in the comment sections of articles and on social media. Many stated their displeasure with the face they were willing to let go of Martins, but not Head Coach Sigi Schmid.
Martins, 31, has been nothing short of magnificent since arriving in Seattle back in March of 2013. In 83 appearances with the Sounders across all competitions, he has scored 43 goals and assisted on many others. He helped lead the Sounders to their first ever Supporters' Shield in 2014 as well as the clubs fourth Lamar Hunt U.S. Open Cup title. He was also an MVP finalist in 2014, losing out to Robbie Keane of the LA Galaxy.
Many wondered why they would want to allow Martins to go to China and keep Schmid instead. First of all, the two don't go hand in hand. Sigi has been the Sounders only head coach as the team enters their eighth year in MLS. He has gotten the club to the playoffs year in and year out, but to end up falling short every year. That is why many supporters of the Sounders want Sigi gone. He can't seem to win the big games when it really matters.
Martins Looking to Cash In
Martins, as mentioned above, is 31 and is looking to cash in while he can. The Chinese Super League has been literally throwing millions of dollars at players to get them to come play in their league. They even have outspent the English Premier League. Just a week ago, it was reported by the Daily Mail that the Chinese Super League has spent 258.9 million euros in China's current transfer window which runs until February 26th. Premier League clubs have spent 247.3 million euros in the European window.
Can you not blame Martins for wanting to go where the real cash is? MLS can't compete with a league like CSL when they are throwing that kind of cash at players. Chinese club Jiangsu Suning spent 50 million euros ($56 million) on Brazilian midfielder Alex Teixeira. Any player in their right mind would leave for that kind of cash.
Martins would be stupid for not getting the largest pay day as his playing days are slowly coming to an end. Numbers have not been given on the expected salary Martins would receive in China, but you better believe it will be more than the $2.4 million base salary he received from the Sounders in 2015 according to Spotrac.
Sounders GM and President Garth Lagerwey Comments
Not much has been said by the Sounders regarding the transfer other than the update Garth Lagerwey, GM and President of the Sounders, gave on Sunday night.
"I can tell you that Oba is not here with us in this phase of camp. We've had an approach from a Chinese club for his services. It could take a while to have that resolved. There's nothing else we can really add at this point, and we hope to know more by the end of the week."
He was also asked how Martins absence would affect the Sounders CONCACAF Champions League quarterfinal series against Club America. "I don't think it has any impact on us, in the sense that we'll go forward with this group," he said. "That's who have been training. Those are the guys that are here. That's the group that we're going to rely upon. And that's the group, by and large, that's intact from last year that did pretty well at the end of last season. We'll do what we need to do. We have contingency plans. If that third DP spot opens up, it gives us a lot more roster flexibility and the ability to implement our long-term vision for this team. If it doesn't, we'll have Obafemi Martins back, and that'll be a good thing, too."
Could Be a Blessing in Disguise
With the recent signing of Homegrown striker Jordan Morris, Sigi and the coaching staff have been trying to figure out how to get Martins, Morris and Clint Dempsey on the field at the same time. Sigi has used a 4-4-2 formation for as long as this writer can remember with a variation here and there when called for. During the preseason, the Sounders have been using a 4-3-3 and that has been putting players a bit out of position.
In this writers' opinion, the Sounders should be using a 4-3-1-2 to get the most out of their playmakers. The main question is who plays that "1" spot. Dempsey used to play it in his younger days, but it is apparent he plays much better with another forward off of his shoulder. He is much more productive that way. Also, many don't believe Dempsey would want to do the extra work to track back and play in a deeper role and help on defense.
You don't want to put Martins there as he would be to deep and would have to track back as well. You want Martins as far up the field as humanly possible. In regards to Morris, you want him up top to play off Dempsey or Martins. Morris can also play out on the wing as he has done for the United States men's national team with some success.
If Martins leaves, and he more than likely will as soon as Friday, this is a blessing in disguise.
Time to Relax and See What the Front Office Does
Everyone should just calm down and wait to see what the Sounders do with the money they will received from the transfer. According to a tweet sent out by ESPN soccer columnist Jeff Carlisle, because Martins is a Designated Player the Sounders would get to recouped the salary and transfer costs and then anything over that, the Sounders get two thirds.
As Sounder at Heart writes, the money wouldn't bring in any allocation money but they could put it back into their soccer budget. It could be spent on anything from future transfer fees, DP (designated player) salaries, academy infrastructure or anything else they seem fit.
This writer knows it's hard to see Oba go after everything he has done for the club in three years. We are all upset at how the Sounders seem to fail year in and year out in the playoffs. What if somehow the Sounders finally break through and make an MLS Cup Final and win the whole dang thing? They would have done it without Martins and we will all forget about how mad we became on Valentine's Day 2016.