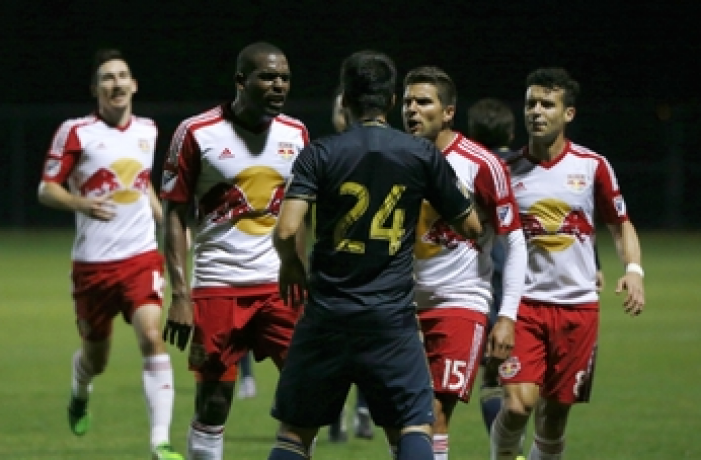 On Wednesday, Philadelphia Union played to a scoreless tie against Interstate 95 rival New York Red Bulls at Joe DiMaggio Sports Complex in Clearwater, Florida.
Despite the game being a part of a preseason tournament, both teams played with the intensity usually reserved for a game on Major League Soccer's Decision Day.
New York controlled much of the pace in the first 20 minutes of the first half. Red Bulls forwards Mike Grella and Gonzalo Veron packed on the pressure on the Philadelphia fullbacks by trying to exploit the flanks, but the Union backline anchored by newly signed Ken Tribbett did well to prevent the quick opening goal. To add, when called upon, Union goalkeeper John McCarthy kept his team in the game with numerous quality saves.
Ilsinho Gets Ejected In Heated First Half
Philadelphia midfielder Ilsinho, who officially signed with the team before the game, made news, but not for the correct reasons as he was ejected one minute before the first half whistle. Despite having a great chance on net turned away by Red Bulls goalkeeper Luis Robles in the 26th minute, Ilsinho's night on the pitch would be short one. In the 29th minute, Ilsinho clipped Red Bulls midfielder Felipe with a late, from-behind challenge after he had passed the ball up the field to New York midfielder Sal Zizzo and earned his first booking.
Then, the Brazilian International lunged studs-up on New York defender Gideon Baah, which earned Ilsinho his second yellow and an early exit. As Baah was lying on the ground in pain, both team and coaching staffs had to be separated after both teams shared heated words. In total, referee Jorge Gonzalez handed out six different yellow cards in the first half alone.
The second half continued to be a tough defensive battle. Down a man for the entire second half, Philadelphia did well to create chances and play solid defense. The defense was backed up by another solid half of play by McCarthy, who earned his first shutout of the 2016 preseason.
Next Up
Philadelphia will finish up play in the 2016 Suncoast Invitational when they take on Toronto FC on Saturday, February 27th. MLS Regular Season play will begin for the Blue and Gold on March 6th when they traveled to face FC Dallas.
New York will face North American Soccer League side Jacksonville Armada on Saturday in their final preseason tune-up. The Red Bulls will open the regular season at Red Bull Arena on March 6th against Toronto FC.