 Friday saw FIFA elect a new president, one to hopefully erase the stench of Sepp Blatter. The man chosen is UEFA's Gianni Infantino who was helped to the throne by none other than United States Soccer Federation's Sunil Gulati. Throughout the second round of balloting Gulati could be seen hard at work, talking to Infantino as well as other federation representatives. At the end of the round, Infantino picked up 27 votes to take the win, including almost all of Prince Ali's votes from the first round.
When interviewed on Fox Sports 2 by Grant Wahl afterwards, Gulati mentioned that the idea of the 2026 World Cup being in the U.S. was part of the conversations he had with other federation representatives.
This is hugely important as originally the voting for 2026 was set to occur sometime next year. However, the FIFA calendar has been thrown into upheaval ever since the FBI arrested a dozen high ranking officials in May of 2014. The past year has seen world football's governing body run into scandal after scandal after more of their officials and partners have been arrested and indicted ever since. As of now there is no word as to whether the vote will be pushed back. Normally federations are given some time to organize their bids and secure the needed backing from local governments.
One federation that has been working on this specific bid for the better part of a decade is the Canadian Soccer Association. Most pundits agree that the 2030 tournament will be held in South America to celebrate the centennial (ideally in Uruguay). With 2022 going to Asia, that limits the choices to either a CONCACAF or UEFA host. Given that the former hasn't hosted since 1994 (USA) while the latter will host in 2018 (Russia), in a perfect world the tournament would return to this part of FIFA.
Canada's Hopes of a World Cup
Enter CSA President Victor Montagliani. Ever since being elected, he has made it his job to improve every level of the CSA. However, he has taken a practical approach and slowly built political power around himself. After years of work he announced recently that he was going to seek the open presidential spot in CONCACAF. If elected, he hopes to clean the region up and restore the tarnished image left in the wake of Jack Warner and Chuck Blazer. His other goal? To bring the World Cup to Canada in the hopes it has the same effect as the '94 tournament had on their neighbors to the south.
Or is it?
It's no secret that Canadian fans have been upset over the lack of development of players within Major League Soccer. Ever since Toronto FC joined the league in 2007, it's been hoped that Canadians would feature prominently on that team and several others, making the pool deeper and stronger. Even with the additions of Vancouver Whitecaps and Montreal Impact, the national team hasn't progressed at nearly the speed fans and administrators hoped.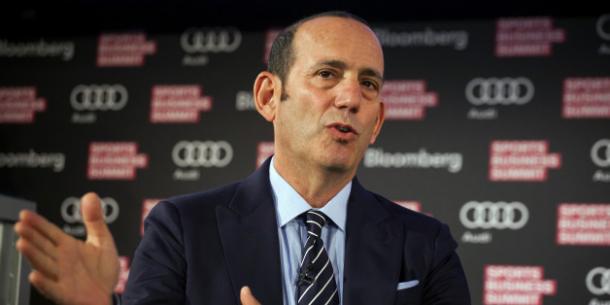 ​Tensions appear to be strained between the two federations as Duane Rollins, ot Canadian Soccer News, reported last week about an interview Montagliani gave. In it, the CSA president said he has a meeting scheduled with Don Garber, commissioner of MLS, in a month to discuss the Canadians as domestic player issue. "MLS has maintained that there are legal reasons for the inconsistency. Montagliani said that the CSA's legal position is that the laws MLS points to are not as black and white as they are made out to be. In short, the CSA believes that it is legally possible for Canadians to be counted as domestics in the United States."
The Solution to Canadians as Domestics
On his podcast 2S Extra, Rollins re-affirmed this belief and expanded upon it, citing a possible "diplomatic solution." Essentially it would entail MLS creating a Canadian office and having players paid through there instead of the office in New York. Adding possible slots designed solely for Canadians is another possibility that Rollins mentioned. (Full disclosure: I'm a patron of the Sports Podcasting Network where 2S Extra, and other shows, can be found)
While my understanding of the law is limited to its spelling, one has to wonder if there isn't a third solution? Perhaps stating that in addition to all the other methods of being counted as a domestic (citizen, green card, refugee, etc.), anyone who spends X amount of time in a MLS Academy in the U.S. or Canada would be counted as domestic. While it may not help many of the 300+ Canadians Abroad claim domestic status, it would certainly be a long term solution and prevent any challenges later on as it wouldn't favor any one nationality. With both countries very diverse in population, it'd give opportunities to a lot of players.
The Trade
So how does this relate to the 2026 World Cup? With Canada working hard to secure the backing of CONCACAF, with Montagliani the early favorite for the vacant president position, wouldn't it be intelligent for them to trade them dropping the World Cup in favor of a U.S. bid in return for the Canadian as domestics going through? Rollins mentioned in the above podcast that his sources have told him that USSF is against Canadians being domestic in MLS, while the league is neutral about the issue.
While Gulati is clearly positioning himself to cash in the favors he's earned in a year or two in favor of a U.S. bid, it'd be a stronger bid if it had the full backing of CONCACAF rather than being split. Having a politically savvy ally in Montagliani, who is respected in the Caribbean, would make his bid all the stronger with a better chance of succeeding.
While some fans might cry foul over the bargain, it would certainly be a win for both sides as any appearance of a disagreement between the two federations would be kept quiet while enriching both. Neither side wishes to see this case brought to court. The ability to host a World Cup by Canada is also in question. It's already an expensive proposition and there's doubt as to how much the public would be willing to chip in to build the needed infrastructure to host. If the tournament expands to 40, as Infantino wishes, the task would be even more daunting.
This could be a great way for the CSA to save face while making their program all the stronger for it. It'd also give the USSF a strong supporter to host the tournament.
A potential win-win for everyone.