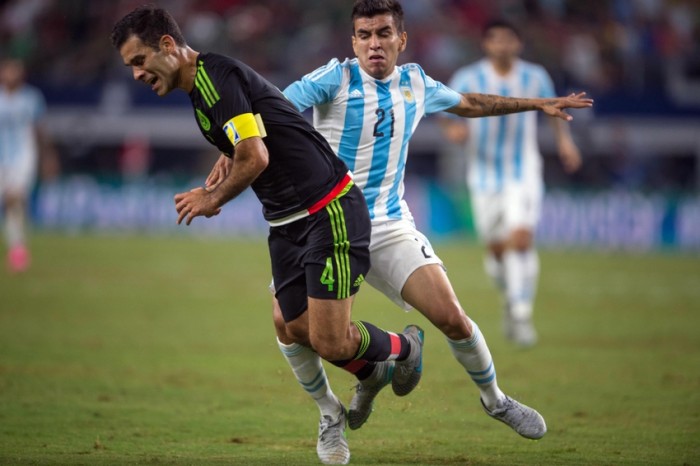 At times trying to predict what Juan Carlos Osorio plans to do is like trying to crack the Da Vinci Code. His call-ups carry surprises, he changes formations from game to game, he plays players in positions you wouldn't expect them to play in, and he tends to hold his cards close to the vest and not give much away to the media. This call-up is no different with a roster that has five center backs and two outside backs, one defensive midfielder, and only three true forwards. Because off this, there's two major questions Osorio will have to answer over these two games, what part Rafael Marquez will play and what formations he could use.
The Role of Rafael Marquez
2016 marks the 19th year Rafael Marquez will be representing Mexico at the senior team level. At 36 he doesn't have the legs, pace, and speed to keep up with the grind and travel of the international schedule. While Marquez showed last fall against Argentina and the United States that he can still produce on a given night for El Tri when the lights are on, don't expect him to play both games during these international fixtures. Most likely Osorio will try to get the most of Marquez for only one match. The travel from Mexico City to Vancouver and back to Mexico City and playing in the altitude of the Mexican capital might be too much on Marquez in this stage of his playing career. It's more likely Marquez leads Mexico in the first match on Friday, while that game itself will also possess a challenge for Marquez with the artificial turf in BC Palace. If Osorio called up Marquez, it's because he expects him to play some role on the field instead of just an option off the bench.
Seeing where Marquez fits on the field has its own questions for El Tri. With a four-man defense Diego Reyes and Hector Moreno have been the two-man partnership for Mexico since 2015 and still look like the best pair Mexico can have in the back. For that reason, expect Mexico to play with a five-man backline with Marquez on the field in the middle with Reyes and Moreno on each side of him. For one, while he has lost a step or two Marquez's strength is his ability to read the game and be a vocal leader on the field. This also will allow Marquez a cover in case he is beat by speed.
Don't expect Marquez to just stay in the back though. This roster only has one true defensive midfielder and Jesus Molina doesn't jump out as a starter for Mexico. Marquez will have the freedom and liberty of leaving the backline and move forward to a more defensive midfield position depending on how the game flows. Something he has become accustomed to since his time in Barcelona because of his passing ability to change the point of attack. This is also something he did in both games against Argentina and a month later against the United States. Basically Osorio will give Marquez the freedom to play as the defender or defensive midfielder as Marquez seems fit.
While it might seem like a fetch for a team to change their style for an aging 36-year-old defender, few players have had an effect on their country the way Marquez has on Mexico. Osorio for his part has mentioned his admiration for Marquez and admitted the involvement of Marquez in conversations during the run up to Mexico's first two 2018 CONCACAF World Cup Qualifying matches even though Marquez didn't play any part in the first two matches.
Two Games, Two Formations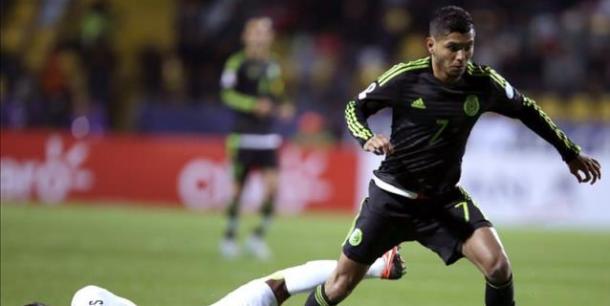 At this point something you can expect from Osorio is don't expect the same thing twice. In the past, Mexico coaches Jose De La Torre and Miguel Herrera were almost stubborn when it came to their formations. Torres with a 4-2-3-1 and Herrera with a 5-3-2, neither seemed willing to commit to different formations and over time, you could go back and say that was part of the downfalls for both coaches. Osorio on the other hand has not only used different formations from game to game, but is more than willing to change formations within the game. In his first match in charge the team went from a 4-4-2 to an aggressive 4-2-4 with attacking players Carlos Vela and Jesus Corona playing a hybrid wing/forward. A few days later he started with an off balanced 5-3-2 which quickly went to a 4-4-2 with four center backs playing as a back four. Last month Mexico went to a 4-4-2 to a 4-3-3 and used their flanks as the main source of attack.
Look for more of the same in the two matches against Canada. In the first match look for Osorio to play slightly more conservative as Canada will need to be as aggressive as Mexico in hopes to get points at home. As mentioned above it won't be a shocker if Mexico starts with five players in the back and see how the match flows. In contrast, the second match there's a possibility Mexico goes all out with four in the back and Andres Guardado and Hector Herrera playing in the midfield and no defensive midfielder to cover them. Instead, both will work their way back and forth as box to box midfielders as they both do at their club teams. This will also mean that Mexico will use their plethora of options in the attack as their main source of how they hope to penetrate Canada. Players like Javier Aquino, Hirving Lozano, Isaac Brizuelda, Marco Fabian, and Rodolfo Pizzaro will give Osorio the option to play a 4-3-3 or a 4-2-4.
Regardless, don't expect to know what Mexico will throw out there until game day since Osorio has shown in the past that the 11 players he works with in front of the public in the practice before the match isn't the starting XI he will present on game day. The only thing we know with Osorio is to not know what to expect.