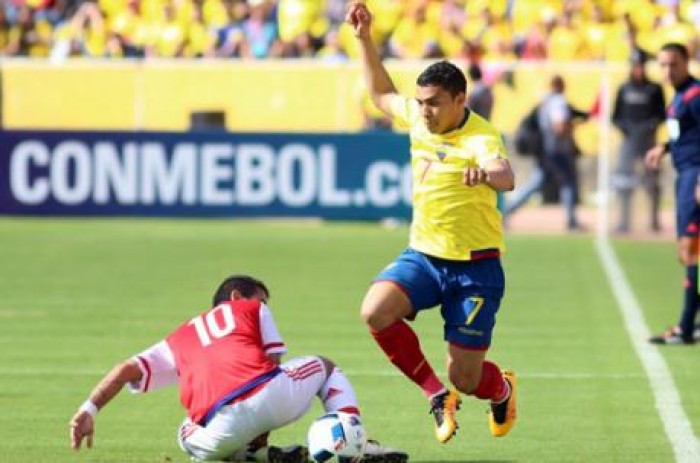 Ángel Mena was able to save Ecuador from losing their first World Cup qualifier at home in Quito after 18 games and denied Paraguay's first ever victory in World Cup qualifying on Ecuadorian soil following a 2-1 lead from a brace by Dario Lezcano for La Albirroja. But nevertheless, Paraguay get an important point in Quito and pick up eight points after the first five matches while Ecuador remain unbeaten.
Teams with various chances
Things started off well for Ecuador with various chances with one coming seconds after the game started with a Christian Noboa early chance onto goal. But the veteran Justo Villar was able to save the ball right in front of him to deny the first Ecuadorian goal.
Paraguay's first opportunity came in the sixth minute when Jorge Benitez had a good look at goal, but hit his shot poorly as it went wide of Alexander Domínguez's goal.
Ecuador made it 1-0 in the 20th minute with a goal from Enner Valencia. Following the shot from Noboa from about 25 yards that hit the post on the left in which the West Ham man controlled the ball with his chest and scores past Villar for the first goal of the game.
10 minutes later, Ecuador almost doubled their lead in which Noboa had another chance, but was denied by the post and off the rebound from the same distance, while Antonio Valencia was also close to goal but his shot just went wide of the goal as well.
Despite the advantage that the home side mostly had, Paraguay continued to fight for the equalizer. One of these chances occurred in the 32nd minute with a free kick in which Derlis Gonzalez's cross was fed to Bruno Valdez, but his header on the ball went wide.
Finally six minutes later, Paraguay leveled the match with a goal by Dario Lezcano. Off a counter attack, Nestor Ortigoza found a pass to Edgar Benitez with a nice pass. Benitez, who plays his soccer in Mexico, was able to beat Dominguez and while finding Lezcano to make it 1-1 with a simple tap in.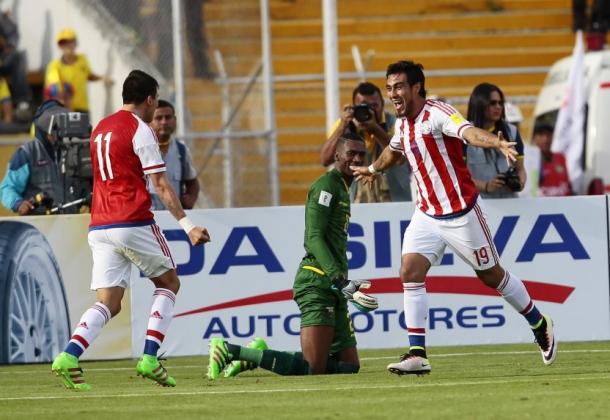 Valuable point
Paraguay had gotten a draw seven years ago in Quito during the 2010 FIFA World Cup qualifiers, but they were looking for more: their first ever victory on Ecuadorian soil.
The hosts though came close inside the 55th minute when a free kick from Michael Arroyo on the left was saved by Justo Villar.
Finally, Lezcano completed his brace in the 57th minute. The Ingoldstat man was able to beat the two center backs, Frickson Erazo and Gabriel Achiller, following a ball in from Gonzalez and slotted home past Dominguez to send the Paraguayan side into esctasy.
Ecuador continued to attack as they searched for that equalizing goal with only 30 minutes remaining. One of these chances happened in the 67th minute when Arroyo's free kick soared wide of Villar's goal. Two minutes later, Valencia was able to get behind the Paraguayan defenders. He made his way into the box but his shot went wide to the left of Villar's goal.
Angel Mena finally leveled the match with seven minutes from time. He was found by a pass from Noboa and Mena was able to beat the defender and chip the ball over Villar to get a point in Quito.
With that result, Ecuador drop their first points in these qualifiers and will now travel to Colombia, who won 3-2 in Bolivia, for their match on Tuesday. However, they remain atop of the standings with 13 points. Paraguay will now host Brazil in five days as well.