A Michael Barrios brace and a Maximiliano Urruti strike led FC Dallas to a commanding 3-0 victory over Eastern Conference side DC United at RFK Stadium in Washington, DC. DC United had a majority of the possession in the first half, but two goals from Barrios put FC Dallas up 2-0 at halftime. United had a couple of golden opportunities to get a goal back in the second half, but as has been the case over their first four games, they were extremely profligate in front of goal. FC Dallas eventually took the sting out of the game by maintaining possession and winning almost every aerial duel, and Dallas manager Oscar Pareja will be delighted that his side showed the grit and guile necessary to take their first three points on the road. Meanwhile, United manager Ben Olsen will feel aggrieved that his side controlled the game for long stretches but could not turn their promising build-up play into goals.
Both teams were missing a number of starters because of international duty. FC Dallas were without center back Walker Zimmerman, left backs Moises Hernandez and Maynor Figueroa, right back Atiba Harris, center defensive midfielder Kellyn Acosta, forward Tesho Akindele, and starting goalkeeper Jesse Gonzalez while the capital club were without forward Alvaro Saborio and center back Steve Birnbaum. FC Dallas Homegrown Player Aaron Guillen got the start at left back, while another FC Dallas Homegrown Player, Victor Ulloa, filled Acosta's spot and partnered with Carlos Gruezo in defensive midfield. Chris Seitz was named FC Dallas's starting goalkeeper in Gonzalez's absence. For United, Ghanaian Kofi Opare replaced Birnbaum at center back, and partnered with incumbent starter Bobby Boswell at the heart of United's defense.
A Game That Had Everything
DC United will only have themselves to blame for conceding the game's opening goal. In the 14th minute, a header by Dallas's Ulloa fell in between United center back Opare and left back Taylor Kemp. Instead of communicating with each other, they collided as each tried to clear the ball. Dallas forward Urruti poked the loose ball to Barrios, who took a step inside United's eighteen-yard-box before unleashing a sweet left-footed strike past United goalkeeper Travis Worra and into the bottom-right corner of the goal. It was Barrios' first goal of his 2016 MLS campaign, and what a strike it was.
FC Dallas took advantage of more slack defending when they made it 2-0 in the 28th minute. This time, it was United center back Bobby Boswell with the error. The eleven-year MLS vet overcommitted as he tried to help Kemp defend FC Dallas playmaker Mauro Diaz, leaving a huge gap in the United defense. Diaz slipped a quick pass to Barrios, who took the pass in stride and dribbled through the space that Boswell had created. He used the outside of his right foot to poke the ball past Worra and a sliding Opare to give FC Dallas a 2-0 lead. Black and Red central midfielder Nick DeLeon had a great chance to halve the deficit at the end of the first half, but his volley at the center of Dallas' eighteen-yard-box was high and wide, and the scoreline remained 2-0 at halftime.
Whatever D.C. United manager Ben Olsen did to try and motivate his players at halftime didn't seem to work, as FC Dallas added to their lead in the 52nd minute. Ulloa was once again the catalyst, slipping the ball to attacking midfielder Diaz, who quickly sprayed the ball to left midfielder Fabian Castillo. The Colombian played an inch-perfect cross to forward Urruti, who held off left back Kemp and finished clinically into Worra's bottom left-corner. United vigorously appealed that Urruti had handled the ball in the build-up to the goal, and replays showed that the ball did deflect off Urruti's arm before he shot it into the net. Center referee Juan Carlos Rivero denied the appeals and the goal stood.
Wild Turn Of Events
Rivero would be at the center of a wild series of events which kicked off in the 63rd minute. DC midfielder Patrick Nyarko somehow slalomed through three FC Dallas defenders as he entered the right side of their eighteen-yard-box. As he accelerated into the box, Dallas left back Guillen clipped Nyarko from behind, sending him sprawling to the turf. Rivero opted not to award a penalty. In the 64th minute, FC Dallas broke on a four-on-one counterattack after clearing a corner kick. The chance looked to have gone after Urruti decided to go alone rather than pass to one of his teammates, and his right-footed shot from outside the box should have been easily saved by Worra. Yet the 'keeper completely misjudged the bounce of the ball, and Urruti's shot bounced over Worra's arms and hit his left post. Luckily for the Black and Red, the rebound fell right to a defender and the danger was averted. Just a minute later, D.C. United was awarded a penalty kick. Guillen was adjudged to have fouled United right back Sean Franklin as Franklin received a pass from DeLeon in Dallas's eighteen-yard-box. D.C. United striker Fabian Espindola stepped up to take the PK.
What happened next can only be described as the epitome of United's season thus far. Espindola's poor penalty kick was easily saved by Seitz, and seconds later, Espindola's side would be reduced to ten men. Seitz released Barrios down the right flank, and as the speedy midfielder tried to get around United midfielder Marcelo Sarvas, Sarvas threw up an elbow to try and stop Barrios' run. The elbow connected with Barrios' face, and the FC Dallas player dropped to the ground as if he had been poleaxed. Referee Rivero showed Sarvas a straight red card, ending the midfielder's night--and any remaining chance of a D.C. United comeback--in the 66th minute. When the final whistle sounded, FC Dallas players and coaches emphatically celebrated their first road win of this 2016 MLS season.
Men Of The Match
FC Dallas: Michael Barrios
The diminutive Colombian terrorized the United defense in the first half and took both of his goals very well. Not only did Barrios take advantage of a slower Taylor Kemp defending him, but he also neutralized Kemp's attacking influence. Kemp had been United's best crosser and best attacking threat down the left flank in their previous three games, but on Saturday Barrios forced Kemp to do more defending and less attacking. Therefore, Barrios' influence was twofold: he directed attention away from teammates Urruti and Diaz, allowing both players to influence the game, and he forced Kemp to defend on his own, which isn't his strong suit. Barrios was also the one who drew the foul that led to Sarvas's red card, which killed DC United's momentum. Overall, it was a great performance by the right midfielder, and his play should only get better as his chemistry with Diaz, right back Ryan Hollingshead, and Urruti continues to improve.
D.C. United: Fabian Espindola
Sure, his penalty kick was awful, but Espindola was by far and away DC United's most dangerous offensive threat before Designated Player and midfielder/forward Luciano Acosta came on in the 81st minute. Espindola had a free kick blocked in the fourth minute and another shot saved in the seventh minute, but his best moment of the match came late in the first half, when he made a mesmerizing run through the FC Dallas eighteen-yard-box in which he dribbled past two defenders before having his shot saved. However, his level of play waned in the second half, and his penalty kick didn't even force Seitz to dive. Espindola may have been United's biggest attacking threat, but he was not good enough to break down an organized FC Dallas defense on his own. He's going to need some help from his underachieving teammates around him if DC wants to turn their season around.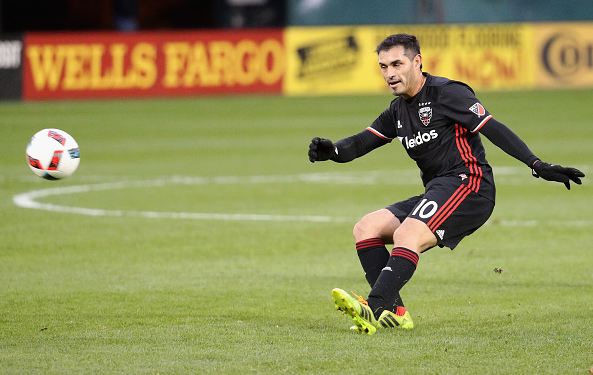 What's Next For Both Teams
FC Dallas host 2015 MLS Cup runner-up Columbus Crew on Saturday, April 2, at 10:00 PM EDT. The Crew are currently bottom of the Eastern Conference with one point from three games played, and FC Dallas should have all of its starters back from international duty. The Crew are still a very dangerous attacking team, though, and FC Dallas were throttled by another good attacking team, the Houston Dynamo, just two weeks ago.
It doesn't get any easier for DC United as they must travel to California to take on the San Jose Earthquakes at Avaya Stadium on Saturday, April 2, at 10:30 PM EDT. The Earthquakes are currently fourth in the Western Conference and they boast a talented offense led by forwards Quincy Amarikwa and Chris Wondolowski. United should have starting center back Steve Birnbaum back from international duty, but their offense will have to be more clinical in front of goal if they hope to earn their first win of this 2016 MLS season next Saturday.