 Sporting KC are the last team in MLS to lose a perfect record in this 2016 season. They got off to a perfect start after defeating Seattle, Vancouver and Toronto. They would face a tough matchup against Real Salt Lake Saturday night, who used conservative tactics to frustrate their Western Conference rivals on their way to a 2-1 victory on goals from Justin Glad and Luke Mulholland. Although Benny Feilhaber pulled a goal back late on for SKC, it was not enough to salvage a point.
Sporting Go Behind Despite Early Domination
The first half was dominated by Sporting in terms of possession, but they did little with it. The team in white were lackadaisical and Real Salt Lake would only be able to find possession on the counter. In spite of their lack of possession, Glad managed to take one of RSL's handful of chances off a set piece a half hour in to give Salt Lake the lead. They held on to their one goal advantage going into the break after Sporting pushed for an equalizer at the end of the half. Only two minutes were added at the end of the half, which seemed to upset supporters after some time wasting by RSL.
Sporting would continue to have offensive frustrations in the second half. Dom Dwyer was nonexistent in both halves, and Benny Feilhaber, in his first game back, had little impact until the bitter end. On the defensive end, Sporting KC had their share of poor moments, none worse than when Kevin Ellis gave the ball away just 12 minutes into the second half, giving Yura Movsisyan a great opportunity to score. However, he could only fire his shot past Tim Melia and off the crossbar.
RSL would get their second goal in the 79th minute when Kansas City attempted to clear away a corner only for Jimmy Medranda to give the ball straight to Luke Mulholland, wo fired a curling ball into the box and past Melia. The Sporting goalkeeper has been fantastic so far this season, but this was an effort that he should've saved.
SKC Pull One Back
The few bright spots for Kansas City would come late in the match when recently signed Diego Rubio made his debut for the club with 10 minutes remaining. He would win a penalty in stoppage time, although video replays showed the foul to be just outside the box. Feilhaber faked out Jeff Attinella in the RSL goal and pulled KC back within a goal. However, Salt Lake would hold on to seal their second win of the new season.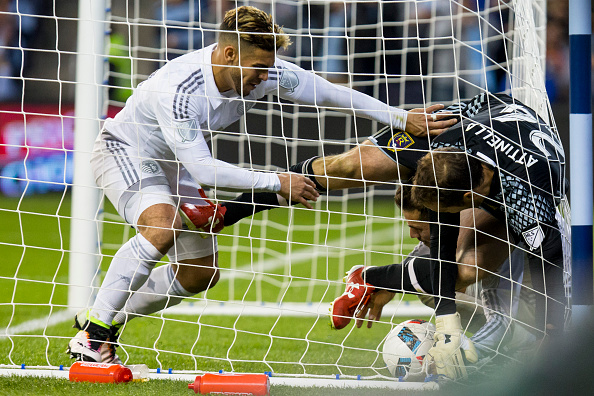 Sporting Kansas City will face the New York Red Bulls next Saturday in New York. The 2015 Supporters' Shield winners have had a tough start to the season, only collecting three points through four games. Real Salt Lake will host mid table Colorado Rapids on Saturday in what should prove to be an entertaining matchup.