 Thursday night will be home to a showdown as the Copa Libertadores Round of 16 will have Cerro Porteño of Paraguay host Boca Juniors of Argentina in the Defensores del Chaco in Asuncion in the first leg of the tie.
The Argentine side are looking to go one step closer to their seventh Copa Libertadores. But to do that, they must take on a Cerro Porteño in Asuncion in the first leg before hosting the second leg at La Bombonera.
As for the home side, they're looking to destroy the demons that has spooked them for many years and get a little closer to their maiden Copa Libertadores final.
How Boca got here
The Argentine side comfortably got to the Round of 16 as the sixth seed picking up 12 points in a group that featured compatriots Racing Club, Bolivar of Bolivia and Deportivo Cali of Colombia. Three wins and three draws became enough to see win their group, heavily influenced by Boca Juniors idol and 2003 winner of the Copa Libertadores, Carlos Tevez.
Despite winning the league and cup double in 2015, 2016 has not always been easy. At the start of the year, Los Xeneizes were managed by Rodolfo Arruabarrena but was sacked after a poor start in the league and Libertadores. He was then replaced by club idol Guillermo Barros Schelotto in which the results started to become better.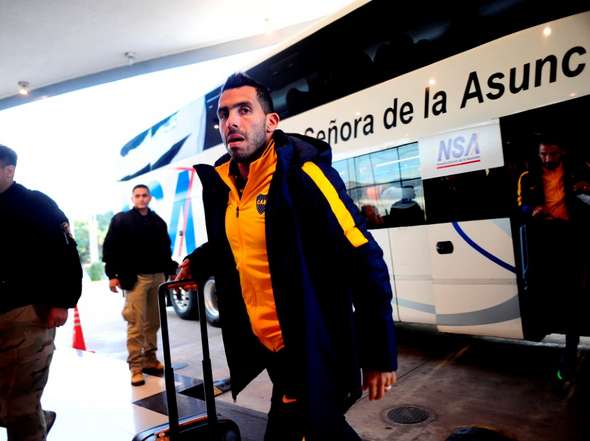 How Cerro Porteño got here
Cerro Porteño have also had a shaky start at the beginning of the year. They picked up the 11th seed after finishing runners-up with 10 points in a tough group with Brazilian side Corinthians, Colombian side Independiente Santa Fe and Chilean side Cobresal.
At the start of the year, they were managed by Venezuelan Cesar Farias but after a loss in Chile to Cobresal, who hadn't won a game up to that point, he was sacked by the club president Juan Jose Zapag. In a need of a must win heading into the final game against Santa Fe, El Ciclon hired 2014 Copa Libertadores finalist with Nacional of Paraguay, Gustavo Morínigo. They ended up winning 1-0 against the Colombian side in Asuncion to finish with three wins, one draw and two losses.
What the Coaches said
Boca Juniors coach Guillermo Barros Schelotto knows that his team are the favorite in this tie but is still cautious knowing that they have to go game by game. ''We have the objective to bring Boca to the highest level possible, whoever the rival is, with all the respect in the world.'', stated the Argentine.
Meanwhile, Cerro Porteño coach Gustavo Morinigo has stated that despite being underdogs, they are still prepared to face this giant of South America. ''You need to know how to play these types of games. We have to be alive, unique and know how to play this game.'', stated the Paraguayan.
Possible Lineups
Cerro Porteño XI: Silva; Bonet, Mareco, Valdez, Alonso; Riveros, J.Rojas, R.Rojas, Santana; Dominguez, Leal.
Boca Juniors XI: Orion; Peruzzi, Díaz, Insaurralde, Fabra; Meli, Jara, Lodeiro; Pavón, Tevez, Chavez.