The Houston Dynamo look to end a six-match winless streak when they take on Sporting Kansas City on Saturday, May 7 at BBVA Compass Stadium in Houston, Texas. The game will kickoff at 5:30 P.M. PT and can be seen on ROOT Sports SW and Major League Soccer (MLS) Live. This will be the 23rd all-time regular season meeting between the two clubs, with the Dynamo holding a (win-loss-draw) 8-5-10 all-time series lead.
How did both teams fare last weekend?
The Dynamo finished the month of April 0-3-1 after a tough 2-1 loss to Real Salt Lake last Saturday. The visiting Dynamo took the lead after a deflected strike from midfielder Leonel Miranda, but Real Salt Lake midfielder Jordan Allen equalized eight minutes later, and RSL Designated Player (DP) Yura Movsisyan put RSL in front in the 70th minute. The Dynamo would have equalized if not for a brilliant Nick Rimando double-save in the 80th minute, with the RSL goalkeeper putting his face on the line to preserve his team's victory. The loss sunk the Dynamo to the bottom of the Western Conference, and they enter Saturday's match against Sporting KC with an ugly 1-5-2 record.
As for Sporting KC, they played the Los Angeles Galaxy to an exciting 1-1 draw at Children's Mercy Park in Kansas City, Kansas last Sunday. Sporting KC took the lead in the 30th minute after a beautiful left-footed strike from Brad Davis, but the Galaxy equalized in the 42nd minute after a brilliant chipped finish from the in-form Giovani Dos Santos. The Galaxy were reduced to ten men after left back Ashley Cole earned two yellow cards in less than a minute, but the hosts couldn't take advantage of being a man up and had to settle for another draw, their second in a row. With the draw, Sporting KC fell to sixth in the Western Conference, and now sit at 4-4-2 on the year.
Keys to the game
Sporting KC midfielders' service into the Dynamo eighteen-yard-box
The Houston Dynamo have the worst defense in MLS (two goals per game allowed so far this season) and their inability to deal with crosses into the box is one of the reasons why. They were victimized by a 93rd-minute Daigo Kobayashi goal off a cross in their draw against the New England Revolution, and gave up another last-minute equalizer against the Seattle Sounders after failing to clear out a cross from Sounders winger Oalex Anderson. Sporting KC have a very good crosser in ex-Houston Dynamo man Davis, and both SKC fullbacks Amadou Dia and Chance Myers love to bomb forward and whip a ball into the box. The Dynamo also have problems tracking late runs into the box, so Sporting KC manager Peter Vermes may instruct his box-to-box midfielder, Honduras international Roger Espinoza, to make a couple of late runs into the Dynamo box in order to unsettle the Dynamo defense.
The Houston Dynamo's attacking four
The Dynamo attack was the most dangerous in MLS through the month of March. They scored an MLS-record eleven goals through their first three games of the season, and although they started 1-1-1, offense was certainly not the problem in Houston. But after a 1-0 loss to the Vancouver Whitecaps on March 26, the fiery Dynamo offense completely lost its spark. They only scored three goals in four April matches, and their once-vaunted attacking foursome of Giles Barnes, Will Bruin, Cristian Maidana, and Andrew Wenger have been ineffective over the last month. Head coach Owen Coyle promised changes to the lineup after the Dynamo were thrashed 4-1 at home by the Galaxy on April 15, and Bruin and Maidana have yet to start ever since that 4-1 defeat. Could Designated Player (DP) Erick "Cubo" Torres be in line for a start this weekend? He has made only three appearances and has played a mere 46 minutes this season, but with the Dynamo attack lagging, Torres and Argentine Miranda may get an opportunity to start against Sporting KC on Saturday. Manager Coyle will have to choose wisely when he picks his attacking four for Saturday, because if he gets his team selection wrong and his team fails to generate many scoring opportunities, the former Bolton manager will certainly be on the hot seat over the next couple of weeks.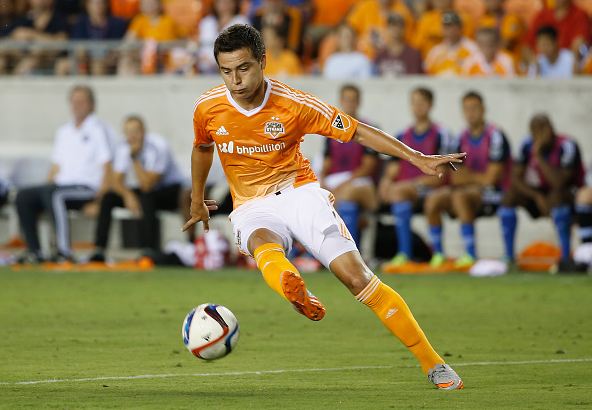 Projected formations
Houston Dynamo projected starting line-up/formation (4-2-3-1)
Tyler Deric; DaMarcus Beasley, Agus, Raul Rodriguez, Sheanon Williams; Ricardo Clark, Collen Warner; Leonel Miranda, Oscar Boniek Garcia, Andrew Wenger; Erick "Cubo" Torres
Notable Subs: MF Cristian Maidana, FWD Will Bruin, DF David Horst, MF David Rocha.
Sporting Kansas City projected starting line-up/formation (4-2-3-1)
Tim Melia; Saad Abdul-Salaam, Nuno Coelho, Matt Besler, Amadou Dia; Roger Espinoza, Lawrence Olum, Benny Feilhaber; Brad Davis, Dom Dwyer, Jimmy Medranda.
Notable Subs: MF Paulo Nagumura, DF Seth Sinovic, MF/FWD Justin Mapp, FWD Diego Rubio.
Projected Scoreline
Last year, these two teams played to a thrilling 4-4 draw, with Sporting KC midfielder Benny Feilhaber scoring an absolute belter in second half stoppage-time to secure a point for Sporting KC on the road. This author believes that this Saturday's contest will be another wild, intense affair, but will not have as many goals as last year's contest. The Dynamo have been in a tailspin for over a month, and while it's too early to say that this is a "must-win" game, they will need at least a draw if they want to turn their season around. Sporting KC have a tendency to "play down" to the level of their competition, and they have not provided center forward Dom Dwyer with much support or decent service over the last couple of weeks, which is a big reason why they haven't scored more than one goal in their last four games. Given Sporting KC's inconsistent play and the desperate situation that the Dynamo are in, this author believes that the Dynamo will score at least one goal and will create a number of good scoring opportunities. Yet this author also believes that Sporting KC will take advantage of the sieve-like Dynamo defense, and will tie the game just before the final whistle. Both teams will share the spoils, a result that will do neither team much good.
Projected final score: Houston Dynamo 2 Sporting Kansas City 2