 With clubs in both MLS and Chinese Super League chasing his signature, John Terry will probably pursue the latter.
2015/2016 Season
After returning from a Premier League title in the 2014/2015 season, Terry and Chelsea FC looked poised to repeat the feat. However, the team's performance this season can only be described as utterly disappointing. With two games left to play, Chelsea sits in 9th place.
Terry, who featured prominently in the previous season's triumph, has spent this season as an infrequent starter contributing even more infrequent performances. At 35-years-old, it would be absurd to expect the levels of consistency produced by a center back in their prime, but as captain of the club, and after his superiority in last year's campaign, this year has been quite a failure.
Apart from Chelsea's general woes, the individual struggles have been just as significant. Players like Thibault Courtois, Eden Hazard, Oscar, Branislav Ivanovic, and Nemanja Matic have all been terrible this year; and Terry is in the same boat. It seems that after his sending off against Sunderland over the weekend, which will see him suspended for two games due to a previous sending off earlier this season, his career with Chelsea is officially over.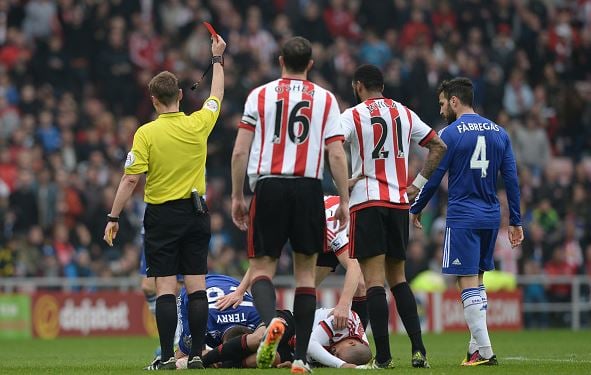 Why China over the MLS?
In recent years, a move to the United States seemed the best bet for aging superstars in Europe, but now, China is challenging that notion. In the past two to three years, the Chinese Super League has seen an abundance of money and fan support from citizens, business owners, and even the government.
The league is not only attracting older players, but also top coaches and players in their primes. Sven-Goran Eriksson, Luiz Felipe Scolari, and Dan Petrescu are the three biggest managerial names there at the moment; and both Scolari and Petrescu are linked to Chelsea (Scolari as a former coach and Petrescu as a former player). The league has also attracted players such Alex Teixeira, Ezequiel Lavezzi, Fredy Guarin, and former Chelsea players Demba Ba and Ramires.
With the high amount of money flowing in, no serious limitations on wages, and the amount of players still in their primes migrating to the league, Terry will most likely snub MLS in favor of a move to China. It can also be said that the various Chelsea connections don't hurt either. So with the Premier League down to its final two games and John Terry's career at Chelsea about to hit its finale, all eyes will be watching where he decides to continue his career.