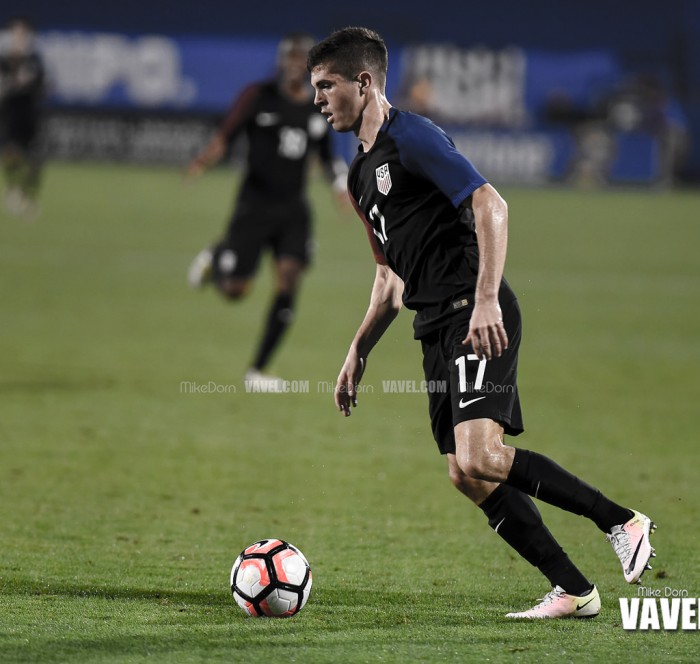 Christian Pulisic doesn't want to be the "next great American hope." As he shouldn't. The American Soccer Hype Machine, trademark pending, has wrecked or stalled the careers of a good many talented young players. He has every right not to want to be the next Freddy Adu, but that shouldn't mean United States Men's National Team manager Jurgen Klinsmann shouldn't be looking to start him against Colombia on Friday night in the opening match of the Copa America Centenario.
Incredible rise
At just 17 years of age, Pulisic is young enough that, were he still in the American school system, he'd be on the brink of completing his junior year of high school. His squad number for the Copa is the same as his age—yes, give that a second to sink in. However, in the words of all-time great Manchester United manager Sir Matt Busby, "if you're good enough, you're old enough."
In the last several months, Pulisic has shown undoubtedly that he is good enough. He scored twice for the Borussia Dortmund first team in nine appearances this spring and was so impressive that manager Thomas Tuchel publicly praised him. He made his national team debut in March, stole headlines with a truly impressive cameo against Ecuador last week and nearly broke Twitter with a gif-worthy moment of skill in stoppage time.
Then, on Saturday against Bolivia, he again entered off the bench in the second half. After a lovely interchange on the edge of the Bolivia box, Darlington Nagbe slid in the youngster, who rifled home his first goal for the United States Men's National Team.
Give youth a chance
On Friday, June 3rd, he should make his first start. Pulisic is playing terrific football at the moment, and that is all that matters. For the good of his future career, expectations must be managed, but he can help this team. The United States does not have another player with his skill set who can do the same job he can. Against the South and Central American opposition the USMNT are set to go up against in the coming weeks, skillful, tricky players will be at a premium.
That gif-able moment in stoppage time against Ecuador was the sort of thing which isn't normally seen from an American international. Kyle Beckerman plays with heart and desire, but when was the last time you saw a breath-taking moment of skill from him? When was the last time that Gyasi Zardes had the ball attached to his foot, and danced through three players? The USMNT are known for out-efforting their opponents, and for having superior athletes. We beat teams that way, we don't play our way through them.
With Pulisic, the US look like a different side. With the wunderkind on the right wing, as he was after coming on against Ecuador, they look really dangerous. The Americans are at their attacking best when Fabian Johnson and Deandre Yedlin are overlapping down the wings, and on Saturday Yedlin and Pulisic were combining as though they'd been playing together for years. They could well have fashioned another goal or two, such was the joy they had down that right-hand side of Bolivia.
Make no bones about it, Colombia will be significantly more difficult opposition than Bolivia. They're one of the best international sides in the world, and it will not be an easy outing for the United States. But, that doesn't mean Pulisic shouldn't be out there. One of the most remarkable things about young players is that they don't know how to play with fear. They're incapable of it.
In addition to being fearless, he is hot. In international tournament football, having players who are hot, confident and at the top of their game are indispensable. Age is immaterial. Remember Euro 2004, when an 18-year-old Wayne Rooney took the world by storm? He had more caps to his name, and his body was more mature, but he went out there with the adolescent bravado which only a talented young player can offer. Pulisic plays with the same confidence. Let him show what he can do, on the biggest stage in the Americas. If you're good enough, you're old enough. He, undoubtedly, is good enough. Mr. Klinsmann, give him the chance.