The Paraguayan National Team have always been known as a very consistent South American side. In a golden generation that saw them qualify for four consecutive FIFA World Cups from 1998 to 2010, they were a force in South American soccer. However, after failing to qualify for the World Cup in 2014 to the country east of them, La Albirroja have been looking for a new identity. Under new manager Ramon Diaz, things have definitely changed for the better as they ended up reaching fourth place in the Copa America last year in Chile, defying all pre-tournament expectation. Now, they face another challenge in the United States.
Group A: Group of Death
La Albirroja clearly has a challenge up their hands having been drawn in a group that features Costa Rica, Colombia, and the hosts, the United States , in what is easily the ''Group of Death'' of the Copa America Centenario. Quite frankly their toughest match is the opening one against Los Ticos in Orlando. It's clearly known that if they can go past them and get three points, that can see them qualify for the knockout stage, if they also manage great performances against Colombia and the hosts in Pasadena and Philadelphia respectively.
Historically, Paraguay's record in meetings against these three nations go like this: Paraguay has two wins, two draws and two losses ever against the United States, three wins, two draws and three losses against Costa Rica and 17 wins, seven draws and 17 losses ever against Colombia.
Trust in Youth
Players such as Antonio Sanabria, Juan Manuel Iturbe, Blas Riveros, Bruno Valdez, Robert Piris da Motta, Oscar Romero, Miguel Almiron, and Gustavo Gomez among others are all players under the age of 2,3 and it's clear that the new guard has passed the old guard in a side that is mainly based on youth.
However, their most important player is clearly Dario Lezcano of FC Ingolstadt in Germany. He has the straight, deadly eye on goal and has already had four goals for the national team in six games since making his debut last year in World Cup qualification. It is without any doubt that a player like him will definitely be someone who has to be stopped in order for Paraguay to struggle going forward. Another player to watch for is Oscar Romero of Racing Club and Miguel Almiron of Lanus. Both are very talented midfielders with amazing vision and intelligence of the game.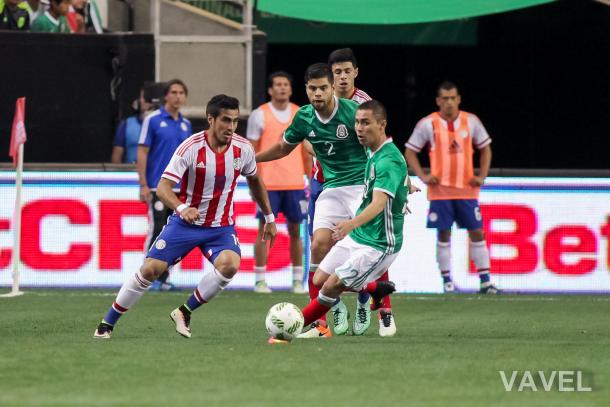 Lineup plans and expectations
Ramon Diaz is expected to go with a 4-4-2 formation with a lineup that includes Justo Villar in goal, Bruno Valdez, Paulo da Silva, Gustavo Gomez or Fabian Balbuena and Miguel Samudio in defense, Derlis Gonzalez and Edgar Benitez as the wide midfielders with Robert Piris Da Motta and Oscar Romero or Celso Ortiz in the central midfield and Dario Lezcano and Jorge Benitez as the strikers.
In a tough group, it would be an achievement to go past the powerhouse side from CONCACAF, CONMEBOL, and the hosts. It'll be a showdown of 270 minutes combined in the three matches. Yet, the sky is the limit as they are clearly capable of beating anyone at their best.
Paraguay's 23-man squad
Goalkeepers (3): Justo Villar (Colo Colo, Chile), Antony Silva (Cerro Porteño, Paraguay), Diego Barreto (Olimpia, Paraguay).
Defenders (7): Paulo Da Silva (Toluca, México), Gustavo Gómez (Lanús, Argentina), Ivan Piris (Udinese, Italy), Fabián Balbuena (Corinthians, Brazil), Bruno Valdez (Cerro Porteño, Paraguay), Miguel Samudio (América, México), Blas Riveros (Olimpia, Paraguay).
Midfielders (6): Óscar Romero (Rácing, Argentina), Victor Ayala (Lanus, Argentina), Celso Ortiz (AZ Alkmaar, The Netherlands), Rodrigo Rojas (Cerro Porteño, Paraguay), Robert Piris Da Motta, (Olimpia, Paraguay), Miguel Almirón (Lanús, Argentina).
Forwards (7): Antonio Sanabria (Sporting Gijon, Spain), Nelson Haedo Valdez (Seattle Sounders FC, United States), Edgar Benítez, (Querétaro, México), Derlis González (FC Dynamo Kiev, Ukraine), Jorge Benítez, (Cruz Azul, México), Darío Lezcano (FC Ingolstadt 04, Germany) Juan Iturbe (AFC Bournemouth, England).