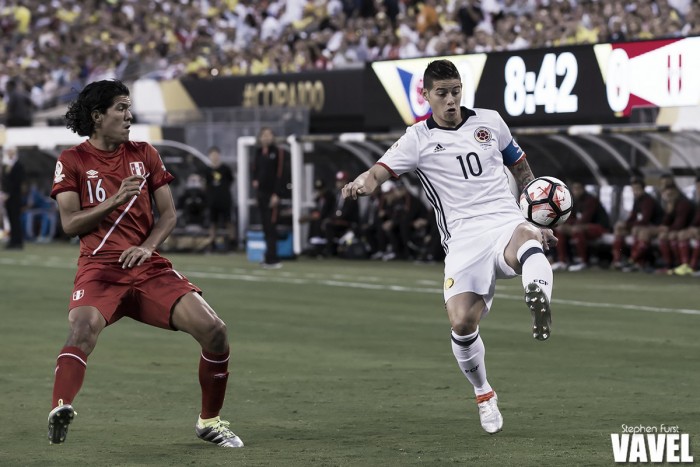 EAST RUTHERFORD, NJ – Colombia advanced to their first semifinal in a Copa America since 2004 after defeating Peru 4-2 on penalties. The penalty kicks came after a scoreless 0-0 draw after 90 minutes.
Attacking Cafeteros
In the first half, Colombia was given the upper hand with the various chances that they received on goal. The first came in the third minute when a pass foud Carlos Bacca on the right and with the ability to score, had his shot taken out of Pedro Gallese's goal. Five minutes later, Peru's first big chance came when a Paolo Guerrero cross from the right found the head of Edison Flores. His head though went high and wide of David Ospina's goal.
In the 21st minute, Colombia nearly drew first blood. A shot from James Rodriguez hit the post, and off the rebound, Bacca came in with the attempt to score past Gallese, but it went wide of the Peruvian's goal. Four minutes later, following fantastic movement from Juan Cuadrado as he was able to beat the two defenders and provide a sensational ball to Daniel Torres, his shot went wide of Gallese's goal, as he was eventually tackled to the ground after his ball went out of play.
Overall, in the first 45 minutes, it became a half in which Los Cafeteros clearly had many more chances than that of their neighbors from down south here in New Jersey. They contained most of the possession and dropped forward on the various opportunities onto goal which ended up testing Gallese a lot.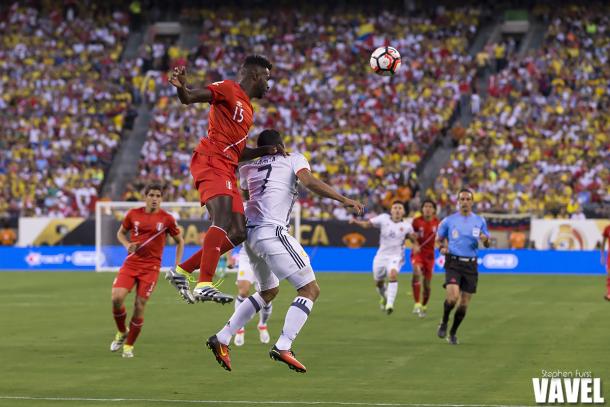 Tense second half and penalties
In the second half, it became all even yet again. Peru's big chance from the left in the 51st minute off a free kick from Christian Cueva fell into the hands of Ospina. Colombia nearly scored the opener in the 68th minute with Bacca's chance on goal but he went offside before the striker was able to make a good attempt on goal. For the 79,194 fans, it was an emotional ending for both sets of countries. Bacca was then through and was one on one with the Peru goalkeeper but was unable to provide a good finish as he failed to get a foot on the bouncing ball to life it over Gallese.
Colombia again providing various attacks onto the goal and off a free kick from James, he was able to play to the head of Jeison Murillo, but the Inter Milan's attempt on goal went wide of the Peruvian goal. In a last minute chance for Peru, Christian Ramos sent a bullet header into Ospina's goal but the Arsenal goalkeeper made a sensational save that ended up being a corner kick that attributed to nothing. In the end, both teams were unable to make the most of their chances on goal and in the end, penalties had to decide the winner of this quarterfinal to see who would face the winner of Mexico and Chile in Houston on Wednesday.
In sequence, James Rodriguez took the first spot kick and scored, followed by Raul Ruidiaz, Cuadrado, Renato Tapia and Dayro Moreno. Miguel Trauco's shot was stopped by Ospina giving Colombia the lead. Sebastian Perez scored to make it 4-2 and Cueva's spotkick went soaring off Ospina's goal to send Colombia to their first semifinals since 2004.