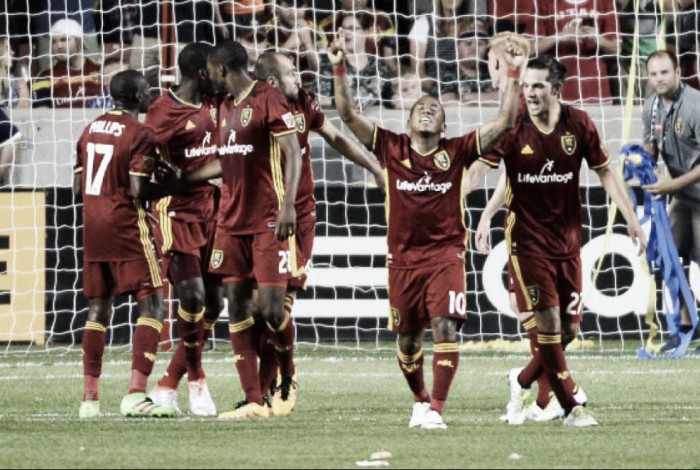 A late goal from Jordan Allen helped Real Salt Lake beat 10-men New York Red Bulls 2-1 at Rio Tinto Stadium in Sandy, Utah on Wednesday. New York Red Bulls center back Gideon Baah headed the Red Bulls into the lead in the eighth minute, but RSL forward Yura Movsisyan equalized in the 65th minute and Allen scored the game-winner in the 87th minute.
RSL manager Jeff Cassar will be pleased with his side's resilient spirit, and will hope his side can get off to a better start in their next game against FC Dallas. Red Bulls manager Jesse Marsch will be disappointed that his side blew a 1-0 lead, but will need to convince his team to put this loss behind them when they take on the struggling Columbus Crew on Saturday.
A tale of two halves
The Red Bulls made seven changes to the team that beat the Seattle Sounders 2-0 last Sunday but was the better team in the first half and took the lead in just the eighth minute. Defensive midfielder Sean Davis, who replaced incumbent starter Dax McCarty in the lineup on Wednesday, floated in a dangerous corner kick, and center back Baah peeled away from Movsisyan to head the ball past RSL goalkeeper Nick Rimando and into the bottom-right corner of the net. It was an excellent header from Baah and the start that Red Bulls manager Marsch was hoping for.
RSL lost midfielder Sunny to a head injury in the 14th minute and was disjointed for the entire first half. Red Bulls left winger Gonzalo Veron, who has endured a difficult season and a half for the Red Bulls since joining as a Designated Player in 2015, was put through on goal in the 17th minute but shot straight at Rimando. Neither team generated any scoring chances of note in the first half, and the Red Bulls back line composed of right back Sal Zizzo, Baah, Aurelien Collin, and left back Justin Bilyeu kept a full-strength RSL offense at bay.
RSL manager Cassar must have lit into his team at half-time because RSL started the second half with a sense of urgency. Right forward Joao Plata rolled a shot wide right in the 55th minute and center midfielder Javier Morales pinged a shot from outside the box just wide of Red Bulls goalkeeper Luis Robles' goal in the 58th minute. Just seven minutes after Morales' near-miss, RSL tied the game. Midfielder John Stertzer, who replaced the injured Sunny in the 14th minute, swung in a 35-yard cross from the right side of the field to the head of Movsisyan, who leaped over center backs Collin and Chris Duvall to head the ball past goalkeeper Robles. In response, Red Bulls manager Marsch brought on talisman Bradley Wright-Phillips, who has already scored eight goals this term, and Sacha Kljestan, who leads Major League Soccer with 10 assists in 2016. The introduction of both Kljestan and Wright-Phillips helped slow the game down, and the Red Bulls bunkered down and began to control possession with the clock winding down.
Just when it looked like the Red Bulls had earned a valuable road point, RSL took the lead. RSL right back Tony Beltran collected a Demar Phillips cross at the right side of the Red Bulls' 18-yard-box and sent a hard cross towards the left side of the box. RSL midfielder Allen and RSL forward Olmes Garcia got to the ball at the same time, and Allen struck a shot that deflected off of Duvall before squirting past goalkeeper Robles and into the goal. More than 18,000 RSL fans roared in delight after Allen's goal, while the Red Bulls looked stunned after conceding an 87th-minute goal.
Things would get even worse for the Red Bulls in the 90th minute. Center back Aurelien Collin was already sitting on a yellow card when he committed a hard sliding tackle on RSL forward Plata after Plata was fouled by Red Bulls midfielder Davis just before he entered the Red Bulls' box. Although replays showed that Collin got the ball before colliding with Plata, center referee Fotis Bazakos gave Collin a straight red card, much to Collin's dismay. The red card was the final nail in the coffin for the Red Bulls, and when the final whistle sounded, RSL fans and players cheered in unison as the team celebrated an exhilarating comeback victory.
Men of the match
Real Salt Lake: Yura Movsisyan
Make that five goals in eight games for the red-hot Movsisyan, who scored his sixth goal of 2016 on Wednesday. Movsisyan lost Baah on Baah's goal and also earned a yellow card, but he also made a couple of great runs and held up the ball like the experienced center forward that he is. He scored a fantastic header after out-jumping two Red Bulls defenders to connect with Stertzer's pinpoint cross, and he did a lot of good defensive work late in the game to help RSL preserve their one-goal lead. There are very few forwards in this league who are as strong on the ball or as fast as Movsisyan, and the fact that he is on a scoring binge does not bode well for the rest of the Western Conference.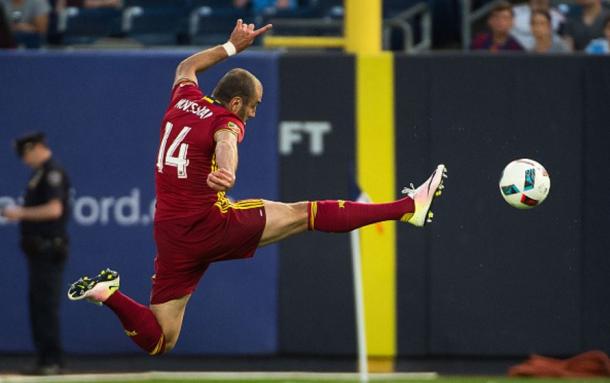 New York Red Bulls: Gideon Baah
The Red Bulls signed Baah from Finnish club HJK Helsinki with the hope that he would flourish into a dominant center back, but Baah would only start four games before getting injured and spending the next six weeks on the mend. Baah returned to score his team's seventh goal in the Red Bulls' historic 7-0 trouncing of rivals New York City FC, and he was the Red Bulls' man-of-the-match on Wednesday. Besides his great header which gave the Red Bulls a 1-0 lead, the Ghanaian made three last-ditch tackles and won a number of aerial duels to clear away the danger. Baah did have a couple of bad giveaways in his own half of the field, and if he can increase his passing accuracy and cut down on unforced errors, he could be a starting Red Bulls center back for years to come.
What's next for both teams
Real Salt Lake will travel to Frisco, Texas to take on FC Dallas on Saturday, June 25 at 5:00 PM PT. RSL are currently third in the Western Conference with 24 points, while FC Dallas is second in the Western Conference with 28 points. FC Dallas will be fired up after suffering a controversial loss to Sporting Kansas City last Sunday, and RSL will need to be focused and ready to play if they hope to down their Western Conference foe and earn their second win of a double-game week.
The New York Red Bulls will travel to Columbus, Ohio to take on the Columbus Crew on Saturday, June 25 at 4:30 PM PT. Columbus currently sit ninth in the Eastern Conference with 15 points from 14 games, and will be without Designated Player Federico Higuain on Saturday. The Red Bulls have compiled an abysmal (win-loss-draw) 1-5-1 record on the road this season, and manager Marsch will need his team to start the game strong like they did against RSL. If the Red Bulls can feed forward Bradley Wright-Phillips the ball early and often, and can get left midfielder Mike Grella isolated against Crew fullbacks, the Red Bulls should be in line for a valuable road win.