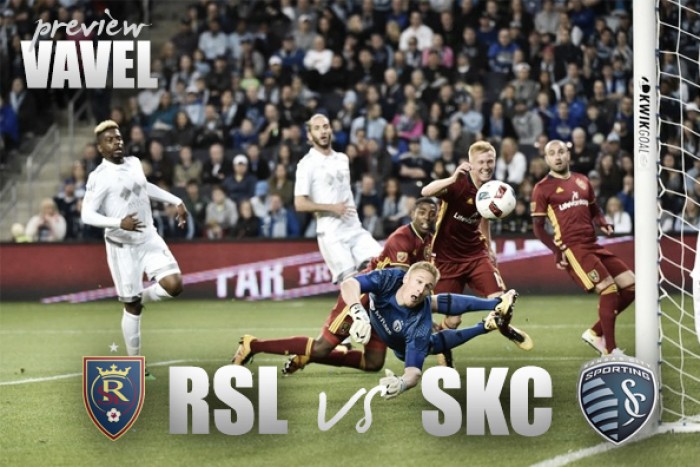 With playoff seeding—and qualification—on the line Sunday, Real Salt Lake welcomes Sporting Kansas City to Rio Tinto Stadium in a Western Conference six-pointer between two of Major League Soccer's most bitter rivals. The 2013 MLS Cup Final participants are separated by only two points in the table (RSL has 45 points, tied for fourth in the West; SKC sits in sixth on 43 points), and each hovers precariously close to falling below the conference's red line.
What's on the line
For the Utah-based side, Sunday's matchup provides yet another golden opportunity to clinch a spot in the Audi MLS Cup Playoffs with a win. RSL can also secure its postseason invitation if the Portland Timbers lose to the Colorado Rapids or if the Timbers draw and RSL notches at least a draw against Sporting.
With additional luck, Real Salt Lake could rise as high as the conference's third seed, but would need help from the Los Angeles Galaxy (third place with 48 points), and possibly from the Seattle Sounders (tied for fourth place with 45 points). RSL hopes to finish above fifth place in the Western Conference in order to secure a home playoff game; finishing fifth would almost assure RSL of a visit to either the StubHub Center—where RSL was dumped out of the 2014 MLS Cup Playoffs by a score of 5-0—or CenturyLink Field, where RSL has not won since 2012 (two draws and five losses during that span).
Sporting, on the other hand, can only gain playoff qualification on Sunday with a victory and a Portland loss or draw. Any other combination of results would postpone Kansas City's playoff qualification to the last week of the season. Sporting could also rise as high as the Western Conference's third seed, but would require a lot of help from the three teams currently above them in the standings.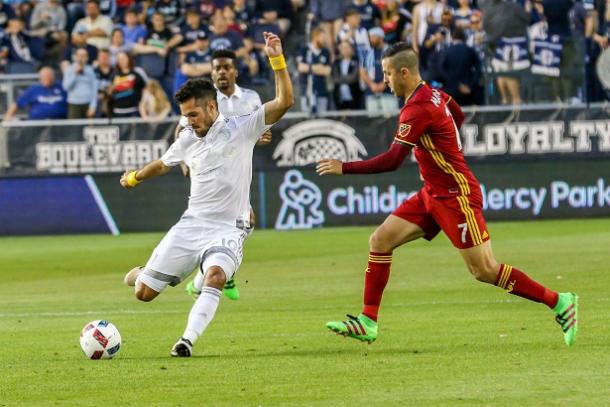 Fighting through injury
RSL is likely to field a full first-choice squad for the first time in weeks, as center forward Yura Movsisyan looks poised to return to the starting lineup after fighting a bone bruise on his left heel for weeks. Real Salt Lake permanently acquired the Armenian striker from Spartak Moscow last week, having played the 2016 season on loan from the Russian side.
Sporting, on the other hand, will be without the services of defenders Jimmy Medranda (yellow card accumulation) and Chance Myers (hamstring), as well as midfielders Justin Mapp (calf) and Brad Davis (calf).
Rivalry intrigue
Adding intrigue to the matchup, SKC will be seeking its first victory in Sandy, Utah since 2013, a victory which gave Sporting the cushion necessary to claim home field in the MLS Cup Final that season. Since their 2013 MLS Cup Final victory over RSL, Sporting has managed no better than draws against RSL during the regular season, going 0-2-2 at home and suffering road losses twice last season. A loss by SKC would also hand Real Salt Lake its only three-game sweep of 2016, having previously defeated Sporting this season by score lines of 2-1 and 3-1, with both prior games played at Children's Mercy Park.
Sunday's tilt kicks off at 5:00 Eastern, in tandem with four other Western Conference matchups as the regular season winds down to its conclusion.