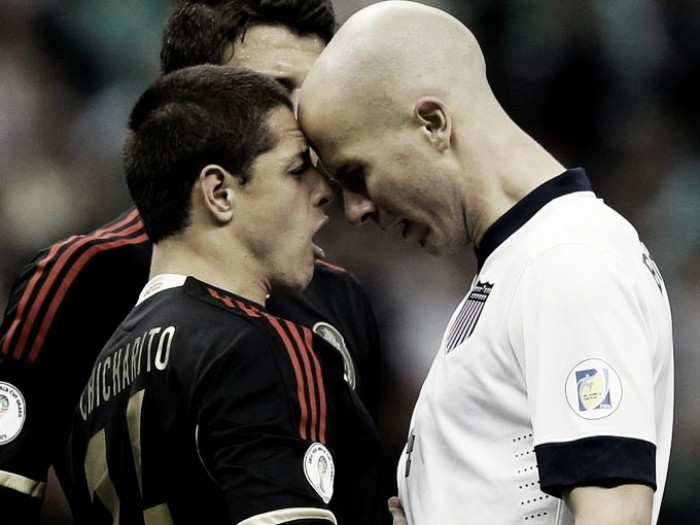 Juan Carlos Osorio and Mexico will enter Columbus knowing all the stats and facts of their last four trips to the Midwest city, four straight defeats and all from the same score of 2-0.
While that might seem like a daunting task, Osorio should feel confident in himself and his team's ability to get a result come Friday. For one reason, this roster is the best possible roster he's had since taking over. No experimental players, no fringe players, no new players. Second, a year ago in his second match in charge, Mexico went down to San Pedro Sula and defeated Honduras 2-0; their first win in San Pedro Sula in 50 years. If there is one game of his past year he can take something from and can help him against the US, it's that match.
Looking at the roster and what Osorio has at his disposal, one possible formation Osorio could use is a 4-3-3 to start the game, but with players that will allow him to change at any point to a slightly different, 3-5-2 or 5-2-3 or other variations similar to those.
Big bodies in the back for El Tri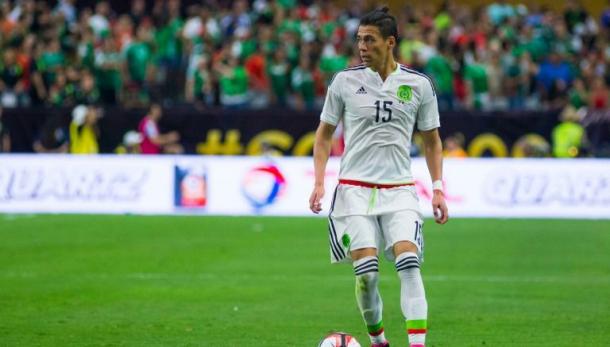 In goal Alfredo Talavera will be the one to get the chance in goal. One of the area's in which Mexico has been haunted in Columbus and where the USA has been able to make the most of is set pieces and aerial threats. As Osorio told ESPNDeportes, Talavera is the best player out of the air from the three goalkeepers and his size and ability to read balls out of the air will be critical to avoid any cheap US goals.
Speaking of aerial threats, in front of Talavera, Mexico could come out for a four man defense but with at least three center-backs in the backline. That would not the first time Osorio would have used his center-backs as outside defenders. In Honduras, Mexico looked to be playing with a 5 man backline but quickly went to a four man backline with Miguel Layun pushing up and leaving Hugo Ayala and Oswaldo Alanis, to play on the outside. 7 of the 8 defenders called up by Osorio are traditional centerbacks with Layun being the exception.
In a 4-3-3 Layun could take the right back while Hector Moreno takes his natural position as the left center back. To his left, Moreno could have Carlos Salcedo play left back and partnering him in the center can be Nestor Araujo or Diego Reyes. If Osorio wants to go with more experience, Ayala and Alanis could replace Salcedo and Araujo. As the game progresses, Layun can move up the field and incorporate himself in the midfield and Mexico can quickly settle into a 3 man backline if they choose too. Reyes might get the nod for his ability to also play as a defensive midfielder and can switch with Rafael Marquez.
Expect El Kaiser to lead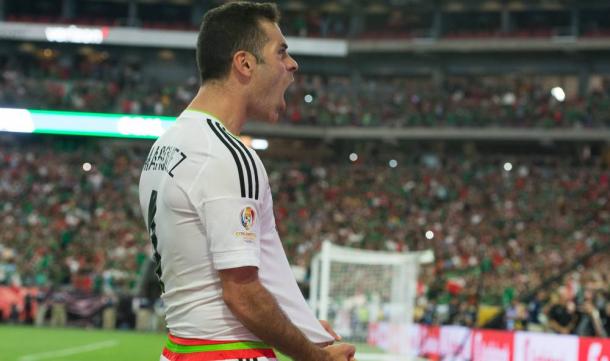 This helps in two fronts for Mexico. One, three center-backs in the backline plus Marquez, who will be in the midfield, will give them bigger bodies on set pieces to avoid the set piece goals (4 of the USA's 8 goals have come from set pieces). Secondly, having more natural center-backs on the field will keep the backline more intact and not leave as many gaps as the team pushes forward in the attack, leaving less chances of being burned on the counterattack (3 of the 8 games have come from counterattacks). This strategy worked against Honduras last year when the big Mexican center-backs were able to sniff out any long ball Hondras tried playing in an attempt to attack empty spaces, which there were very little left by Mexico.
In the middle look for Osorio to implement a three man midfield with Marquez playing behind Andres Guardado and Hector Herrera. While Jonathan Dos Santos is on the roster and looks like he could fit in nicely with Guardado and Herrera, if Marquez is on the roster it's to play this match. At 37 he can't recuperate and play two games in five days, and having him play after traveling from Mexico to Ohio and back down to Panama doesn't make sense for someone of his age.
This game will require his leadership, his pinpoint passing and ability to change the point of attack will be important for Mexico. If he can't go the full 90, this is where Jonathan comes in as a natural replacement for him and someone, who if Mexico has the lead, can keep the ball and get in on a tackle to disrupt any potential US attack. If Mexico are trailing, he's a more offensive player and has enough passing ability to deliver a dangerous ball while joining the attack.
Options to break USA down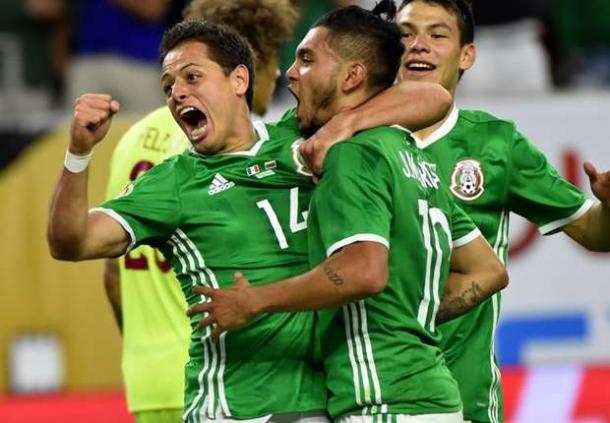 Up top is where Osorio will have the hardest time in figuring out how he chooses to play. If we go back to the Honduras game, Hirving Lozano might not start for Mexico but he can be used as an energy player much of the way Jurgen Damm was used down in Central America. Someone who can attack and challenge a tired backline with his endless sleep and daring runs. Javier Aquino is the ultimate professional and his relentless and tireless running on both ends on the field could be used from the start to immediately apply pressure on the US backline.
Starting him and later bringing on a Jesus Corona or Lozano with a half an hour to play is the type of move Osorio has used in the past and could be utilized again (Important to note, 7 of the 8 goals the US has scored in Columbus have come after half time, and all games have been 0-0 headed into the 43rd minute).
Of course Corona could start with Aquino and Javier Hernandez and bring instant creativity from the start of the match and later be brought off for Raul Jimenez. Allowing Jimenez to use his size and athleticism to wreak havoc on a tired backline.
Two possible wildcards are Giovani Dos Santos and Carlos Vela, because even though neither are natural wide players, if either find themselves in the starting XI in a 4-3-3 formation, their ability to come inside will allow a large gap for the side of the field Layun will play and allow him to push higher and quickly change Mexico from a 4-3-3- to a 3-4-3.
If Mexico are in need a goal, Dos Santos, Marco Fabian, and Vela are all the type of players who can add creativity and have enough magic to create nothing from something with one touch of a ball without overcrowding the front line and allow more layers in the build up of the attack.

While there's no clear cut way Mexico could beat the US, Osorio has at his disposal a blueprint from the past and many options to choose the best way he seems fit a way to get a result in Columbus.