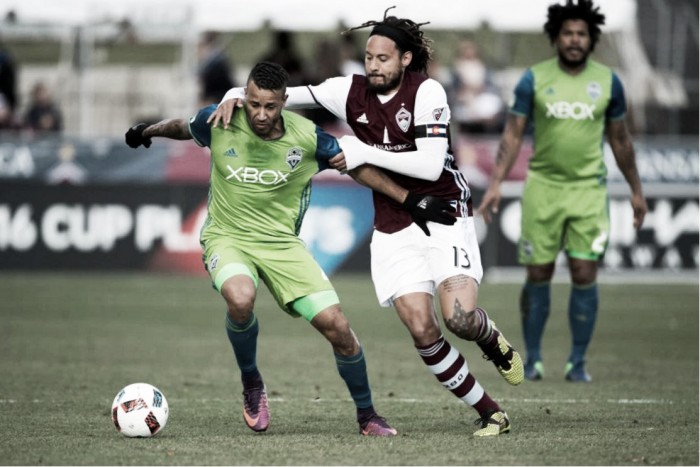 The Seattle Sounders beat the Colorado Rapids 1-0 at Dick's Sporting Goods Park in Commerce City, Colorado on Sunday to advance to their first MLS Cup in franchise history. Sounders rookie sensation Jordan Morris chipped the ball over Rapids goalkeeper Zac MacMath in the 56th minute to give the Sounders a lead they would not relinquish.
The Sounders back line--Tyrone Mears, Chad Marshall, Roman Torres, and Joevin Jones--put in a great performance against a desperate Rapids offense on Sunday, limiting the Rapids to zero shots on target. The only downside to Sunday's victory was defensive midfielder Osvaldo Alonso had to come off in the 74th minute. The Sounders will be hoping that Alonso heals in time for MLS Cup on December 10.
Player ratings
The Seattle Sounders
GK Stefan Frei, 6 -- The Sounders' reliable goalkeeper didn't need to make a save on Sunday, but he did make one wayward pass that led to a Rapids corner kick. The Swiss netminder atoned for his error by acrobatically catching Marlon Hairston's cross in the 64th minute, snuffing out a Rapids scoring opportunity.
RB Tyrone Mears, 7 -- Mears finished with a whopping eleven clearances, two interceptions, and a tackle against the Rapids on Sunday. He showed no ill effects after getting dumped to the turf by Rapids left back Marc Burch in the 68th minute, which earned Burch a yellow card. The Englishman also showed off his versatility by moving to left back after Alonso came off injured. It was one of Mears' best performances of the season and it couldn't have come at a better time for the Rave Green.
CB Roman Torres, 6.5 -- Torres had some shaky moments at the back, most notably in the 23rd minute, when he let the ball bounce to Rapids forward Kevin Doyle, who sent his shot/pass wide of goal. Nonetheless, the Panamanian was a beast in the air and finished with eight clearances and two interceptions. The Sounders are a better team when he's on the field.
CB Chad Marshall, 7.5 -- The Sounder's man-of-the-match. The ever-reliable Marshall played arguably his best game of the season on Sunday, finishing with a robust ten clearances, four defensive blocks, and four interceptions. The 32-year-old center back misplaced only three of his passes and committed only one foul, capping off a phenomenally-disciplined performance.
LB Joevin Jones, 7 -- The Sounders left fullback advanced far higher up the field compared to fellow fullback Mears and did a good job supporting left winger Andreas Ivanschitz. Jones finished with two tackles, three interceptions, and a defensive block. He also showed off his versatility by playing at right back for the final twenty minutes.
DM Osvaldo Alonso, 6.5 -- The longtime Sounder misplaced a couple of passes in his own half but made up for it by chipping in with three tackles, three clearances, and a defensive block. The Cuban midfielder came off in the 74th minute with an undisclosed injury and it remains to be seen whether he'll be healthy enough to start in MLS Cup on Dec. 10.
DM Cristian Roldan, 7 -- The 21-year-old midfielder has come into his own this season and showed why he's one of the Sounders' most consistent performers on Sunday. Roldan finished with two tackles, a clearance, and three interceptions and made a great run from his own half that almost led to a goal in the 65th minute.
RW Jordan Morris, 7.5 -- Morris played through an illness on Sunday, but that didn't stop him from doing yeoman's work on both ends of the field. The 22-year-old scored with his only shot on goal and only misplaced four passes. He also finished with a key pass, an interception, and two clearances. The Sounders will be hoping that Morris is 100 percent healthy when they play their last game of the season on December 10.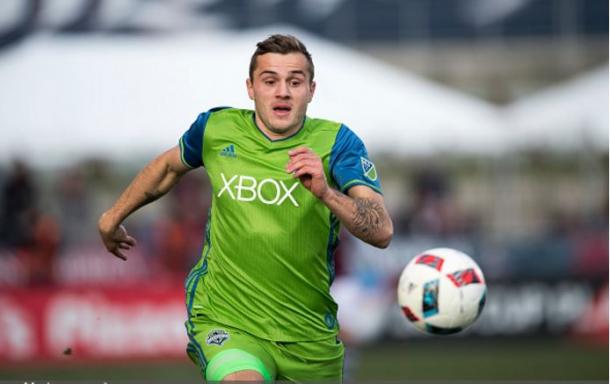 CAM Nicolas Lodeiro, 7 -- The Sounders' maestro had a very quiet game by his lofty standards, finishing without a single shot on goal. Even though Lodeiro was kept in check by the Rapids' two defensive midfielders, he still pitched in with two tackles, an interception, and a defensive block. Lodeiro was also fouled four times but didn't seem intimidated by the Rapids' physical play.
LW Andreas Ivanschitz, 4 -- Ivanschitz only attempted 12 passes during his 51 minutes of action and finished with a tackle and two clearances. The Austrian rarely got forward and didn't do much on the defensive end; he was subbed off for Alvaro Fernandez.
CF Nelson Valdez, 7 -- Valdez assisted Morris on the game's only goal and did some valuable work on defense, finishing with two tackles and a clearance. The Paraguayan could've iced the game in the 83rd minute but his chipped effort was caught by goalkeeper MacMath. It was another strong showing from Valdez, who will likely start as the Sounders' lone forward on December 10.
Substitutes
LW Alvaro Fernandez, 4.5 -- Like the man he replaced, Fernandez did very little on Sunday, only attempting five passes in only 43 minutes of action. The Uruguayan did chip in with an interception and a clearance, and he helped left back Jones defend the left flank.
RB/DM Oniel Fisher, 5 -- The 25-year-old Jamaican replaced Alonso in the 74th minute and helped preserve the shutout victory. He chipped in with three clearances during his 20 minutes of action.
CB Zach Scott, NR (no rating) -- The longtime Sounder entered the match for Valdez in the 88th minute and didn't play long enough to earn a rating.