Midfielder Havana Solaun officially signed with the Washington Spirit for the 2017 NWSL season. In 2015, she was drafted by Seattle Reign, but due to an ankle injury missed the season as she was recovering from two surgeries. This past season, she joined the Reign and started in three matches with a total of six appearances.
Draft picks for the Spirit
This past November, Solaun was to be drafted to the Spirit as Washington trades goalkeeper Madalyn Schiffel and midfielder Christine Nairn to Seattle Reign. With this trade taking place, it also means that the Washington Spirit has the authority of the third and third-sixth NWSL College Draft and the Reign's second round pick in the 2018 NWSL season.
In November when this trade took place, Solaun stated:
"I'm excited for this new opportunity to play with the Spirit. There is so much talent on this team, and I'm looking forward to figuring out how I will fit in."
"Rookie" seasons with the Reign
In 2014, Solaun was recovering from a torn ACL during her senior year at the University of Florida Gator. In 2015, head coach Laura Harvey was aware of her injury, but still wanted Solaun's skill and playing style that matched with the team. She was the 15th overall pick for Harvey and was drafted by the Reign.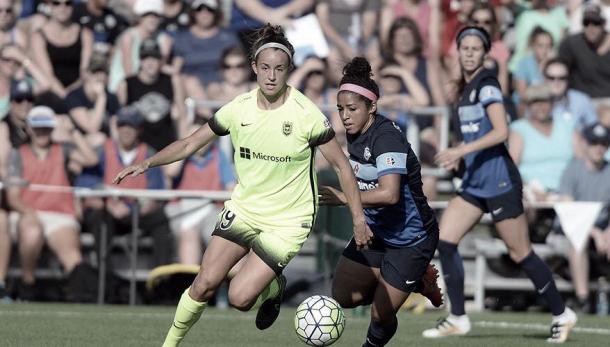 Harvey expressed how much she liked Solaun's playing style:
"In the year that we drafted and signed Havana, we wanted a player who could technically fit the way that we wanted to play. Havana definitely fit that mold and I felt technically and tactically, she had the capabilities to come into our squad and could do well."
In anticipation to make her debut for the team, Solaun injured her left ankle and wasn't able to make her first cap with the Reign. It took a full year that consisted of two surgeries to allow for complete healing on her ankle.
This past season, she made six caps with three starts for the Seattle Reign.
What to expect with Washington
As the Washington Spirit finished in second place this season, they recorded a total of 12 wins, five losses, and three ties. They have much to bring to the field this upcoming season and have quality playing standards in order to come out on top. With this addition of Havana Solaun, the 23 year-old midfielder has much to contribute as she's coming in with a fresh playing style and skill that greatly impacts the team.