 The U.S. U-23 Women's National Team begins 2017 with a January camp and released the roster today. A total of 30 players have been called in to train together from January 6 to January 13 at the U.S. Soccer National Training Center in Carson, California.
This month's roster is rather unique, ranging between rookies in the NWSL, hopeful draftees, college players and even younger youth national team girls. The birth dates of these players range between 1994-2000, making a total of seven different years. The youngest of roster, Brianna Pinto, most recently competed in the U-17 Women's World Cup.
NWSL rookies and hopeful draftees
Despite the huge age range, there are still familiar faces in camp. Out of the 2016 NWSL season's class of rookies, three make the list: Samantha Witteman, Erica Skroski and Makenzy Doniak. The trio did well in their first season in the professional league and will be seen as the "leaders" of this coming camp, seeing as they are the most experienced. In addition to the three goalkeeper Madalyn Schiffel has been called in. Schiffel spent her college years at the University of San Francisco before being drafted to the Washington Spirit. Despite being drafted, she played overseas last year and her rights were traded to Seattle Reign FC this past off season.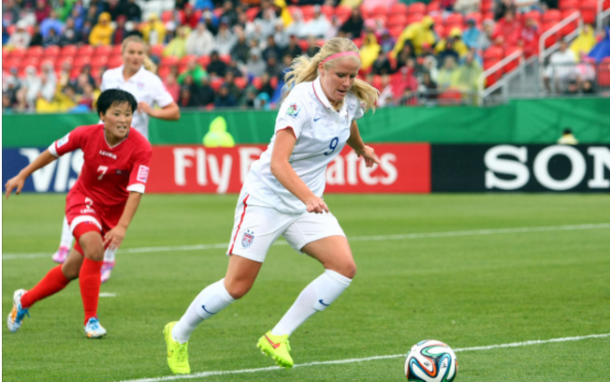 Out of the 148 players named to the preliminary draft list, 14 have been called into this camp. Highlighting this list is Brigham Young University senior Ashley Hatch, who was called in to the full U.S. Women's National Team back in October, and earned her first cap against Switzerland. Right behind her is Morgan Andrews, a MAC Hermann Trophy finalist as well as a crucial instrument in the University of Southern California's 2016 NCAA Championship victory.
Roster by Position
GOALKEEPERS (4): Laurel Ivory (West Florida Flames; Surfside, Fla.), Casey Murphy (Rutgers; Bridgewater, N.J.), Madalyn Schiffel (Seattle Reign FC; Citrus Heights, Calif.), Hannah Seabert (Pepperdine; Riverside, Calif.)*
DEFENDERS (8): Maddie Bauer (Stanford; Newport Beach, Calif.)*, Mandy Freeman (USC; Royal Palm Beach, Fla.)*, Tavia Leachman (Utah; Long Beach, Calif.), Kayla Mills (USC; West Covina, Calif.)*, Sydney Miramontez (Nebraska; Lenexa, Kan.), Gabrielle Seiler (Florida; Peachtree City, Ga.), Erica Skroski (Sky Blue FC; New Brunswick, N.J.), Samantha Witteman (Orlando Pride; Redondo Beach, Calif.)
MIDFIELDERS (11): Morgan Andrews (USC; Milford, N.H.)*, Tierna Davidson (Stanford; Menlo Park, Calif.), Jordan DiBiasi (Stanford; Littleton, Colo.), Megan Dougherty Howard (Florida; Largo, Fla.)*, Tyler Lussi (Princeton; Lutherville, Md.)*, Ifeoma Onumonu (California; Rancho Cucamonga, Calif.)*, Toni Payne (Duke; Birmingham, Ala.)*, Brianna Pinto (CASL; Durham, N.C.), Margaret Purce (Harvard; Silver Spring, Md.)*, Morgan Proffitt (Marquette; Columbus, Ind.)*, Ashley Sanchez (So Cal Blues; Monrovia, Calif.)
FORWARDS (7): Makenzy Doniak (Western New York Flash; Chino Hills, Calif.), Danica Evans (Colorado; Lakewood, Colo.)*, Ashley Hatch (BYU; Gilbert, Ariz.)*, Sarah Luebbert (Missouri; Jefferson City, Mo.), Savannah McCaskill (South Carolina; Chapin, S.C.), Hailey Skolmoski (Utah; Riverton, Utah), Crystal Thomas (Georgetown; Elgin, Ill.)*
* indicates a player on the preliminary draft list.