Michelle Betos, the starting goalkeeper for the Portland Thorns, confirmed that she will be leaving the NWSL to play for Vålarenga. The Norwegian club, who play in the Toppserien league, announced the move on their website. The press release cited her experience and "ambitions to develop further as a goalkeeper."
Betos confirmed that she would be leaving the NWSL with a statement on Twitter and reached out the Rose City Riveters, the Portland Thorns supporters group: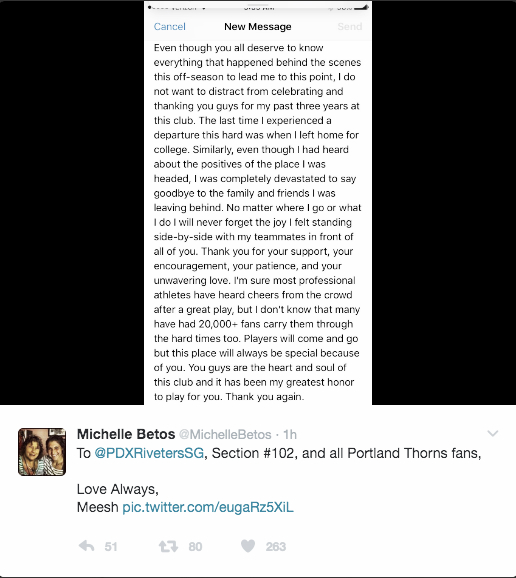 In her time with the Portland Thorns, Betos was a popular player among fans who nicknamed her "Baetos," and after her 2015 diving header against FC Kansas City in overtime, a talismanic figure. Video of the game-tying goal has over 200,000 views on Youtube, landed at #2 in ESPN Sports Center's Top 10 plays, and was immortalized in a Lego reenactment.
Betos in the NWSL
Betos was well-traveled in women's professional soccer in the United States. The Georgia Bulldog, who finished her career at UGA ranked third all-time in saves, first broke into the pro ranks in 2009 when she played for the Atlanta Silverbacks in the W-League. That year she was named Goalkeeper of the Year.
She was picked up by the Seattle Reign in the 2013 NWSL Supplemental Draft and started seven matches that year until Hope Solo returned from wrist surgery. The following offseason she was sent to the Portland Thorns, where she played in 30 matches over three years and earned the 2015 Goalkeeper of the Year award. She retained her starting spot in 2016, helping the Portland Thorns claim the NWSL Shield as the number one team in the regular season. Betos also made a number of fine saves in the Thorns' home loss to Western New York Flash in the NWSL championship semifinal.