 With the World Cup and Olympics over, it's time for the U.S. Women's National Team to enter a new cycle. During this time, there will be many new faces coming into camp as well as different people seeing the field. With veteran goalkeeper Hope Solo no longer in the mix for the USWNT, regular national team goalkeepers Alyssa Naeher and Ashlyn Harris now have a chance to compete for the starting position. Fans were already able to see full 90s out of each keeper since their return from Rio a few weeks ago: Harris was in goal for the red, white and blue for their match against the Thailand Women's National Team while Naeher had her shot a few days later when they faced the Netherlands.
"Off years" means opportunities
As the new cycle begins, the national team won't be participating in any major tournaments over the next two years and a half years. This is all the more reason for both Naeher and Harris to see time in the net for their country. With Solo in the picture, it was hard to get a clear look at either of them. The only real chances to watch them play would be in in the National Women's Soccer League, where both goalkeepers have been doing outstanding jobs with their respective club teams over the years.
The next round of friendlies coming up will give fair chances for the Orlando Pride and Chicago Red Stars starting keepers to make their case for starting goalkeeper. Both are very talented and have proved their worth and why head coach Jill Ellis continues to call both of them up, but there's a bit of an edge for Red Stars goalkeeper Alyssa Naeher. Naeher was the backup goalkeeper when the team competed in Rio 2016, while Harris was listed as an alternate. If Ellis decides to continue the pattern we've seen from her, Alyssa Naeher is on track to being the starting goalkeeper for the USWNT.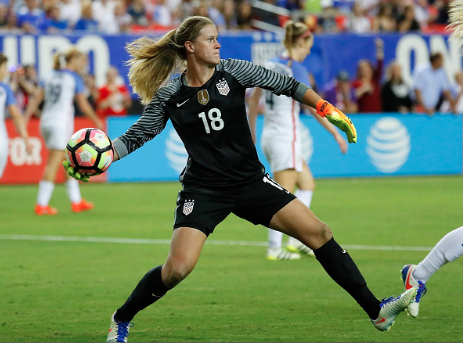 Naeher a consistent keeper
The 28-year-old keeper has been a solid figure in the NWSL since the beginning. In the first three season she was the starting goalkeeper for the Boston Breakers, a team who was decent in its first NWSL season back in 2013, but since then has become the struggling team of the league. Despite being on a losing team, the Connecticut native did plenty in attempt to keep the club from being completely throttled over the years. In 2014, where team ended up second to last in standings, Naeher made a record high 106 saves for Boston, leading the entire league. The following season she came in second, recording 65 saves in the 12 games she played.
After being traded to the Chicago Red Stars this year, Naeher leads the league with six clean sheets at the end of regular season despite being away for national team duty, and she has an average of 1.0 goals against per game. She's earned her keep as a starting keeper for any club team in the NWSL, and continues to be solid in between the posts.
Little things make big difference in goal
Though Harris has been in the national team mix longer than Naeher, between the two of them the Red Stars keeper has the edge. Both keepers are talented in their craft, but it's Naeher's defensive organization that puts her on top. The former Penn State player's ability to keep her defense in shape comes up huge in games, but often goes unnoticed by others. There are times where Naeher doesn't even touch the ball too often in a match, and it's thanks to her defense for being well-organized and thwarting any threats on goal.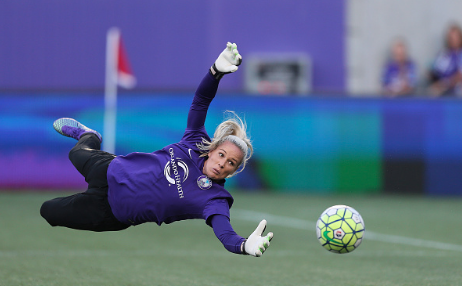 Another small difference between the two is their decision making between the posts. Where the Orlando Pride goalkeeper may come out of her box too soon, the former Naeher will stay at home in her goal if it isn't worth coming out to challenge. A clear example of this is in Harris' game against Thailand, where she - who didn't have much to do that night with the U.S. scoring a multitude of goals in Heather O'Reilly's send-off - was nowhere near the goal when Thailand got their best shot on goal. Instead, defender Kelley O'Hara was forced to clear it off the line despite Thailand's protests of a goal.
Nothing set in stone
There is still plenty of time to decide who gets the starting spot in goal without Hope Solo. Both keepers still have chances to prove themselves and not only fight for the title of starting goalkeeper, but to also make each other better. Harris still has a bit to work on in areas where Naeher excels in. Ellis has an idea of what she wants: there's a reason Harris started against Thailand and Naeher started against the Netherlands a few weeks ago.