France head coach Olivier Echouafni has named his 23 player squad for the upcoming SheBelieves Cup, to be held from March 1-7.
NWSL fans will be familiar with the name Amandine Henry, who joined the Portland Thorns in 2016 and is set to return for the upcoming season as well. She is currently on short-term loan to Paris Saint-Germain. Henry underwent groin surgery in November but has trained with the club through her recovery.
The roster is otherwise dominated by players from the top teams in the French Division I League, including nine players from Olympique Lyonnais and six from Paris Saint-Germain. One player not on either of those teams is Gaetane Thiney, who plies her trade for FCF Juvisy. The roster announcement marks Thiney's return to tournament action. The 31 year old veteran has 127 appearances for her national team, but had fallen out of favor under former head coach Philippe Bergeroo.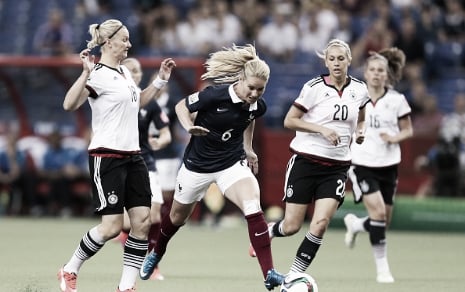 France will be looking to improve on their performance from last year when Les Bleues finished in last place, losing their first two games through dramatic late-game winners. In their opening match against Germany, Leonie Maier tallied in the 83rd minute to sink the French, who dominated the US in the first half of their second match only to lose on a 91st minute strike by Alex Morgan. They finished the tournament with a 0-0 draw with England and went home with a 0-2-1 record having failed to record a single goal.
First up for France in 2017 is England, who they face on March 1, at 4 pm ET at Talen Energy Stadium in Chester, PA. Next they will play Germany on March 4 at 2:15 pm ET at the Red Bull Arena in Harrison, NJ. They will wrap up the SheBelieves Cup with the final game of the tournament against the United States on March 7, at 7 pm ET at RFK Stadium in Washington, D.C.
France Roster by Position
Goalkeepers (3): Sarah Bouhaddi (Olympique Lyonnais), Méline Gerard (Olympique Lyonnais), Laëtitia Philippe (Montpellier HSC)
Defenders (7): Laura Georges (Paris Saint-Germain), Jessica Houara D'Hommeaux (Olympique Lyonnais), Sakina Karchaoui (Montpellier HSC), Griedge MBock Bathy (Olympique Lyonnais), Eve Perisset (Paris Saint-Germain), Wendie Renard (Olympique Lyonnais), Aïssatou Tounkara (FCF Juvisy)
Midfielders (8): Camille Abily (Paris Saint-Germain), Elise Bussaglia (VFL Wolfsburg), Grace Geyoro (Paris Saint-Germain), Amandine Henry (Paris Saint-Germain), Claire Lavogez (Olympique Lyonnais), Amel Majri (Olympique Lyonnais), Gaёtane Thiney (FCF Juvisy), Sandie Toletti (Montpellier HSC)
Forwards (5): Camille Catala (FCF Juvisy), Marie-Laure Delie (Paris Saint-Germain), Kadidiatou Diani (FCF Juvisy), Eugénie Le Sommer (Olympique Lyonnais), Elodie Thomis (Olympique Lyonnais)