 The Canadian Women's national team will be heading to Europe to play in a pair of friendlies beginning on Thursday, April 6 and ending on Sunday, April 9. First, they will take on Sweden on April 6 in Trelleborg, Sweden and then Germany the following Sunday in Erfurt, Germany. These two matches see the 2016 Rio Olympics Bronze Medalist take the Silver and Gold medal winning teams, respectively.
John Herdman talks about playing Sweden and Germany
Canada's head coach John Herdman spoke about the opportunity to play the Gold and Silver medal winners in back-to-back matches.
"These are two big matches, you don't often get the opportunity to play both the Olympic Gold and Silver medalist in back-to-back matches. Both teams are favourites for the European Championships later this summer and we know they will be in prime condition and getting ready to peak for the competition. The matches are going to be tough, but this is what we are looking for to test our current group and to identify our gaps in the build up to the FIFA Women's World Cup France 2019".
Canada played Germany twice during the Olympic Games but hasn't played Sweden since 2014 in Los Angeles that ended in a 1-0 victory in favor of Canada and a 1-1 draw a couple days later.
The roster will include 16 players that competed in the 2016 Rio Games and will include six players that were not part of the Olympics. Most of the six additions played in the 2017 Algarve Cup that Canada competed in and left as the Silver Medalists.
Herdman spoke about the changes saying; "We've made some changes to our roster since last year, adding some new players and saying goodbye to others, so this two-game series will be a real test of how our squad comes together against tier one competition".
Herdman continued; "We're confident this squad will be competitive against these two teams, but it's a young team that's still building the experience, game smarts and physicality required to be a genuine number one contender. We are starting to fill the experience void left by our retired veterans and will use these matches to keep providing our youth with opportunities."
Herdman also talked about making Canada the number one team in the world and what it will take.
"We want to take this team to number one in the world," said Herdman. "The only way we are going to be able to do that is to play these tough matches and continually learn from them. Canada Soccer has made incredible strides over the last five years, earning back-to-back podium finishes, and our goal continues to be reaching the number one spot."
Full 22 player roster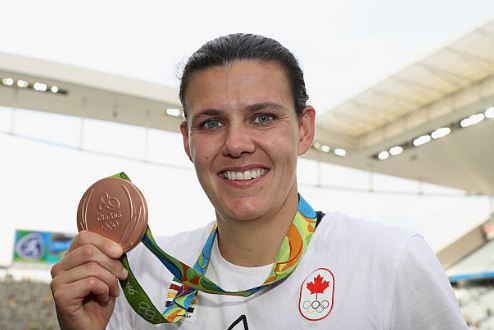 GK Stephanie Labbé, age 30, from Edmonton, AB - Washington Spirit (NWSL)
GK Sabrina D'Angelo, age 23, from Welland, ON - North Carolina Courage (NWSL)
GK Kailen Sheridan, age 21, from Whitby, ON - Sky Blue FC (NWSL)
FB Lindsay Agnew, age 21, from Kingston, ON - Washington Spirit (NWSL)
FB Allysha Chapman, age 28, from Courtice, ON - Boston Breakers (NWSL)
FB Ashley Lawrence, age 21, from Caledon, ON - Paris St-Germain FC
FB Marie Levasseur, age 19, from Stoneham, QC - University of Memphis (NCAA)
CB Hannah Taylor, age 17, from Edmonds, WA - Eastside FC
CB Kadeisha Buchanan, age 21, from Brampton, ON - FCF Olympique Lyonnais
CB Shelina Zadorsky, age 24, from London, ON - Washington Spirit (NWSL)
M Jessie Fleming, age 19, from London, ON - UCLA (NCAA)
M Rebecca Quinn, age 21, from Toronto, ON - Duke University (NCAA)
M Sophie Schmidt, age 28, from Abbotsford, BC - FFC Frankfurt (Bundesliga)
M Desiree Scott, age 29, from Winnipeg, MB - FC Kansas City (NWSL)
M Gabrielle Carle, age 18, from Lévis, QC - CS Lévis-Est & Québec Soccer REX
M Sarah Stratigakis, age 18, from Woodbridge, ON - Aurora United FC (League1 Ontario)
F Jordyn Huitema, age 15, from Chilliwack, BC - Vancouver Whitecaps FC Girls Elite BC Soccer REX
F Nichelle Prince, age 22, from Ajax, ON - Houston Dash (NWSL)
F Deanne Rose, age 18, from Alliston, ON - Scarborough GS United
F Adriana Leon, age 24, from King City, ON - Boston Breakers (NWSL)
F Janine Beckie, age 22, from Highlands Ranch, CO - Houston Dash (NWSL)
F Christine Sinclair, age 33, from Burnaby, BC - Portland Thorns FC (NWSL)
quotes courtesy of Canada Soccer press release.