In a Wednesday afternoon press conference at Rio Tinto Stadium, Real Salt Lake named former New York Red Bulls coach Mike Petke as its fourth coach in club history.
Getting back on his feet
The RSL job is Petke's first in Major League Soccer since his dismissal after a 2013 season in which he led the Red Bulls to the Supporters' Shield, and a 2014 season in which the New Jersey-based side was knocked out of the MLS Cup Playoffs in the Eastern Conference final.
Petke arrived in Sandy shortly after the conclusion of the 2016 MLS Season to take over as head coach of RSL's USL affiliate, the Real Monarchs. But the New York native's term at the Monarchs' helm was short-lived. After one game with the Monarchs--a 2-1 road victory over Portland Timbers 2--Petke was tapped for the RSL job after Jeff Cassar was relieved of his duties following a 2-1 home loss to the LA Galaxy.
For his part, Petke seems excited to hit the ground running.
"I arrived in December thinking this was the right fit and the right opportunity; the vision and blueprint provided by Mr. Hansen permeates from the first team to the Monarchs and through to our academy and our facilities that open this Fall," Petke said. "There is so much excitement and momentum surrounding our club."
But Petke is showing restraint as RSL's new boss. He has elected to keep on Cassar's full staff of assistants, and rather than stepping into the job only two days before a game, Petke will watch this Saturday's match against Minnesota United from the stands and allow interim head coach Daryl Shore to direct the team.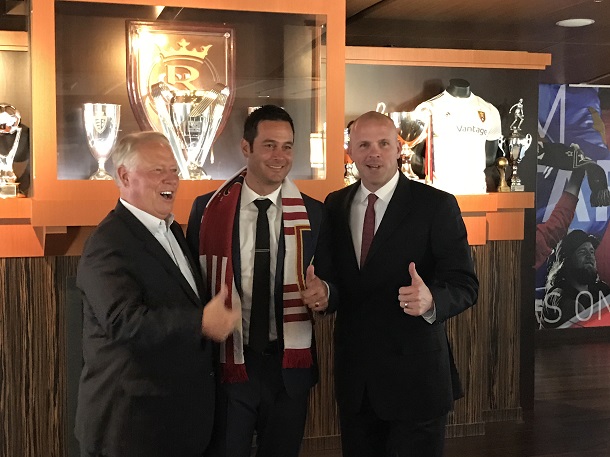 Front office support
Petke's short but successful stint as Red Bulls boss was clearly a factor in his selection for the position vacated by Cassar, and RSL's front office expressed confidence in both Petke's ability and style.
"Mike's leadership capabilities, his track record, work ethic and fiery personality are anticipated to confidently lead Real Salt Lake into a new era," said franchise owner, Dell Loy Hansen.
General manager Craig Waibel echoed Hansen's enthusiasm. "Mike won a Supporters' Shield, he's managed high-profile players, he enjoyed a great playing career. There's almost nothing he hasn't seen in the sport in this country, and integrating someone with his experience, intelligence, and teaching ability into our organization will pay dividends up and down our pyramid, from the academy teams to the Monarchs to the first team."
Petke's first match in charge of the Claret-and-Cobalt will be an April 8 home match against the Vancouver Whitecaps.