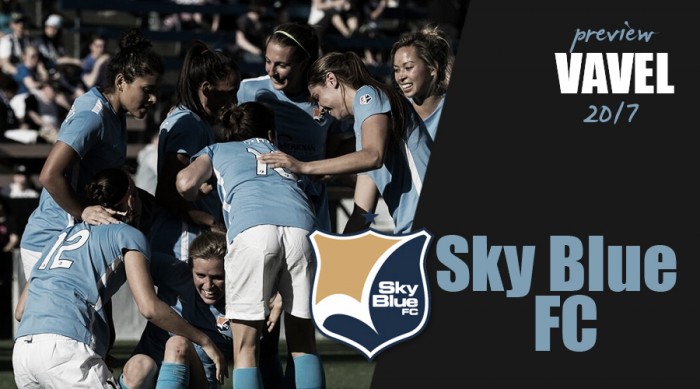 Sky Blue FC did not finish how they wanted to in 2016, but there are high hopes for the team to excel in 2017. Early in 2016, Sky Blue faced coaching issues when Jim Gabarra left and headed to the Washington Spirit. Head coach, Christy Holly, was not appointed until the week of the 2016 National Women's Soccer League College Draft. Sky Blue finished seventh out of ten, after a strong start.
At the season opener, Sky Blue handed the Seattle Reign their first ever loss at Memorial Stadium, but that was not enough to sustain the team through injuries and national team duties at the Olympics. Sky Blue finished with a record of 7-8-5 in 2016 and was not eligible to move on to the playoffs. Although the results were not ideal for Christy Holly and Sky Blue, the 2016 season provided a good foundation for the team to build on in 2017.
Offseason Pickups
Sky Blue, a team led by the veteran Christie Rampone, added major youth factors during the offseason. Without a doubt, Sky Blue had the best overall draft picks. Sky Blue snagged two huge names in college soccer in the first round of the 2017 NWSL College Draft. Both from the 2016 NCAA College Cup winning USC, Sky Blue selected Kayla Mills and Mandy Freeman, no.4 and no.10 respectively. Mills, midfielder and defender, and Freeman, defender, are expected to start in the backfield after getting a lot of minutes during the preseason. Another big name coming in through the draft for Sky Blue was the goalkeeper, Kailen Sheridan. Sheridan minded the net at Clemson University and is a member of the Canadian Women's National Team.
After two seasons in the FA Women's Super League with Manchester City, Daphne Corboz returns to her native New Jersey. Just days after the 2017 College Draft, Sky Blue FC, signed midfielder Daphne Corboz. Corboz was originally drafted by Sky Blue in 2015, but already had the intent of going overseas.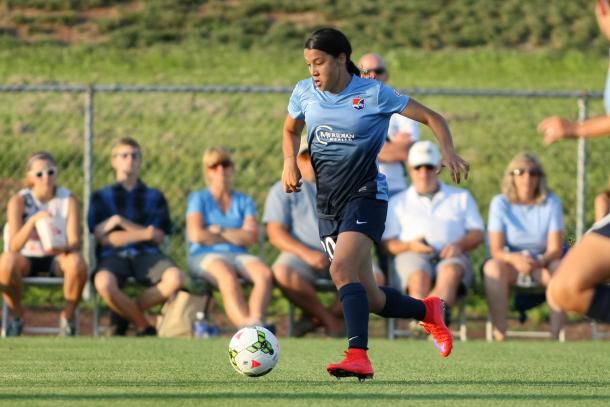 Offseason Losses
Despite so many strong additions, Sky Blue was not without losses during the offseason. Left off the 20-man roster were goalkeeper Caroline Stanley, draftee Catrina Atanda, and midfielder Kelley Conheeney. Also not joining Sky Blue for the 2017 season are Shawna Gordon and Kristin Grubka.
Playoff Contenders
Do not count Sky Blue out this year when thinking about playoff contenders. The normal top heavy teams are going to be shaken up this season, thanks to Sky Blue. With the perfect combination of rookies and veterans, Sky Blue is going to come out hot. They have been focusing a lot on team chemistry in the offseason, which will help to hold the team together if things do not go their way. Sky Blue has a lot of drive, and they are hungry to prove themselves this season. The probable starting XI of Sheridan; Mills, Rampone, Freeman, Skroski; Killion, Rodriguez, Corboz; Galton, Kerr, O'Hara, is versatile and strong.
O'Hara Up Top
A key factor in Sky Blue's projected success for 2017 is the switch of Kelley O'Hara from defender to forward. O'Hara was a forward at Stanford during her college days but was converted to a defender when she earned her spot on the US Women's national team. However with the signing of Mills and Freeman to hold down the backline next to veteran Rampone, and skilled sophomore Skoski, O'Hara is able to move up top. With the backline secured, O'Hara is going work with the Australian goal scorer, Sam Kerr. Galton, O'Hara, and Kerr up top are going to wreak havoc on defenses across the league this year, as they try to find the back of the net and the top of NWSL standings.
Upcoming Matches
Sky Blue starts the season with a rematch of last year's opening day match against Seattle Reign FC. Like last year, the match will be played in Seattle at Memorial Stadium. That matchup is set for Saturday at 10:00 pm EST (7:00 pm PT).Sky Blue fans are hopefully for a repeat win. In the second week of 2017 NWSL play, Sky Blue will go to Boston to face Rose Lavelle and the Breakers. Kickoff for Sky Blue and Breakers is set for 4:00 pm on Sunday, April 23rd, at Harvard Stadium.
Finally on Sunday, April 30th, Sky Blue will have their first home match of the season when they take on FC Kansas City at Yurcak Field at 6:00 pm.