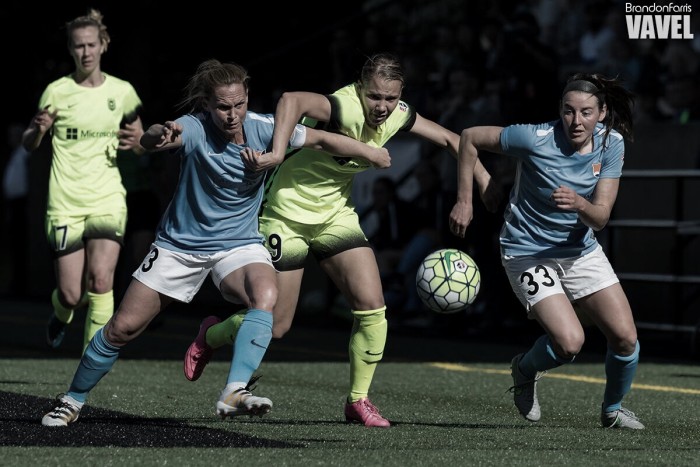 Due to an incident that took place this past Saturday during Week 4 of the 2017 NWSL season against the Portland Thorns, Seattle Reign defender Merritt Mathias has been suspended for the next three season games. Mathias has been suspended by the NWSL Disciplinary Committee and is also being fined for "violent conduct that was determined to be a major game misconduct" in an incident with Thorns defender Emily Sonnett.
Leading up to her suspension, in Week 3, Mathias was given a yellow card for pulling the hair of Alyssa Chapman from the Boston Breakers. Violent conduct from Mathias has taken place in two consecutive games this season and as a result, will not be playing in this weekend's match against the Washington Spirit, the Orlando Pride match on May 21st and will miss the match on May 27th against the Houston Dash.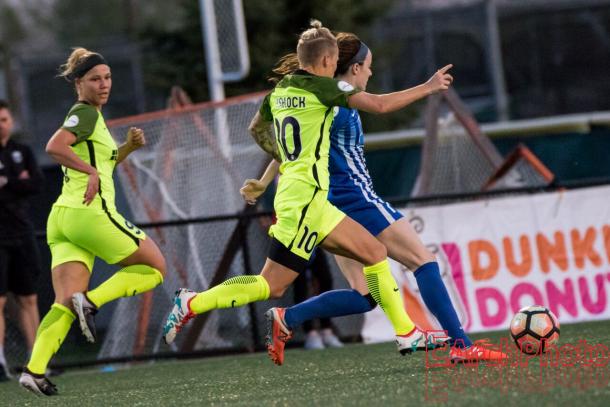 Last season Mathias was also suspended for violent conduct that occurred in a match against FC Kansas City forward Shea Groom. Originally, Mathias was not going to receive any form of punishment from the NWSL Disciplinary Committee until new evidence was discovered. The reason of suspension was due to "major game misconduct and unsportsmanlike conduct detrimental to the league."
Mathias was re-signed by the Reign this past January for the 2017 season. With her ability to be able to fulfill several positions on the field, head coach Laura Harvey has been able to see her skill in more than one aspect. This second suspension can be a red flag as it jeopardizes her performance time on the field. Last season Mathias played in 19 out of 20 games and even managed to score a goal. This will be Mathias' third year playing with the Reign after spending two seasons with FC Kansas City during the 2013 and 2014 seasons.