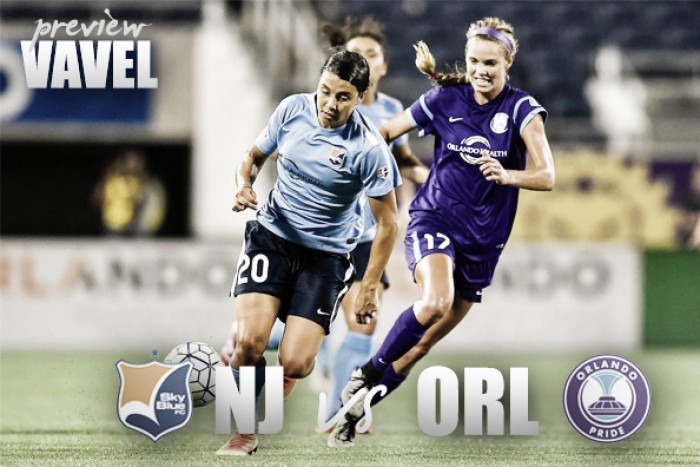 After a road game on Wednesday in North Carolina for Sky Blue FC, they head home to host the Orlando Pride. This will be the two teams first meeting of this season and it will kickoff on Saturday at 7:00 p.m. EST. The Pride were North Carolina Courage's first loss of the season, and Sky Blue was the Courage's first win since then. The Pride and Sky Blue go into the game 1-2-3 and 3-3-1 respectively. Orlando has now gone 11 straight road games without a victory and looks to snap it on Saturday. This winless streak stretches back more than a year to their 1-0 victory to the Houston Dash in Houston. Sky Blue is undefeated at home this season and looks to continue that on Saturday.
Midweek loss to the Courage
While Sky Blue's loss on Wednesday to the Courage was not ideal, one positive did come out after 90 tough minutes. The 2-0 scoreline did not indicate it, but Kailen Sheridan had her best game all season. Sheridan faced an explosive offense of Lynn Williams, Sam Mewis, Debinha, and Jessica McDonald. In Wednesday's match, the Courage had 21 shots, 14 were on goal. Sheridan made 11 saves, it was enough to break Sky Blue's record of saves in the NWSL. One of Sheridan's saves is bound to end up as Save of the Week. She was calm and smart throughout 90 minutes.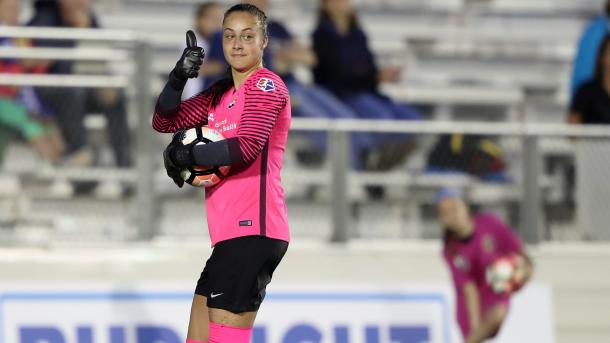 Orlando had trouble finding the back of the net this year, only scoring seven goals. Even with Brazilian Marta, they are only averaging a little over a goal per game. It will not be an easy task for Sheridan to defend the net against, but after her performance on Wednesday, the 22-year-old proved she can handle just about anything.
Sky Blue struggled to get shots off on Wednesday night, only getting two shots on goal. They started the game without Sam Kerr and Raquel Rodriguez. Kerr and Rodriguez were both brought in the second half but were unable to create any real chances.
Harris out for Orlando
In last week's match against Seattle the Pride's goalkeeper, Ashlyn Harris, suffered an injury in the 23rd minute of play. She suffered a quadriceps injury near her hip. The Pride has two keepers that could play in Saturday's match, Aubrey Bledsoe and Caroline Stanley. Stanley was recently signed from the Pride's opponent on Saturday, Sky Blue. Harris out for eight weeks, as long as she recovers properly. Tom Sermanni will look to his highly experienced backline to defend Kerr and Kelley O'Hara. Steph Catley, Ali Krieger, and Alanna Kennedy will all be key factors in holding down the backline in Harris' absence.
The game will be available to watch on the NWSLsoccer website in addition to the go90 app and go90.com.