The North Carolina Courage announced the signing of defender Stephanie Ochs ahead of this weekend's match. Per league and club policy, terms of the deal were not disclosed.
Ochs was previously with the Houston Dash up until she was waived in April. She was with the Dash since its first season when they came in 2014 as the National Women's Soccer League's first-ever expansion club. Former head coach Randy Waldrum converted the 2011 WCC Player of the Year from forward to outside back in her first season. Since then, Ochs has played multiple positions and became a very versatile player with the Houston Dash.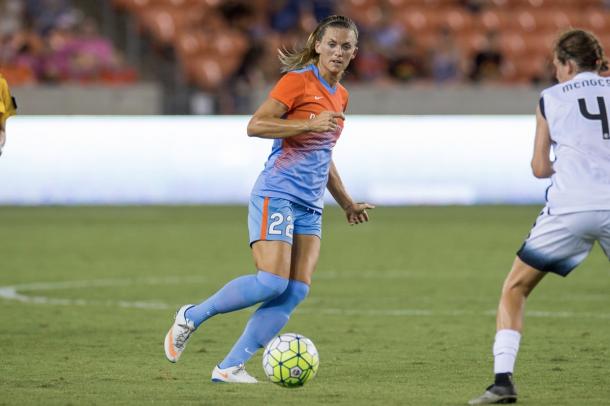 In her second season with Houston, Ochs suffered an ACL tear in the 19th minute of the Dash's game against the Boston Breakers on April 26, 2015. She sat out the remainder of the season after having surgery and recovering. Last season, in 2016, the 26-year-old veteran made three starts in 12 matches for the Houston Dash in various positions.
Before joining the Dash, Ochs was on the Washington Spirit in the NWSL's inaugural season.She was the overall first pick in the 2013 NWSL Supplemental Draft. She also has spent time overseas, playing three seasons for Canberra United in the Westfield W-League. She helped Canberra claim the 2014 Championship title and helped them make it all the way to the semi-final this past season.
"Steph will be a valuable addition to our group," said Courage head coach Paul Riley. "She's a hybrid player and has a lot of good tools. We are impressed by her speed, strength, and passion for the game. She certainly fits our team on the field and in the locker room. Great to have her aboard."
The North Carolina Courage return home this weekend to host the Boston Breakers. Kickoff is scheduled for Saturday at 6:30 PM Eastern Time. The game will be streamed on the go90 app and website.