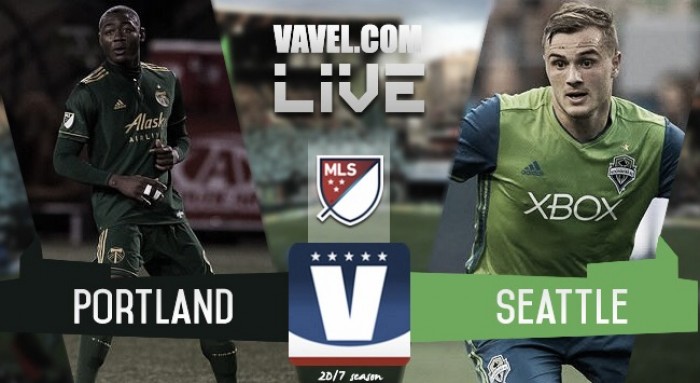 That's the final whistle! Seattle surge late while down a man to secure a point on the road! Final score 2-2. Thank you for joining me in this epic Cascadia showdown! My name is Tyler Fisher, and I'll see you next time!
90' GOAL! DEMPSEY TIES THE GAME IN STOPPAGE TIME! 2-2!!!
Five minutes of stoppage time. Score still 2-1 Timbers
87' Kovar replaces Bruin for Seattle
84' Lodeiro's free kick is high over the bar. Score still 2-1 Timbers.
Not much action going on this second half. Lots of back and forth but rather slow.
Great call for Salazar to stop play. Marshall takes a ball to the face and drops to the ground. Salazar stops for the head injury and suspected concussion.
67' Dempsey tries to chip Gleeson who's off his line, but the ball goes over the net.
66' Valeri dribbles inside of the penalty area, but can't seem to get a shot off.
Should've been a foul there on Adi. Assistant says no. Meanwhile, Clint Dempsey is down inside the penalty area.
59' Sounders free kick in front of the Timbers bench.
56' Seattle Sub: Clint Dempsey replaces Jordan Morris. Tolo also replaces Jones.
45' Start of the second half.
HALFTIME: Portland Timbers 2-1 Seattle Sounders
https://matchcenter.mlssoccer.com/matchcenter/2017-06-25-portland-timbers-vs-seattle-sounders-fc/details/video/108492
45' ANOTHER GOAL! Dairon Asprilla rises high to get his head on a corner and nails it home to give the Timbers a 2-1 lead!
https://matchcenter.mlssoccer.com/matchcenter/2017-06-25-portland-timbers-vs-seattle-sounders-fc/details/video/108487
45' GOAL! Adi Converts the penalty and it's a tie game!
44' PENALTY! Timbers are awarded a lifeline. Evans brings down Nagbe inside of the box and is issued a RED CARD! Things have just made a complete 180 at Providence Park!
37' CROSSBAR! Asprilla's header is on target but it hits off of the crossbar.
35' Portland receive a free kick just outside of the penalty area. Valeri sends it in and ALMOST SCORES! But Frei was there to make the catch.
30' HYDRATION BREAK.
https://www.mlssoccer.com/post/2017/06/25/goal-joevin-jones-follows-his-own-rebound-opener?autoplay=true
28' GOAL! Joevin Jones gives the Sounders a 1-0 lead!
24' Nagbe with a shot but it's wide of the net.
19' Seattle corner. Great chance by Svensson but it's deflected out for a corner.
12' Great save by Stefan Frei who was able to make himself big on an ongoing Fanendo Adi. Corner kick Portland.
10' Yellow card caution to Alvas Powell of the Portland Timbers.
6' Free kick Seattle.
4' Bruin's header goes high over the crossbar.
1' KICKOFF!!!
10:16 pm EST: Kickoff just around the corner! Expecting water breaks to be taken during the match as well. Seeing the sweat on Stefan Frei's face is just a small indication of how hot it actually is in Portland.
9:36 pm EST: Just about 20 minutes from kickoff. Who do you think will win tonight's match? Tweet me on Twitter @LWOS_TylerF with your prediction! Or, go vote on the poll that is on my timeline!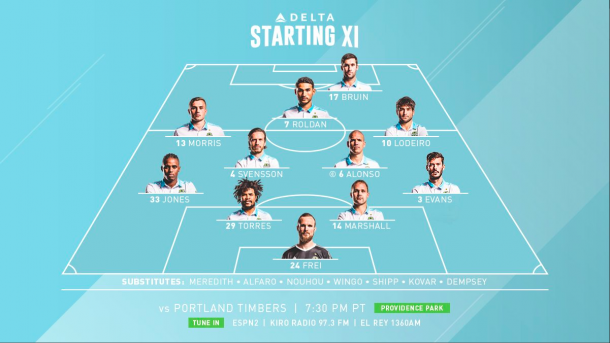 9:35 pm EST: Here is the starting lineup for the Seattle Sounders.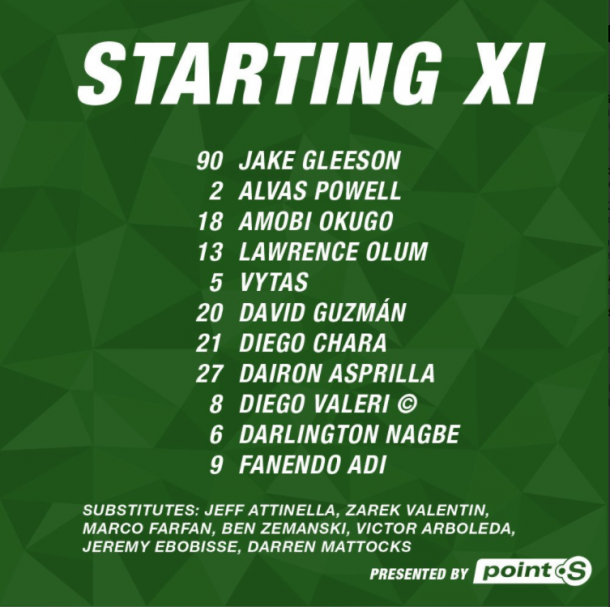 9:34 pm EST: Here is the starting lineup for Portland Timbers.
9:23 pm EST: ESPN will NOT have cameras fixed on both supporter groups for this match. Sorry for the inconvenience folks.
9:02 pm EST: Hello and welcome to VAVEL USA's LIVE soccer coverage of Major League Soccer! Today's match feature's the Portland Timbers and their Pacific Northwest counterparts the Seattle Sounders!
Portland Timbers 1-2 Seattle Sounders.
Now time for the hard part. And I always get this wrong. But it's fun anyway. A prediction.
You can't beat Morris and Dempsey. Lodeiro is a bonus, but Seattle will pull away from this match with a 2-1 victory. Given both recent outings, Portland and Seattle are looking to get back on track. However, Portland is having defensive issues, as stated before. This will get the best of the Timbers. But on the other hand, Seattle's attack can't seem to compromise and work together. That's not what you want at this time in the year.
You can catch this match on ESPN 2, TSN2, and MLS Live. In addition to watching the match on national tv, MLS will provide two cameras on both supporters groups that will be streamed online. Seeing that should be a blast. I'd watch those instead of watching the game in my opinion.
The center official for this match will be Ricardo Salazar. His assistants are Jeffrey Greeson and Kyle Atkins. The fourth official is listed as Drew Fischer.
They have also been drawn three times in the Lamar Hunt US Open Cup knockout round. Seattle has advanced on two of the three occasions. Their latest win came on June 13 in the 2017 Fourth round.
These two teams haven't just played during the regular season. They also met one time during the 2013 MLS Cup playoffs, with Portland advancing to the Western Conference Championship 5-3 on aggregate.
With nine games being played at Providence Park, that stat is awarded to the Timbers. They have a 5-5-2 record scoring 23 goals and allowing 17.
The all-time series leans in favor the rave green Sounders. They have an impressive 9-5-4 record with scoring 32 goals and only allowing 27.
This matchup will mark the 19th time that these two foes have played each other all time during the MLS regular season. Back on May 27th, the Sounders defeated the Timbers 1-0. After this match, there will be just one more meeting between the two. That will take place on August 27th.
Joevin Jones and Brad Evans were rested for their midweek matchup, in anticipation for them to be ready for their match against the Timbers. However, Evans is listed on the injury report with a left calf strain.
The away side Sounders are looking to redeem themselves after their draw against Orlando City. Head coach Brian Schmetzer will probably throw an all out attack squad. The quartet of Jordan Morris, Clint Dempsey, Nicolas Lodeiro, and Will Bruin could see the starting eleven for the match.
The center back struggle continues to loom. In addition to Miller being out, Liam Ridgewell is injured. Head coach Caleb Porter will have to play his hand of cards in order to figure out what pair will be successful in the match if they want to win.
Portland will be without two key players this match. Sebastian Blanco has been suspended one match for his actions in their last match against Minnesota. Defender Roy Miller will also miss the match as he has been suspended for yellow card accumulation.
For the home side, they haven't been able to roll as smoothly as they have when the season first started back in March. Many mistakes have been made and with a backline that has seen it's fair share of injuries, the rotations sure have not helped.
Also, the attacking portion of the Green and Gold have struggled to compete with opponents backline. Midfielder Diego Valeri can't do it on his own.
Portland has an advantage over their Pacific Northwest rivals in the Western Conference standings. Portland is coming in with a 7-7-3 record and 24 points while the Sounders are 5-7-5 with 20 points. Only a four-point lead, but anything to gain an advantage will do for either club.
The Timbers and Sounders both find themselves with just seven losses as we approach the midway point of the season. Ironically, both teams have a 3-5-2 record in their last 10 games.
Both teams are coming into this matchup after gaining unpleasant results in during their midweek games. The Timbers fell to expansion side Minnesota United 3-2. Meanwhile, the Sounders dropped two points at home after giving up a late equalizer to Orlando City in the last second of the game.
This latest edition of the Cascadia rivalry sees the two teams trade championships the past two years. Both teams are looking to get back to the MLS Cup final and claim another over their bitter counterpart.
Hello, and welcome to VAVEL USA's live coverage of Major League Soccer. My name is Tyler Fisher and I will be providing you with live coverage of the game. Today's matchup features two Cascadia rivals. The Portland Timbers, and the Seattle Sounders. This a game that's deeper than hate. So buckle in folks. We're going for a ride!